---
ASM Website Pages - Click on applicable Title below to visit that page.
---
X
| | | |
| --- | --- | --- |
| | ASM Reviews of Kits, Products, Books, Etc. | |
All kit & product reviews submitted by ASM members will be posted below with the most recent
article at the top of each category. New categories will be added as required.

Click on the links below to go to that category of reviews.
---
---
Kit Review

Building the Blue Thunder Prototype 01
By Ken Piniak
The movie Blue Thunder (Columbia Pictures, 1983) follows the testing and ultimate destruction of the Blue Thunder helicopter prototype number 2. No mention is ever made of prototype number 1. This, then, is the story and model build of prototype number 1.
Sometime before the events portrayed in the film, #1 was involved in an accident and returned to the manufacturer for repair. I could find no information as to the cause of the accident, the condition of the pilot, or the extent of the damage to the aircraft. After repairing the damage, the manufacturer opted to retain the aircraft for additional upgrades and testing, based on field reports from testing the two aircraft in an urban environment. The aircraft proved to be under-powered, so they upgraded the engine, transmission, and rotor assembly. The engine went from 590HP to 650HP. The strengthened composite rotor blades were much stiffer than the originals, which had a pronounced droop when stationary. The belly armor was replaced with a new, lighter composite armor, 3/4 inch thick. The electronics and surveillance equipment received major upgrades. New communication equipment was added to connect to more databases, which resulted in a new antenna array. The rear cockpit configuration was changed, with one monitor unit removed, and other units and the keyboard relocated. Initial testing showed that it was desirable for the observer to be able to control all of the various sensors as well as the gun turret when the pilot cannot. Since the aft cockpit is not configured to use the Harrison Fire Control system, a joystick was added in the old keyboard location--the observer can use it to operate all of the sensors as well as the gun if it is not being used by the pilot. Lastly, operating the helicopter in an urban environment revealed a serious hazard of wire/cable strikes. Wire cutters were added to cut through power lines, telephone lines, etc. Since the aircraft would most often be used at night, a very dark blue over black paint scheme was applied. After testing out the new upgrades and modifications, the manufacturer turned the aircraft over to the Los Angeles Police two months after the second prototype was destroyed in a collision with a train. It was used by the City of Los Angeles for many years, and was often loaned out to the DEA, Border Patrol, and Customs. It was heavily used in the weeks after 9/11. After 27 years of service, Blue Thunder was officially retired in 2010. Its final fate is unknown.
I originally built the Monogram 1/32 scale Blue Thunder helicopter back in the 1980s, when I was much younger and less experienced. I did an okay job on it, but I can do a better one now that I am older and wiser (?). So I decided to have another go at it. Digging through the spare parts box, I found the original cockpit, canopy, rotor, tail boom, and other small parts. The main fuselage, landing gear, and gun turret were missing. I had never painted it (I liked the blue plastic) or added decals, but the decals were missing. I would need a new kit to work with. There are two 1/32 scale kits of Blue Thunder; the original Monogram kit and a copy made by Kitech, out of China. The Monogram kit is long out of production, but can be found at swap meets, sales, or on the internet (eBay is my friend), at prices ranging from really low to crazy expensive. At the time I could only find a Kitech kit, which was really cheap at about fourteen bucks.
I had heard that the Kitech kit was a reboxing of the old Monogram kit; it is not. It is a low-quality copy or "knockoff" of the original, and definitely inferior. It has much less detail than the Monogram kit, and has major fit issues, which are aggravated by severe warping of many of the parts. The decals are awful, and the clear parts are not clear. Nevertheless, if you are willing to put in some work, it can be made into a nice model. Since the Kitech decals are crap, and I had lost the original Monogram decals, I ordered a great set form Fireball Modelworks (unfortunately, these are no longer in production).
Once I had everything together, I laid it all out to see just what I had. While the Kitech kit is definitely inferior overall, some of its parts are equal to or even better than the Monogram parts. The instrument panel, rear cockpit bulkhead, and engine are great! The cockpit tub and gun are decent. The main rotors are okay. My original cockpit looked good, but not very accurate; back then references and photos were impossible to get. Today, however, a quick search of the internet brings up all kinds of photos and information. From this information, I learned that I could not use my parts (or even the entire new kit) to build the helicopter as it looked in the movie. The Monogram kit was based on the short-lived TV show, with a number of differences to the aircraft, especially in the cockpit. The decal set by Fireball included alternate decals to make prototype #1, so I decided to build that instead of the movie bird.
Starting with my original Monogram cockpit, I added wires, boxes, and a joystick to represent the "new upgrades" added by the manufacturer's engineers. I also added a fire extinguisher (missing in both kits) to the rear bulkhead. The observer's seat swivels, and I added shoulder harnesses. The Monogram kit includes a nice hexagonal pattern in the molded on "belly armor" that I like. The Kitech kit includes this under the main fuselage, but not on the tail boom. So I removed the tail from the Kitech body and grafted on the Monogram tail in its place. Ironically, I liked the Kitech tail fan better, so I cut out the Monogram fan and added the Kitech unit. I installed the cockpit and the transmission and glued the body together. Because of the warping of the Kitech parts; I started with the tail (Monogram, no warping) and slowly worked my way around the belly, top, and nose, clamping as I went. I was going to graft the Monogram engine to the top, but the Kitech engine was just as good, so I kept it. The landing gear was warped, and did not fit the mounting points on the body. It took lots of work, super glue and epoxy putty to get it all lined up and cleaned up. The curved front plate (behind the gun turret, shown on the previous page) had huge gaps all around. It required lots of styrene strip, epoxy putty, and more super glue to blend it in. Because of all that warping of the fuselage, neither the Monogram nor the Kitech canopy fit well. I went with the Monogram part because you can see through it (the Kitech canopy can be fixed by polishing it out) and I had cut open the side hatch to show off the cockpit. Again, this piece had to be glued a little bit at a time. I ended up with a slight gap at the front which had to be filled in with styrene strip. The "engine intake" parts, engine cover, and the "camera surveillance unit" parts are Monogram, the "Nitesun" searchlights, shotgun microphones, and gun turret parts are Kitech. The rear synch elevators and "ammo belts" for the gun are a combination of both kit parts. The new antennas and wire cutters are from the parts box. I used an MV lens for the landing light. The decal set by Fireball Modelworks is complete and accurate, with every marking and stencil seen on the aircraft in the movie. They are even readable! The paint is Testors Copenhagen Blue Metallic, which came out darker than I expected. Worse, when I added a flat clear (to match the matte look of the real bird) the paint turned almost black! I had to go back to a gloss/semigloss finish to bring back the blue. The belly armor is Model Master flat black. The observer's helmet is from the Kitech kit, the pilot's "Harrison Fire Control Helmet" is from a 54mm pilot figure. With the hatch in the open position, she sits ready, waiting for the crew to jump in and take off after the bad guys!
---
Kit Review - Airfix 1/24 Scale Hurricane Mk I
By John Tate
First released back in 1973, the big-scale Airfix Hurricane is not unknown to modelers but like many large airplane model kits, is seldom built. However, when ASM VP Tony Humphries traded the kit to me late last year, I decided to give it a try to see how it went together. I'm happy to say it's a great kit.

First off, this is''t a generic Hurricane; it's a metal-winged, eight-gun Mark I with a bulbous Rotol spinner and prop. This fighter type was a mainstay of the RAF during the Battle of Britain so I decided early on the markings I would use, from an excellent Techmod sheet, for 303 Squadron ace Josef Frantisek. For more on his life and wartime career, check out this BBC link:

https://www.bbc.com/news/stories-45516556

I knew of a problem with these Airfix 1/24 scale kits - the cowlings didn't fit once the engines were installed; I experienced this when I built their 1/24 Stuka a number of years ago. So I decided to leave out the engine and seal up the cowl panels; I'm glad I did, it greatly simplified construction and the rest of the build went smoothly. I did the same with the wing panels, closing up the wing gun bays, and was pleased to find they fit well.

The cockpit is well-detailed, a match for any current model kit, and once installed, I found the only addition necessary was a set of PE seatbelts for the Sutton harness. A cautionary note- make sure the rear bulkhead is flush with the fuselage halves; the armor plate should stand a little proud of the bulkhead.

T

here was a gap when I attached the wings but once they were on and aligned with the fuselage, I sealed the gap along the join lines, leaving a surface line for accuracy. The overall alignment of the model - wings, fuselage and horizontal stabilizers - was good. I'd read reviews that said the kit wings were too thick but I didn't find this to be the case- they looked accurate and in-scale.

Next came the landing gear. I used a Scale Aircraft Conversions (SAC) white metal gear set specifically designed for this kit and found it fit well. Of special note is the kit's tail wheel strut, which needs replacement by the SAC item as it isn't strong enough to support the weight of the model. The kit wheel wells are boxed-in, well-defined and accurate.

The kit tires are rubber and unfortunately have a circumferential seam line. However, I was able remove it by hardening the seam with CA glue and sanding it off. Once fixed, the tires fit well and when placed on the finished model provide some shock-absorbing protection.

Painting was easy as the dark earth, dark green and sky camouflage used by the RAF in 1940 is a dream for modelers- easy to paint, good coverage and tolerant of weathering. This particular aircraft was painted in a Type A scheme.

My only nitpick with the kit was the spinner - not shaped correctly and too big, which mars an otherwise excellent model. So I used a Trumpeter 1/24 Mark I spinner as a guide and carved down and sanded the Airfix spinner until it looked right. Turned out the thickness of the kit spinner made this an easy job, and the result was a huge positive difference to the finished kit. BTW, the Trumpeter spinner? Too small for the Airfix model, so cross-kitting won't help you here.

What has me perplexed is why Airfix hasn't done anything to upgrade this kit over the past 46 years. Surely it would be a simple matter for them to retool the kit's Rotol spinner, then maybe throw in a new-tooled De Havilland prop and spinner, and a tropical air filter, to increase the versatility of the kit and boost its appeal to modelers. Just as perplexing is the slight interest shown in the kit by aftermarket companies- there are literally thousands of resin doodads available for everything with wings but this lion of a kit has been practically ignored. Go figure.

All in all, this was an enjoyable build and the finished model is an accurate replica of a Hurricane. You have a real sense of accomplishment when you complete a model this big. If you have time, dedication to subject and standard modeling skills, give this old-timer a try- you'll be rewarded with an excellent model of the unsung plane that stopped the Luftwaffe in its tracks and saved Britain and the world, nearly 80 years ago.
---
Modeleing the Aircraft of
Ken Walsh, USMC - The First "Corsair Ace"
By Mike Blohm
Captain Kenneth "Ken" Walsh , US Marine Corps (USMC) scored 21 aerial victories in the Pacific Theater during World War II. Walsh is the 18th ranking U.S ace (tie).; 4th ranking in the USMC. the first "Corsair ace" and also the top "Corsair ace." Walsh was originally a aircraft mechanic and radioman for two years before being accepted for flight training. He served five years in scout and observation squadrons on the carriers Yorktown, Wasp and Ranger before being assigned to fighters with VNF-121. He joined the VMF-124 "Checkerboards" in Sep 1942, the first unit to fly the "Corsair" in combat. VMF-124 and arrived at Guadalcanal Island in Feb 1943. He became the first "Corsair Ace" on 3 May 1943 when he downed two Zekes off the Russell Islands and would become the squadron's top ace. Walsh would score 12 victories in 19 days (12-30 Aug 1943). These included 4 victories on 30 Aug (4 Zekes) north of Ranongga Island and three "triples": 1 Apr (2 Zekes & Val); 13 May (3 Zekes) off the Russell Islands; and on 15 Aug (2 Vals & Zeke) near Vella Lavella. Walsh flew 3 combat tours with VMF-124. Walsh was awarded the Medal of Honor for his actions on 15 and 30 Aug 1943 by President Roosevelt on 8 Feb 1944. Walsh then served as an instructor at Jacksonville until he joined VMF-222 for an additional combat tour, flying fighter-bomber missions in the Corsair in the Philippine Islands and Okinawa. He scored one additional victory, his final, on 22 June 1945 (Zeke) off Okinawa. His victories included: 17 Zekes, 3 Val dive bombers, and 1 float biplane. His awards included 5 Distinguished Flying Crosses. Walsh flew strike missions during the Korean War with VMR-152 from Oct 1950 to July 1951. He retired from the USMC as a Lieutenant Colonel in Feb 1962, and died in July 1998.
The model of Ken Walsh's F4U-1 "birdcage" Corsair is the Hasegawa kit in 1/72 scale, built in early 2001. It is depicted on

Guadalcanal Island

in May, 1943 when Walsh was a 2nd Lieutenant and had scored five victories. This is an accurate kit but the interior detail is lacking, having just a floor panel with consoles and an instrument panel that get instrument decals applied, and a basic seat. The model is finished in Testors Model Master enamel paints Intermediate Blue FS35164 on the upper surfaces and Dark Gull Gray FS36231 on the lower surfaces. Walsh's markings came from MicroScale sheet 72-314. All of Walsh's Corsairs were coded "13."



---
Modeling the Aircraft of
Major John B. England - Yoxford Boys Ace
By Mike Blohm
Maj John B. England, US Army Air Force, scored 17.5 victories in the Eurporean Theater of Operations and is the 26th-ranking American ace (tie), and the 20th-ranking USAF ace (tie). He was the 2nd-ranked ace of the 357th Fighter Group (FG) "Yoxford Boys" and the 362nd Fighter Squadron (FS). The 357th was the first 8th Air Force group to fly the Mustang in combat – on 11 Feb 1943. Only the 56th FG scored more total aerial victories, and the 357th had the highest rate of victories for the last year of the war. England made "ace" on 24 Apr 1944, and scored his victories in bunches. He scored a "quadruple" on 27 Nov 1944 (4 Fw 190s) south of Magdeburg, Germany; a "triple" on 24 Apr 1944 (3 Me 110s) south of Munich; a "2.5" on 13 Sep 1944 (2.5 Bf 109s) south of Nordhausen; and a "double" on 6 Oct 1944 (2 Bf 109s) west of Berlin. He commanded the 362 FS from Aug 1944 to Feb 1945 and was promoted to Major on 4 Dec 1944. After WW II, England transferred to the USAF and was promoted to Lieutenant Colonel on 20 Feb 1951. He served a short tour in Korea, flying six missions in the F-86E "Sabre" with the 16 FIS, 51 FIW, claiming a damaged MiG-15 on 25 Jan 1952. England became commander of the 389 Fighter Bomber Squadron in Oct 1953. He was killed on 17 Nov 1954 in an F-86F flying accident at Toul-Rosiere Air Base, France. Alexandria AFB in Louisiana, England's home state, was renamed England AFB in his honor.
The model of England's P-51B "U've Had It!" is the venerable Monogram 1/72 scale P-51B Mustang kit, depicted in June 1944 at the 357th's base at Leiston, England when he held the rank of Captain. The model was built in Nov 2001 and is finished in Model Master aluminum plate (buffing) enamel paint for the undersurfaces and sides. The upper surfaces are Model Master Olive Drab (FS34087), which was added to their bare-metal ponies when the 357th expected to soon be operating out of airfields on the continent after D-Day. England's markings are decals from a Super Scale decal sheet. The P-51B wears complete D-Day stripes markings, which are from the Super Scale P-51 D-Day Stripes decal sheet. England also flew a P-51D named "Missouri Armada" that was completely olive drab on the upper surfaces.
---
Modeling the Aircraft of
Capt Frederick Christensen - Thunderbolt Ace of Zemke's Wolfpack
By Mike Blohm
Captain Frederick J. Christenson Jr. scored 21.5 victories during World War II and is the 16th-ranking American ace (tie), and 11th-ranking USAF ace. He was the 4th-ranking ace of the 56th Fighter Group (FG) "Zemke's Wolfpack" behind Francis Gabreski (28), Robert Johnson (27), and David Schilling (22.5). Christensen attended Boston University and Massachusetts Institute of Technology before joining the Army Reserves He transferred to the 62 Fighter Squadron (FS) of the 56 FG in Aug 1943, where he flew 107 combat missions, all in the P-47 Thunderbolt. Christensen scored his first victory on 26 Nov 1943 over a Bf 110. His biggest day was on 7 Jul 1944 when he downed six Ju 52 transports caught in the landing pattern at Gardelegen Airdrome. He scored three "doubles": on 15 Mar (2 Fw 190s) near Dummer Lake; on 16 Mar (2 Fw 190s) near St Dizier; and on 15 Apr 1944 (2 Bf 109s) near Altona. He scored 1.5 kills on 20 Feb 1944 (1 Ju 88 and 0.5 Do 217). Inactivated in Nov 1946 as a Major, he then served in the Massachusetts Air National Guard from Nov 1947 to Aug 1961, rising to the rank of Colonel and 102 FG commander. Christensen passed away in Aug 2006. His awards included a Silver Star, 7 Distinguished Flying Crosses, and 3 Air Medals.
The model of Christensen's P-47D-25 "Miss Fire / Rozzie Geth II" is depicted at
Boxted, England
in July 1944. This is the Hasegawa 1/72 scale P-47D bubbletop kit, which is an easy straight-forward build. The kit came out in the early 1980's and does not have a lot of cockpit details or options like lowered flaps or open canopies as in more recent kits from Tamiya and Academy. As a 56 FG "old-timer," Christensen retained the "LM-C" code ("C" for Christensen) on all his aircraft during his tour. His P-47D-25 was unusual in that kill markings were displayed on both sides of the fuselage in two different styles. This build took place in 2001, before there were any decals of Christensen's aircraft available in 1/72 scale. Therefore, the aircraft names, nose art, and pilot identification blocks were all hand-painted onto clear and white (for the nose art) decal sheets and then applied. The codes and serial numbers are from Super Scale and Aeromaster numbers and letters decal sheets with the victory markings sourced from other sheets. The stars and bars and tail stripes are from the kit's decals. The P-47 was painted with Model Master aluminum plate (buffing) enamel paint with an Olive Drab (FS34087) anti-glare panel. The nose was painted Insignia Red (FS31136) for the 56 FG and the rudder Insignia Yellow (FS33538) for the 62 FS, both over a white undercoating. Christensen's P-47D carried both the under fuselage and under wing D-Day markings retained in July 1944. These came from the Super Scale P‑47 D-Day Markings sheet. Christensen's markings are now available for his P-47D Bubbletop in 1/72 scale from Lifelike Decals 72-010 Republic P‑47D Thunderbolt Part 3; and for his P-47D Razorback in 1/48 scale from
Lifelike
Decals
48-008
Republic
P-47D Thunderbolt Part 1.
---
Modeling the Aircraft of
Bill Harris - Lightning Ace of the Southwest Pacific
By Mike Blohm
Lieutenant Colonel Bill Harris is a little-known ace who flew P-38 Lightning's in the Southwest Pacific, eventually becoming the top P-38 ace of the 13th Air Force. Harris is the 32nd ranking U.S. ace (tie) and 27th ranking USAF ace (tie), and was the top ace of the 347 Fighter Group (FG). Harris had served in the US Navy from 1936-1940 as a radioman on the USS Houston. When the U.S. entered WW II he wanted to fly instead of returning to the Navy, so he joined the Army Air Corps. From his Navy experience he did not want to fly over water, but he ended up serving two combat tours in the Pacific. The first was with the 339 Fighter Squadron "Sunsetters" of the 347 FG, scoring 15 total victories flying the P-38G and H between Jun 1943 and Feb 1944 in New Caledonia, Guadalcanal, and New Guinea. His victories included a "triple" (Zekes) on 15 Feb 1944 at Vunakanau air strip, and 4 "doubles." He had 10 kills in a 5 month period (Jun-Oct 1943), including 3 total in two sorties on 10 Oct 1943. He joined the 18 FG in Nov 1944 for a second combat tour flying the P-38J in New Guinea and the Philippines. He scored one additional kill on 22 Jun 1945 (Oscar) at Mandai Airdrome in the Celebes (Indonesia). He served as 18 FG commander from 1 Aug 1945 to the end of WW II. 13th AF P-38 units were relegated to airfield and rail attacks during the invasion of the Philippines, effectively limiting their opportunities for additional victories. After the war Harris went back to a logging business that he had stared in 1940, and then became a rancher. Harris passed away in May 2012. He was inducted into the Oregon Aviation Hall of Fame on 7 Nov 2015.
The model of Harris's P-38 is the 1/72 scale Hasegawa P-38J/L kit. The model depicts Harris's aircraft in August 1945 at Zamboanga Airfield on Mindanao in the Philippine Islands. The model goes together well but needs sanding along the booms for a smooth join. It is finished in Model Master aluminum plate (buffing) enamel paint. Harris's markings were fairly minimal, and were bashed from Super Scale and Aeromaster numbers and letters decal sheets with the victory markings from a P-38 sheet. His name plate was hand-painted. The "OX with Bar" on the nose of his P-38 is his ranch's cattle brand.
---
Modeling the Aircraft of
Hellcat Ace Lt Patrick D. Fleming
By Mike Blohm

August 31, 1943 was the first use of the F6F Hellcat in combat, so this August 2018 article is on little-known Hellcat ace Lieutenant Patrick D. Fleming who scored 19 total aerial victories. Fleming is the 22nd-ranking American ace (tie), and the 4th-ranking US Navy ace (tie). He initially served on the cruiser USS Cincinnati until entering flight training in Nov 1942. He then served as a flight instructor from Dec 1943 to Mar 1944, when he joined VF-80 (Fighting Squadron 80 "Vipers") aboard the USS Ticonderoga. During 2 combat tours with VF-80 he scored 10 victories, including 5 kills on 14 Dec 1944 (4 Zekes and Oscar) in the Philippines; a "triple" on 3 Jan 1945 (2 Oscars and Tojo); and a "double" on 25 Nov 1944 (2 Frances). He then transferred to VBF-80 (Bombing Fighting Squadron 80) as the Executive Officer, where he continued his multi-kill missions by scoring 9 kills in 2 days: 5 scored on 16 Feb (5 Zekes) and 4 on 17 Feb 1945 (4 Nates) during the carrier raids on Tokyo. Fleming took command of VF-80 in May 1945. He was awarded a Navy Cross, 2 Silver Stars, and 2 Distinguished Flying Crosses.
Fleming resigned from the Navy in Jan 1947 and joined the newly formed USAF as a Major. He flew the B-29, B-50 and B-47 and rose to the rank of Colonel. Fleming was killed in a B-52B crash on 16 Feb 1956 while serving as the 93rd Bomb Wing's Deputy Wing Commander. The model of Fleming's Hellcat is the Heller 1/72 scale kit depicted in Nov 1944 aboard the USS Ticonderoga. The model is finished overall in Model Master enamel paint Dark Sea Blue (FS15042). The markings were kit-bashed from Super Scale Hellcat decal sheets. Of note, of the 6,477 Japanese aircraft that were claimed destroyed in the air by US Navy pilots, the Hellcat was responsible for 4,947 of them (76.4 per cent).
---
Syrian MiG-21
By John Tate
Syria has been in the news lately so here are some shots of a Revell 1/32 scale MiG-21MF I completed late last year, in current Syrian Air Force markings. The inspiration for the build came from a 2016 video clip I saw from the Russian media site RT, which reported on Syrian air operations in the midst of their civil war, using 1970s-era Soviet military equipment.
Researching these aircraft, it appears they wore a "Hungarian"-style camouflage of mustard brown and bright green, with light gray or light blue undersides. No roundels were carried, just the national flag on the tail with Arabic aircraft numbers. These warbirds were worn and weathered to an extent you would not see on peacetime in-service aircraft; it's amazing the Syrians were able to keep them in the air at all, but MiGs of that era were designed to be rugged and easy to maintain. Nevertheless, it was quite a feat for Syrian pilots to strap one of these on for a combat mission, especially since certain death awaited them if they ejected over rebel territory.
Although the MiG-21 was originally designed as a supersonic interceptor, its use in the Syrian civil war has been as a bomb truck, so no air-to-air missiles were carried—just Russian or locally-made bombs. There were only two scale bombs in the Revell kit, so I ended up borrowing some from the Trumpeter MiG-21 kit, along with many other odds-and-ends, to improve the appearance and accuracy of the Revell kit, especially in the cockpit. It was the labor of a year to complete but looking back it was a rewarding build and gave me a chance to learn more about the MiG-21. If you have one of these kits, they are well worth building if you don't mind some old-fashioned scale modeling, which means a lot of surgical accurizing and borrowing of parts, but just like the original, the model is a tough old bird that can stand a lot of handling.
---

Modeling the Aircraft of
American Volunteer Group Ace David "Tex" Hill
By Mike Blohm
David L. "Tex" Hill was the second-ranking ace of the American Volunteer Group (AVG) "Flying Tigers," and is the 39th ranking U.S ace, and the 29th ranking USAF ace. Hill initially flew TBD Devastator torpedo bombers with VT-3 on the USS Saratoga and then SB2U Vindicators dive bombers with VB-4 on the USS Ranger, before resigning his commission in March 1941 to join the AVG. Hill was a wingman and flight leader before becoming commander of the 2nd Pursuit Squadron (PS) "Panda Bears" April 1942. Hill made "ace" in January 1942, scoring his first kill on 3 January (I-97) and then "doubles" on both 23 January (2 I-97s) and 24 January (bomber and fighter). He scored another "double" on 28 April 1942 (2 Zeros) flying the P-40E. Hill had a total of 10.25 aerial victories and 2 ground victories with the AVG. Hill opposed the "pilot's revolt"--the refusal to join the USAAF--and extended his AVG contract for 2 weeks and accepted a commission in the USAAF and command of the 75 Fighter Squadron. Hill scored 3 kills with the 75 FS before he returned to the U.S. in November 1942, ill with malaria and dysentery. He returned to China as the 23 Fighter Group (FG) commander, serving from November 1943 to October 1944. He scored 1 additional kill on 6 May 1944 (Hamp) for an overall total of 15.25 victories. After WWII, Hill was the 412 FG commander from September 1945 to January 1946, flying the P-80 "Starfighter." Hill resigned from the USAF in June 1946 and joined the Air National Guard, rising to brigadier general and commanding the 58 Fighter Wing. He later joined the AF Reserves, serving until 1968. Hill passed away in 2007 at age 92.
The pictures below show (left to right): AVG and 2 PS emblems; Tex Hill with the 2 PS in front of a Hawk 81-A2 in 1942; Hill's Hawk 81 #48 after it was lost in an intercept mission in December 1941; Hill (2nd from left) with other members of the 75FS; Hill in front of a 23FG P-51B; and Hill as the commander of the 23 FG.
The model of Hill's Hawk 81-A2 was built in January 2008 using the Academy Curtiss P-40B Tomahawk kit in 1/72 scale. This is a fairly old kit and it is not as accurate as those available today (Trumpeter and Airfix), but it was the best at that time. Hill's aircraft carries a "cowboy" version of the "panda bear" insignia (see picture below) and the "China Blue" tail stripe used by the 2nd PS. Each squadron aircraft had a slightly different version of a panda bear. The 2nd PS used aircraft numbers 34 through 66. The outline of the shark mouth was initially painted in the China Blue but this faded badly and they were over painted with black. The "Flying Tiger" insignia and lapel pins designed by the Walt Disney studio did not arrive in theater until March 1942, so Hill's aircraft did not carry one at the time depicted by this model, which is December 1941. The Hawk 81 is finished in standard RAF paints of Dark Green and Earth Brown on the upper surface and Duck Egg Blue on the under surface. Model Master enamel paints were used. There is great debate over the lower surface color as to whether it was really a light grey. The AVG Hawks in the Aces Gallery collection (four at this time) were started with duck egg blue, so they have been continued as such.
---

American Aces of World War I
by

Mike Blohm




Douglas Campbell

1st Lieutenant Douglas Campbell made history as the first American-trained ace in WW I, accomplished flying with the 94th Aero "Hat in the Ring" Squadron. Assigned to the 94th in March 1918, he claimed his first victory on 14 April 1918 flying the Nieuport 28 "Scout". This victory, and Alan Winslow's near-simultaneous claim, were the first victories for the squadron. Four U.S. squadrons (27th, 94th, 95th, and 147th) of the 1st Pursuit Group were equipped with the Nieuport 28 in 1918 before sufficient SPAD S.XIII's became available. Note that SPAD stands for Societe Pour L'Aviation et ses Derives, the company that built them. Campbell became the first American-trained ace with his fifth victory on 31 May. He had six kills before he was wounded on 5 June, continuing an air battle despite shrapnel from an artillery round in his back. Campbell went back to the USA, returning to France to rejoin the 94th shortly after the armistice. Campbell received the Distinguished Flying Cross (DFC) with four oak leaf clusters, the French Legion of Honor, and the Italian Croix de Guerre with two palms. His victories included four Rumpler C and two Pfalz DIII aircraft. He joined Pan American Airways in 1935, becoming vice president in 1939 and then general manager in 1948. He was with Pan Am for 24 years before he retired in 1963. Campbell died on 16 Dec 1990 at the age of 94.

Nieuport 28 Model

The model of Campbell's Nieuport 28, serial N6164, white 10 of the 94th Aero Squadron depicts the aircraft that he was flying when he scored the first U.S. trained victory of World War I, located at Toul, France in May 1918. This 1/72 scale model is the Revell Nieuport 28 kit from the 1960's. It was built in April 2005 and is finished in Model Master colors. This kit has been reissued many times over the years, and some issues have had Campbell's markings. The kit is an easy build--besides trying to mount the wings--and looks fairly good. It has no interior, so a seat, seat belts and instrument panel were built. Aircraft rigging wires were added using stretched sprue. Note that are several wires mounted alongside each other from the wing at the top of the outboard strut to the fuselage, which makes it look like it is too thick, but that is the actual construction of the aircraft.

The Third Liberty Bonds poster shown at far right above was pasted on to the top wings of many of the aircraft in the 94th Aero Squadron, but photographs show that Campbell's #10 did not have it.


Frank Luke, Junior

2nd Lieutenant Frank Luke is known as "the Arizona Balloon Buster." He is the 2nd-ranking American ace who was in the U.S. Service in WW I. He is the 18th ranking Air Force ace (tie) and 23rd ranking American ace (tie). Luke was assigned to the 27th Aero Squadron in July 1918. Luke was a controversial and aggressive "lone wolf" pilot who disregarded orders and was known to break formation. But for his flying skills, success at attacking balloons, and a forgiving commanding officer, he would have been transferred out of the unit. Luke scored 18 victories in 10 days between the 12th and 29th of September (he was sent on leave on the 20 through 27th). Of these victories, 4 were aircraft and 14 were balloons that were heavily defended by both AAA and aircraft. During this short period Luke scored 5 victories on 18 September in a 30 minute period (3 aircraft and 2 balloons); had two "triples" on 15 and 29 September (all balloons); and had three "doubles" on 14, 16, and 18 September (5 balloons and 1 aircraft). Many of these missions were flown with his friend Lieutenant Joseph Wehner (6 victories) who flew cover while Luke attacked the balloons. much like Don Gentile and John Godfrey in World War II. Wehner is shown in the far right picture below. Wehner was shot down and killed during the 18 September mission. Of note, Luke brought back five SPADs damaged beyond repair. Luke's last mission occurred on 29 September after he had been grounded by his squadron commander for insubordination. Luke disregarded the order and took off anyway, receiving after the fact tacit approval by the group commander. Luke was killed in action during this mission where he downed 3 balloons near Avocourt, France. In this action he was wounded and his SPAD disabled by ground fire. He crash-landed near Murvaux, after strafing troops in the town. There is controversy about what occurred after he crash-landed and was approached by German troops. It is likely that he was in a state of shock from his mortal wound when (or if) he fired at the troops and that he probably died from loss of blood. Luke was awarded the Congressional Medal of Honor for his actions, the only pursuit pilot to win the award during the war. He was also awarded the DFC with one oak leaf cluster and the Italian Croix de Guerre. Luke, 21 years old, was posthumously promoted to 1st Lieutenant. Luke Air Force Base in Phoenix, Arizona is named in his honor.

SPAD S.XIII Model




The model of Luke's SPAD S.XIII, serial S15202, black 26, of the 27th Aero Squadron "Fighting Eagles" depicts his aircraft in Rembercourt, France in September, 2018. This 1/72 scale model is the Revell SPAD XIII kit, also from the 1960's, was built in October 1998 and is finished in Model Master colors. This kit has also been reissued many times over the years and some have included Luke's markings. The markings used, however, are from an aftermarket decal sheet (Pete's Decals 72-08) that was the best available in 1998 but it is likely no longer available. Print Scale has two decal sheets 72-046 and 48-047 "SPAD VII to SPAD XVII Fighters" that include Luke's markings. This is an easy build--again besides mounting the wings--and looks fairly good. Like the Nieuport, it has no interior, so a seat, seat belts, instrument panel, control stick, and windshield were built. Aircraft rigging wires were added using stretched sprue, which is a total pain in 1/72 scale, especially on a SPAD, which has about 30 wires. My next SPAD project will use the Eduard kit. The Eduard SPAD XIII Profipack in 1/72 scale and the Weekend Edition in 1/48 scale both include Luke's markings.

Of note, there are four American aces that served only in the Royal Flying Corps/Royal Air Force during WW I who scored between 20 and 18 victories (Frederick Gillet with 20, Wilfred Beaver with 19, Harold Kullberg with 19, and William Lambert with 18), only behind Edward Rickenbacker's score of 26. These aces are virtually unknown to the American public. Models of these aces are in my planning.

Sources:
USAS 1st Pursuit Group by Jon Guttman, Osprey Publishing Aviation Elite Units #28, 2008


American Aces of World War I by Norman Franks, Osprey Aircraft of the Aces #42, 2001
U.S. Air Service Victory Credits World War I, USAF Historical Study No. 133, Historical Research Division, Aerospace Studies Institute, Air University. June 1969
---
Yamamoto's Guardian
by

John tate
Seventy-five years ago this month, with a small air group in a far-off corner of the world under primitive conditions, the US Army Air Force achieved the impossible -intercepting and shooting down, with split-second timing at extreme long range, an enemy aircraft carrying the most capable admiral of the Japanese fleet. The story of this mission - Operation Vengeance - is well-known to most scale modelers interested in the Second World War; some have even built models of the P-38G Lightnings and G4M1 Betty bombers that were the focus of that event. But with a 1/32 Zero on my workbench, I thought I'd tackle a less well-known subject: the escorting Japanese fighter planes that tried but failed to stop the shoot-down of Admiral Yamamoto.
The kit was the 21st Century Toys 1/32 A6M3 Type 22 Zero, a plane I didn't know much about when I picked up the kit recently from a local thrift shop. But once I started researching the plane, I realized it wasn't a "generic" Zero but a special long-range version (fewer than 600 built) heavily employed during the Solomons campaign. It also appeared to be the fighter type used to escort Admiral Yamamoto -six Zeros from the 204th Kokutai at Rabaul. Delving further, I learned that the mission pilots were highly skilled, including Kenji Yanagiya (eight victories) and Shoichi Sugita (seventy victories). On the day of Yamamoto's flight - April 18, 1943 - these six Zeros flew at the Four O'clock high position in two vic formations above and to the right of the two G4M1 bombers. As the flight was approaching their landing fields at the southern tip of Bougainville island, they were attacked by the 16 P-38Gs of the intercept mission and, although the Zeros dived on their opponents, they were quickly overwhelmed and the two G4M1s downed by the Lightnings. Yanagiya (pictured below) swore to get one of the enemy and turned southeast, where he found one of the P-38s returning to base and shot it up over the sea - probably the aircraft flown by Lt. Raymond Hine, who did not return from the mission.
The Zero pilots all landed in Bougainville without loss and then returned to their base at Rabaul. It was clear a tragedy had occurred that would have an ominous effect on the future of Japan in the war, but the Zero pilots weren't held responsible - it was understood they were outnumbered in the attack.
It was a dramatic story, so I decided to build one of the escort fighters; not much information was available on markings until I discovered an instruction sheet profile from a Hasegawa 1/72 A6M3 kit, which illustrated aircraft flown on the mission by Kenji Yanagiya and Shoichi Sugita. Fortunately, markings were simple - just tail codes - with a standard IJNAF Zero camouflage scheme. Replicating the tail codes was easy so I was able to finish the model as Yanagiya's aircraft (T2/169). As for the model itself, it is a curious hybrid of a toy and a detailed replica, but I found it well worth building and forgiving of rough handling. The model went together easily with CA glue and seam lines were filled without much trouble. The only issue I had with the kit was the lack of wing dihedral; I had to shave some plastic off the wing and wing root join surfaces to get the proper angle. However, the model went together easily and I was happy with the final result. The only "inaccuracy" I discovered after the build was that these escort Zeros likely did not carry radios; I had installed a standard radio mast and aerial wire on the model but because I liked the look of it, I didn't remove it.
What I found rewarding about this build was that even after many decades of building WWII models, there was still something to learn about that conflict through scale modeling. In this 75th Anniversary year of the midpoint of the War, take some time to research a well-known event and discover something you didn't know, and model it. So much occurred in 1943 - Stalingrad, Tunisia, Sicily, Italy, the Dams Raid, the Ploesti Raid, the Solomons, Tarawa and Kursk - that with a little research there's a good chance you'll discover a new and interesting model subject right in your kit collection.
---
AH-1Q Cobra
Part 1
By Ken Piniak
Over the past several months I have noticed from reading various magazines, club newsletters, and online forums, that there has been a lot of interest in finishing models from the "Shelf of Doom;" that is to say, models that were started some time ago but never completed. So this my oldest model from that dreaded "Shelf of Doom." This model of an AH-1Q using the classic 1/32-scale Revell kit goes back to at least 1982.
Background
The inspiration for building this was an AH-1Q that I saw (and photographed) on my base in Schweinfurt, Germany in 1981. I didn't know it at the time, but the "Q" model was a somewhat rare and short-lived interim model of what became known as the "TOW Cobra." This would prove to be a problem later, as good, factual, and reliable information and photos of the "Q" are hard to come by. I am not sure exactly when I started working on this model, but I know I was building it in 1982. I may have started it in late '81, but I simply do not recall for sure.
My original attempt to build it
At this time aftermarket stuff basically did not exist. So I really had no choice but to use what came in the box and scratch build/kitbash the rest. The cockpit was basically the kit cockpit, with a lot of additions and modifications by me. All in all, I did a pretty good job on it; considering the experience level of that very young and inexperienced version of me, I did an awesome job on it! I hand-painted the instrument panels and seats. I added the armor plates for the seats from sheet styrene. The air conditioning hoses were from the "ratlines" on an old sailing ship. I modified the rear bulkhead and added insulation quilting from tissue. I added parts to the pilot's sight to make it more accurate, and his collective control. I added the pull handles for the canopy removal system, and a fire extinguisher from a race car model. I also did a fairly decent, if basic, job on the engine. My original intent was to display it with the kit "engine hatch" open; it was only later that I found out how inaccurate this hatch is and changed my mind about using it.
It was at this point that I ran into the main stumbling block to this build. I just could not figure out how to create the anti-strela missile engine modification (the funnel/toilet bowl/sugar scoop thing on the engine exhaust), and the TOW missile sighting unit on the nose. Over the years I did make several attempts to resurrect this kit, and overcome the problems I had with it, but couldn't. At one point, I even added an electric motor to operate the rotor, and a flashing LED for the anti-collision light (these actually looked pretty good!). Mostly, it just sat in the box, gathering dust. It also got moved around a lot, as did I, moving to a new base every couple of years.
Resurrection
Flash forward to 2014. I finally got around to building a Huey Cobra model. Digging through my stash, I found that I had enough kits/parts for at least two Revell AH-1 models, so I went for two: One a Vietnam-era bird and the "Q." By this time the aftermarket had caught up with the old Revell kit. Eduard had produced a photoetch set for it (currently out of production), Cobra Company had several sets, including a cockpit, new stub wings, rocket pods and gun mounts. Fireball Modelworks made decals and rocket pods, along with the anti-strela kit (the toilet bowl) that included a corrected tail. Werner's Wings produced a beautiful vacuform canopy. But most important for this build, MRC produced a 1⁄35-scale model kit of the AH-1W Supercobra which included the sighting unit and the TOW missiles. Verlinden and Eduard both produced update sets for the MRC Supercobra. Now I could finish this.
Since I would be building two different models of the Cobra, I could mix and match parts as needed to best complete each one. But first I had to see what I had left of the original model to start with. When last worked on, I had gotten as far as putting the fuselage together, adding the landing gear, and the stub wings. But time had not been kind to the old bird - the fuselage had come apart, the landing gear broke off, and the worst was that the stub wings had broken off, tearing large holes in the fuselage sides. So I would have to use a new body. Getting the cockpit out of the old model broke the rear bulkhead and tore the tissue insulation. There were also a number of other parts broken and missing. But most of the cockpit was intact. That was my new starting point.
I cut off the remainder of the bulkhead, and replaced it using a piece from an MRC UH-1 that had the insulation molded in. I added an electronic box and first aid kit from the Verlinden set. Many pieces, including the seats, instrument panels, and fire extinguisher, had broken loose. These were cleaned up, repainted where needed, and reattached. One of the "ear pieces" for the pilot seat armor was missing; I replaced it with sheet plastic. The "ratline" air conditioning hoses were replaced with Verlinden resin parts. I also used Verlinden parts for the circuit breaker panel and the small instrument to the right of the pilot sight. I built a better gunner's instrument panel using one from Cobra Company, the Verlinden TOW sight, and decals by Airscale. I left it off for now, so it does not get broken.
My original engine and transmission were okay, but the mount was broken. I freed the parts from the old mount and added them to a new one. I also added a particle separator from the MRC UH-1 to the front of the engine, and added a drive shaft from aluminum tubing. In order to make room for the coming modifications, I had to cut off the engine exhaust pipe.
In 2015 circumstances forced me to make the other (Vietnam era) Cobra model a top priority, so the "Q" once again went back on the "shelf." I started working on it again this summer.
Adding new parts
Before I could put the main body together, I had to do some surgery to get the fuselage ready for the upgraded parts. Following the instructions from Fireball, I cut off the tail and the rear of the engine compartment, along with the nose. I painted the engine compartment zinc chromate yellow, then added the engine and cockpit to the left fuselage. I knew that all that resin added to the rear would make this bird very tail-heavy, so I added weights to every nook and cranny I could find in the front of the aircraft. Then I glued the body together. Knowing the MRC Supercobra had a different shape, and at 1/35 scale was a bit undersized, I cut the nose off a little long, then trimmed and sanded until I had the correct fit. The Revell AH-1 kit was first released in1969, and unlike modern kits requires lots of work to clean up the seams. Once the bottom seam was done, I added the landing gear. Once again following the instructions from Fireball, I installed the new tail and engine cowling, followed by the kit engine hatch. Then more work filling seams.
At this point, the main part of the model is built. Most importantly, I have fixed most of the problems that I encountered all those years ago. The last area that needs to be addressed is the TOW missile launchers. Now you will notice that I have not finished this yet. The idea is that by going public with this, I will force myself to finish it off. Hopefully, by the time you are reading this, it will be completed.
---
Tales from the Shelf of Doom

Part 2

By Ken Piniak

I had wanted to get this finished up by the December 2017 ASM club meeting, but that didn't happen. I did take what I had as a Work In Progress display.

The helicopter itself is basically done. The fuselage is complete, and the stub wings are in place. If I was building this to the standards of 1982, it would be done by now. But I am building it to my standards of 2017, which are now much higher. And perhaps I am a bit of a glutton for punishment, as I keep adding things that I would not even have thought of in 1982.

First up is the chin turret. In the '80s I had improved it a little bit, but looking at it now it was just not good enough. I took the guns from the old turret, and using a resin piece from Cobra Company as a guide, built a whole new one. It may not be quite as good as the one from Cobra Company, but it is a whole lot better than the original kit part, and it still moves! The stub wings are from the kit, but I cut off the end pylons and replaced them with the pylons from the Supercobra, to fit the TOW missile launchers.

More cockpit details:

I made a new canopy removal system pull handle using strip styrene and a "T" handle from Verlinden. The tubing is wire. In 1982, seat belts were not even a consideration; I was going to have the pilots in the seats. Remember the motor for the rotor? That has changed. I used seat belts from HGW, in the Czech Republic. These are printed on a micro-weave fabric, with photoetch hardware. They are small, complex, and a royal pain to work with, but are very realistic. I used a real belt as a reference to get the "right" look.

TOW missile racks:

At first I planned to just use the stock missile racks from the Supercobra kit. But helicopters in Germany usually flew with empty racks, and the MRC kit has full racks for Desert Storm. Foolish me, I decided that to do it right, I need empty racks. The MRC kit does not have the parts to show empty racks. The Eduard PE set does, but they would have you build it all using brass. I don't know about anyone else, but I have never been able to bend, fold, roll, curve, or otherwise massage all those little brass pieces to do what Eduard says they should do. So I combined the Eduard brass with MRC plastic along with some creative styrene bits to make something that at least looks like some TOW missile launchers. At this point they don't look half bad, and certainly look better than anything I could have scratch built back in the 1980s.

Canopy:

Now the only major obstacle to finishing this thing is the canopy. Again, this was not even a consideration back in 1982. Then, the only option was to use the kit canopy (hey, it's not that bad). Today, there is another option; Werner's Wings makes a beautiful vacuform canopy. Unfortunately, vacuform canopies can be difficult to work with. But they do look sooo good in place. I already messed up my first attempt to use one of these and had to get a new one. So here goes round two.

Stay tuned...
---
Tales from the Shelf of Doom
The Final Chapter
By Ken Piniak
Well, December and January turned out to be really bad months for model building. Besides a number of personal issues, the usual family and holiday commitments, and just the real world intruding into my modeling time, I had two problems combine to temporarily shut down construction. First off, my air compressor died. Not fixable, I tried; so I had to shell out for a new one (those things ain't cheap, either). Then my trusty old Aztec airbrush broke. I had inherited a couple of old Paasches (an H and a VL) from my dad, so I dug them out. It took a while to figure out how to get them to work, and even longer to figure out how to use them. The Paasches work quite differently from my old Aztec, and even differently from each other. But I am finally starting to get the hang of it. So now back to modeling.
Weapons stores and TSU: I finished up the TOW racks and painted them Model Master Olive Drab. The 19-shot rocket launchers are resin pieces by Fireball Modelworks. They needed just a tiny bit of cleanup, then paint. Again, MM OD, with silver for the ends. Decals are from the Monogram kit. The Telescopic Sight Unit (for the TOW missiles) is the resin piece for the Supercobra from Verlinden. I painted up the optics with Tamiya metallics, and a touch of clear blue in the day sight. Then I added the clear cover and photoetch covers and painted it all with more OD. To attach it to the nose of the aircraft, I drilled out the sight turret and its mount, and used a piece of wire, which allows it to rotate. The wire I used is an old bit of actual Army Tripwire, used for setting boobytraps. So there is an actual piece of Army hardware in this model.
Paint: With the cockpit finished up, I sealed it up using an old kit canopy. Then primer, and paint. The body color is MM Helo Drab. I let that dry for several days, then used Tamiya clear in the spray can as a base for the decals.
Decals: Here I ran into another problem. I had planned to use the excellent set of AH-1S TOW Cobra decals from Fireball. Unfortunately, early in 2017 Fireball Modelworks ceased all production of aircraft-related products to focus on model car parts. This included decals. Oops! So now I had to come up with my own decals. I had a set of Vietnam Cobra markings from Fireball, the kit decals, the decals from the MRC Supercobra, along with some others in my stash. Using bits and pieces from all of these, plus a few custom ones I printed up myself, I was able to make it look how I wanted.
Weathering: Once again, this would not even have been a consideration in 1982. Back then I would have just put on the base coat and called it done. One interesting note; looking at the paint on my old original chin turret, I was actually painting it the correct Helo Drab color.
Once the decals were on, I sealed them with a coat of clear gloss. Then I tried out something new (for me), dot filters. I also added some subtle highlights and shadows. Then I sealed it with a coat of clear flat. Then came some pastels (Shep Paine's term for what they now call "pigments"). I am trying to keep the weathering subtle, but I am having as hard time with it; as much of the work just disappears against the dark Helo Drab.
Canopy: The final obstacle to declaring this done is the canopy. This is only the second time I have tried using a vacuform canopy, dipped in Future. The other time was my other Cobra. Looking through the huge windows on this thing really shows two of the distinguishing features of the TOW Cobra, the Helmet Sighting System (HSS) and the Det. Cord around the windows. As prominent as these are, they were once again not even a consideration back in 82. I did not even know they existed. These are all scratchbuilt, using instructions and templates I got from Fireball Modelworks. The Det. Cords (part of the canopy removal system) are .032 solder. The HSS is wire and bits of styrene strip. Once installed at the top of the canopy, they look pretty good. To show off all the work and detail I put into the cockpit, I decided that I needed to open up the canopy. Boy, I just keep piling on the extra work, don't I?
Rotors: My original main mast was still usable, so I added the kit hub and blades to it. The tail rotor is from an MRC UH-1C, the shaft fit the tail better, and it is much more detailed than the kit part. Following the example of Floyd Werner, I did a multi-layer paint scheme of silver, zinc chromate, OD on top and flat black on the bottom, and yellow tips. Then I sanded the blades to reproduce the worn paint at the tips.
Conclusion: With the canopy and rotors installed, it was essentially done. Finally! I still need to build a nice base for it, and I want to add a couple crew figures to it; otherwise, that's it! And it looks damn good too!
---
Kit Review

-

Special Hobby 1/72 Scale
P-40F Warhawk - Short Tails over Africa
by
Mike Blohm
This kit review is on the Special Hobby 1/72 scale P-40F Warhawk - Short Tails over Africa kit. It has markings for the 64th Fighter Squadron (FS) and 66th FS of the 57th Fighter Group (FG) and the 86th FS of the 79th FG. This may be the only "short tail" P-40F kit available in 1/72 scale. It has been included in a couple of 2-In-1 kit boxings with other P-40 versions. MPM does have a long-tail P-40F/L kit. Sword has both P-40K and Warhawk III short-tail kits.

Overall this Special Hobby P-40F kit has an accurate outline for a short tail and should have been an easy build. However, there were some issues that got in the way. The problems were all resolvable, but this took some trouble-shooting and time to get the build completed. The sprues, canopy parts, photo-etch, and decals all come in separate plastic bags (pictures 1-2). The plastic is gray in color and fairly soft. The instructions leave a lot to be desired on how things are supposed to be assembled - more on that later. There are no part numbers on the sprue - you need to refer to a diagram in the instructions. The marking are covered in a separate color insert, which is nicely done.

The interior is pretty detailed. There are side wall panels, a photo-etch instrument panel with an instrument placard (attaches behind it), a seat with photo-etch belts and straps that can be used. There are a lot of fiddly-bit parts for the belts and straps if you want to use them, but surprisingly no throttle lever or other side panel parts. There is a nice cut-out in the instrument panel for a reflector gun sight, but no gun sight is included in the kit.

The side panels, seat and floor were all detailed and ready to go (pictures 3-4) when the first obstacle hit. The instructions show the rudder panels hanging down from behind the instrument panel, but the instrument panel and firewall behind it are one solid piece going all the way to the cockpit floor. My workaround was to cut off the rudder pedals and glue them to the bottom of the instrument panel (see picture 5). Close enough.
5
The next obstacle was getting the interior parts assembled within the fuselage. The instructions indicate (sort of) how the panels and the front firewall (behind the instrument panel) and the wall behind the seat are supposed to fit onto the fuselage sides. However, if you try it that way, the back wall (with the headrest) does not sit flush with the end of the canopy (pictures 6-8). It took a bunch of trial and error to sort out how it should (could) fit. The rear panel should be flush against the canopy cut out, and the front panel should be positioned that the (scratch-built) sight is up against the glare shield. Note that when you do this, the floor is then not long enough to cover from the firewall to the rear panel. After initially lining the floor up at the front panel, I ended up gluing the floor towards the rear and added a piece of styrene to cover the see-through hole up by the rudder panels, which probably would not be seen anyway (pictures 9-10).

The fuselage needed some filler behind the cockpit, below the cowl, and where the wings mated by the cowl flaps. The tail planes needed some cutting to fit flush to the fuselage. The part numbers for these is switched on the instructions, but the tabs only fit on the side they go on. Getting the canopy parts on was a huge challenge. While accurate in shape, they are too large and the center moving canopy and side window edges had to be shaved off to make it fit together. The front panel was the only part that was OK. The side windows stuck out past the rear wall of the cockpit. Unfortunately there is no open canopy option with the kit parts. There is a nice interior to be seen straight out of the box. There is no pitot boom included, so I scratch built that. I elected to leave off the drop tank. You have to use photo-etch parts to support it, including drilling holes in the tank. Too hard to do. A plastic parts option for tank supports would have been nice. The gear and gear doors were added, as were the photo-etch backup iron ring and bead sight in front of the canopy. Most painful in 1/72 scale. The last items at the very end of the build were the three wire antennas from the wingtips and behind the canopy up to the vertical fin using stretched sprue. Those are probably the most fragile item on the model at this point. I managed to break one of them when I brought it to the November contest and replaced them for the photos used in this article.

My scheme for the build was the P-40F-1 flown by 1Lt Roy "Deke" Whittaker, top ace of the 57th FG in World War II, for my Aces Gallery Collection at the USAF Academy. This model build was part of Tony Humphries's "75th Anniversary of the Battle of El Alamein" project in the November ASM Newsletter, so I wanted to depict the aircraft that Whittaker used during that battle. He scored the first three of his eventual seven victories during this time period, flying bomber escort and ground attack missions.

This particular aircraft presented a big challenge as the 57th FG P-40s were painted in "desert pink" and there are no decals available specifically for Whittaker's scheme (that I am aware of, which is surprising since he is the third-ranking P-40 ace in the Mediterranean Theater). There is no "desert pink" color available, so I referred to multiple profiles and pictures, and ended up using a mix of Model Master 2110 Italian Sand and Testors Flat Light Tan 1170. I used Model Master FS36270 Neutral Gray for the undersides. I did pre-shading using Model Master Aircraft Interior Black on both the under and upper surface (see pictures 11-16). The pre-shading shows up darker on the real model than it does in these pictures. The interior was painted Model Master 1734 Green Zinc Chromate and Aircraft Interior Black. Steel was used for the seat. Instrument panel highlighting was done by dry brushing with white. Model Master Stainless Steel was used to paint the antenna wires.

When I was researching Whittaker's scheme I found several profiles that all differed in separate books and also on-line. I ended up using photographs to nail the scheme (see pictures 17-21). Picture 21 shows Whittaker in the cockpit of his May 1943 P-40F, which had seven victory markings. Building Whittaker's Oct 1942 P-40F took hand-painting and five different decal sheets. The US stars, aircraft identification panel marking, and "US Army" on the lower wing came from the kit decals. The fuselage's "4-3" markings came from a similarly-marked 79 FG aircraft on the Kits-World sheet KW172060 P-40 Warhawks. The "4" on Whittaker's aircraft had a horizontal bar that extended out to the right of the vertical bar, so I had to cut off a section of a "2" on the sheet to make that addition to each of the "4s." I also used the British fin flashes from that sheet for the tail fin. All US fighters had that RAF fin flash for recognition purposes.

This is a good point to mention that red spinners were another recognition marking of the Allied fighters used in the Western Desert Air Force. The spinner was therefore painted using Model Master FS 31136 Insignia Red with a white undercoat. The "Miss Fury" aircraft name was hand-painted onto clear decal sheet, as were the three "lightning bolts" on each side of the tail fin. The bolts and the "A" on the tail were A Flight markings used by the 65th FS. The "A" came from Super Scale decal sheet 72-228 US 60 Degree Letters and Numbers. The 65th FS "Fighting Cocks" emblem on both sides of the nose are from the EagleCals EC-104 P-47D Thunderbolt decal sheet. These emblems were a bit too large, having been painted on a P-47 cowling and not on a P-40, but they were close enough to use for this build, instead of trying to hand paint them. The patch had an outer white ring and a green interior when they were on P-47s, so I had to paint over the white to make them a solid green instead. The three victory markings (see picture 18) are from the Kits-World KW172007 P-51 Mustang Numbering/Lettering/Kill Markings sheet. Note that Whittaker's aircraft had swastikas within white circles for the victory markings, even though they were over Italian Mc.202 and CR.42 aircraft. I used coatings of Model Master Gloss Clear Lacquer Finish before the decaling and in between, and then Flat Clear Lacquer Finish after the decaling (see picture 22). The finished model is shown in pictures 23-27.
22
23
24
25
26
27
Overall this is an accurate and detailed P-40F short-tail and looks nice when completed, but be prepared for some workarounds to get it put together. It is a fairly expensive kit for 1/72 scale (around $30) but Squadron Shop occasionally has them on sale, which is when I picked up several of them. You can likely find them on-line for reasonable prices as well. Recommended.
Here are pictures of the model on the Display-Only table at the December, 2017 meeting.
Two excellent reference books on North African P-40 Warhawks are:
P-40 Warhwak Aces of the MTO by Carl Molesworth (Osprey Aircraft of the Aces # 43)
57 Fighter Group - First in the Blue
by Carl Molesworth (Osprey Aviation Elite Units)
---
US Marine Corps Aces at Guadalcanal Island
by
Mike Blohm
This article commemorates the 75th anniversary of the invasion of Guadalcanal Island in August 1942. This article is about two of the US Marine Corps (USMC) aces that flew in the battles over Guadalcanal and models of their F4F-4 Wildcat aircraft: Major John L. Smith, who was with the original "Cactus Air Force" in August - October 1942; and 1st Lieutenant James E. Swett, who served there beginning in March 1943. But first, here is a bit of history on the invasion and the situation they flew in. Pictures are included below.
Operation Watchtower
T
he Guadalcanal Campaign, also known as the Battle of Guadalcanal and codenamed Operation Watchtower, was a military campaign fought between 7 August 1942 and 9 February 1943 on and around the island of Guadalcanal. On 7 August 1942, the First Marine Division landed on Tulagi and Guadalcanal at Lunga Point, capturing the partially completed Japanese airfield and marking the first counter-offensive taken by the Allies during in the Pacific Theater. More construction work began on the airfield immediately, mainly using captured Japanese equipment. On 12 August, the airfield was renamed Henderson Field, for Major Lofton R. Henderson, who was the first USMC pilot killed during the Battle of Midway. Henderson Field was ready for operations on 18 August.
On 20 August, Marine pilots from Marine Aircraft Group (MAG) 23 with eighteen F4F Wildcat fighter planes of VMF-223 led by Major John L. Smith, and a dozen SBD Dauntless dive bombers of VMSB-232 led by Lt. Colonel Richard Mangrum, flying from the escort aircraft carrier USS Long Island, landed at Henderson Field, and these warplanes were conducting combat missions on the next day. They were joined on 22 August, by the US Army's 67th Pursuit Squadron with five P-400s (export version of the P-39), and on 24 August by eleven SBD dive bombers that came from the USS Enterprise because they were unable to land on their own carrier, with battle damage sustained during the Battle of the Eastern Solomons.
At the end of August, these warplanes were joined by nineteen more Wildcats from VMF-224 under Major Robert E. Galer, and twelve more SBD dive bombers from VMSB-231, also part of the MAG-23. This group of Marine, Navy and Army pilots and warplanes was the beginning of what became referred to as the "Cactus Air Force." Cactus was the allied code name for Guadalcanal Island.
From 3 September to 4 November 1942, the Cactus Air Force claimed 268 Japanese planes downed in aerial combat. Six USMC aviators won the Congressional Medal of Honor for their actions in the Battle of Guadalcanal, including Smith and Swett. The great majority of the Japanese aircraft were from Imperial Japanese Navy air units. The fifteen Marine combat squadrons that fought on Guadalcanal during this time had 94 pilots killed or missing-in-action, with another 177 evacuated with wounds or with sickness, especially severe malaria.

USMC pilots depicted in the far right photo above include: Maj John L. Smith, Maj Robert E. Galer, and Capt Marian E. Carl (left to right). Carl's Wildcat, White 2, is depicted in the fifth photo from the left.
Major John L. Smith
Major John L. Smith was the commander of VMF-223 "Bulldogs" from May - December 1942 and led the squadron to Guadalcanal on 20 August 1942. Smith was originally a 2nd Lieutenant in the US Army but resigned that commission to accept the same rank in the USMC and completed training as a Naval Aviator in 1939. Smith was the second-ranking ace at Guadalcanal (behind only Joe Foss) and scored nineteen victories - half of them Zeros - between 21 August and 10 October 1942. He scored four kills on 30 August 1942 (all Zeros) over Guadalcanal, and also had four "doubles." His victories included instances of six kills in two days (29 - 30 August), and six kills in four days (10 - 13 September). He was shot down once on 2 October, bailing out and returning immediately. VMF-223 was relieved on 12 October and returned to the United States. The model of his Wildcat - White 16 - depicts the aircraft he flew on at least two of his victory-scoring missions. This is the 1/72 scale Hasegawa kit. Smith was awarded the Medal of Honor by President Roosevelt on 24 February 1943. The wording of his citation included:
"Repeatedly risking his life in aggressive and daring attacks, Major Smith led his squadron against a determined force, greatly superior in numbers, personally shooting down sixteen Japanese planes between August 21 and September 15, 1942. In spite of the limited combat experience of many of the pilots of this squadron, they achieved the notable record of a total of eighty-three enemy aircraft destroyed in this period, mainly attributable to the thorough training under Major Smith and to his intrepid and inspiring leadership.
"
S
mith was later the only USMC ace to command a Marine Air Group (MAG-32) and to receive a Legion of Merit in WWII. During the Korean War he commanded the 1st Marine Air Wing from July 1953 - February 1954. He retired in September 1960 as a Colonel, and worked for both Grumman Aerospace and Rocketdyne (North American Rockwell), and died in 1972. Smith is the 21st-ranking American ace (tie), and 6th-ranking USMC ace.
1Lt James E. Swett
Lt James E. Swett became a Naval Aviator in April 1942 and was a member of the VMF 221 "Fighting Falcons" when it deployed to Guadalcanal Island on 16 March 1943. On 7 April 1943, Swett scored seven kills and one damaged (all Vals) in fifteen minutes during his first air combat, before being himself shot down by either the rear-gunner of the eighth Val he attacked (and believes he did shoot down) or by friendly anti-aircraft fire, and having to ditch. This seven-victory feat earned Swett the Medal of Honor. The model of his Wildcat - White 77 - depicts the aircraft he flew on this mission. This is the 1/72 scale Hasegawa kit. Swett flew three combat tours with VMF-221 at Guadalcanal in March - November 1943, during which he scored 14.5 victories - seven in the F4F and 7.5 in the F4U-1 Corsair. He had 2.5 kills (two Betty bombers and 0.5 Zeke) on 30 June, and a "double" on 11 July (Betty and Zeke). Swett was presented the Medal of Honor on 9 October 1943 by Maj Gen Ralph Mitchell, the Commanding General of Marine Corps Aviation in the South Pacific. His citation included the wording:
"In a daring flight to intercept a wave of 150 Japanese planes, First Lieutenant Swett unhesitatingly hurled his four-plane division into action against a formation of fifteen enemy bombers and during his dive personally exploded three hostile planes in mid-air with accurate and deadly fire. Although separated from his division while clearing the heavy concentration of anti-aircraft fire, he boldly attacked six enemy bombers, engaged the first four in turn and, unaided, shot them down in flames. Exhausting his ammunition as he closed the fifth Japanese bomber, he relentlessly drove his attack against terrific opposition which partially disabled his engine, shattered the windscreen and slashed his face. In spite of this, he brought his battered plane down with skillful precision in the water off Tulagi without further injury.

"
Swett returned to combat in 1945, again with VMF-221, flying from the USS Bunker Hill. He scored one more victory, a Jill, on 11 May. VMF-221 saw action in the strikes on Tokyo in February 1945 and the Iwo Jima and Okinawa landings, before the Bunker Hill was put out of action by kamikazes on 11 May. Swett was airborne when that attack occurred and had to land on another carrier. Swett left active duty in 1945, and rose to the rank of Colonel in the USMC Reserves. He retired in 1970 and died in 2009. Swett is the 34th-ranking American ace (tie) and the 8th-ranking USMC ace.
F4F-4 Model Build
The Hasegawa 1/72 scale kit of the F4F-3 or F4F-4 Wildcat is a fairly easy build, and accurately depicts the aircraft. There is not much cockpit detail: an instrument panel with decal, a combination floor and side consoles (no decals), a seat, and a stick. I used an F4F-4 instrument panel and seat belt decal from a ProModeler decal sheet in each kit. The one fiddly area is the landing gear, trying to get the support arms to all line up. Both models were finished with Testors Model Master Navy Blue Gray (no FS or ANA number) on the upper surfaces and Flat Gull Gray FS36440 on the lower. The aircraft serial numbers were put together from Aeromaster numbers and letters decal sheets. The name on the rudder of Swett's Wildcat - "Melvin Massacre" - was done with individual letters from a model railroading dry transfer decal sheet, and was quite a challenge on a 1/72 scale model. There were no decal sheets available in 1/72 scale on these heroes when I built these models. Print-Scale has since come out with a F4F Wildcat and Martlet Aces sheet (PS720266) that includes Swett's White 77 scheme.
The other USMC aces that received the Medals of Honor for actions during the Battle of Guadalcanal include Maj Robert E. Galer, Capt Joseph J. "Joe" Foss, Lt Col Harold W. Bauer, and 1Lt Jefferson J DeBlanc. An article on these pilots and their aircraft will be forthcoming. I will be trying some builds with the new Airfix F4F-4 kit to replace models in the USAF Academy Aces Gallery collection built with the old Revell kit from the 1960s.
Sources:
https://en.wikipedia.org/wiki/Guadalcanal_Campaign
https://en.wikipedia.org/wiki/Cactus_Air_Force
https://en.wikipedia.org/wiki/John_Smith_(flying_ace)
https://en.wikipedia.org/wiki/James_E._Swett
---

Remembering Midway
by
John Tate
This month is the 75th anniversary of the Battle of Midway, one of the two most critical battles in US history, the other being the Battle of Gettysburg. Had either of those battles gone the other way, this is not a country we would recognize today. Unfortunately, the American public has largely forgotten Midway, a tiny atoll in the middle of the Pacific Ocean, and as air/sea battles leave no trace of combat, there is no National Military Park that can be visited easily, as is the case with Gettysburg. So we, as modelers, can have a small part in commemorating the guts, skill, luck, and sacrifice of Navy, Marine Corps, and Army personnel who stopped cold the onslaught of Imperial Japan back in 1942.
Midway was a clash of aircraft carriers, and the American planes that decided the battle were SBD-3 Dauntless dive bombers, whose courageous Naval aviators were able to plant 1000-pound ship-killing bombs squarely on the flight decks of the Emperor's best flat-tops - Akagi, Kaga, Soryu and Hiryu. There are some good kits of the Dauntless out there, from Trumpeter in 1/32 scale and Accurate Miniatures in 1/48 scale, but my favorite is the Hasegawa 1/48 Dauntless, which is accurate in outline and the easiest of the three to build.
It's been a number of years since I built the Hasegawa kit but I recall it being a breeze to construct, the only attention spot being the dive flaps, which are molded integrally with the wings and lack perforations. However, rather than removing the kit dive flaps and replacing them with photoetch, I drilled out each perforation with a sharp No. 11 X-ACTO knife, before assembling the wings. It took some extra time but wasn't too difficult and any imperfections were corrected with a little putty and sanding. This method allows the integrity of the wings to be maintained and also provides a more accurate representation of the real aircraft; I've never been a fan of open dive flaps, since this configuration was seen only during maintenance, or when the aircraft dived.
Decal markings for aircraft that participated in the battle are not exactly plentiful but fortunately a new sheet by Starfighter Decals, No 4808, was just released and includes markings for two of the most important Dauntlesses from the battle, both from Enterprise (CV-6): Dick Best's Bu. No. 4687 from VB-6, which killed Akagi, and Bu. No. 4618, flown by Wade McClusky, CAG Air Group Six, who made the fateful decision to follow the wake of a Japanese destroyer that led his dive bombers to the Japanese carriers. I can't imagine a better choice of markings for Dauntless builds.
If you have some models in your stash that would fit a Midway theme, give some thought to building one this month, and take the time to do some research and learn about the battle; this hobby is at its most worthwhile when it gives us pause to remember our fallen, and what they accomplished for us on June 4, 1942, should never be forgotten.
---
Kit Review
Revell 1/28 Fokker D.VII
by
John Tate
Wingnut Wings revolutionized WWI aircraft modeling with their excellent 1/32 kit line but it wasn't that long ago that modelers who wanted replicas of Great War flying machines had to make do with whatever kits were available, which was especially true of big-scale biplanes. One of these was Revell's 1/28 Fokker D.VII, Kit 4665, released in 1996 and the last of Revell's well-known line of 1/28 biplanes dating back to the 1960s. Although the Fokker D.VII kit was widely panned after its release, due to hard-to-correct wing and fuselage shape issues, this out-of-production kit can still be a fun project and is worth the effort if there's one hidden away in your model stash.

I picked up my Fokker kit from the legendary Goodman Collection local estate sale back in 2008, a never-to-be-equaled adventure in scale model rummage & salvage. The kit box was in poor condition but the parts were intact and it looked like a simple build, so why not put it together? I was aware of the useful article by Frank L. Mitchell in the January 1999 issue of FineScale Modeler, which highlighted the necessary surgical fixes for the model, but in the spirit of my "rescued" kit I opted instead for an out-of-the box build.

Overall, I found it an easy model with no surprises; everything fit together with a minimum of work. The cockpit had simplified detail but with careful painting it looked OK. Likewise the kit engine and machine guns, which lacked the kind of detail one would expect in a large scale, but cleaned-up and painted they looked the part and fit well. The wing struts were a bit thin and I was worried they wouldn't hold up the wings but they did their job and lined-up well. Rigging was a breeze, as the real D. VII only had bracing wires for the undercarriage and control wires from the fuselage to the upper wing, elevators and rudder.

The kit had only one marking option, for a red & white Fokker D.VII from Leutnant August Raben's well-known Jasta 18 circa Summer 1918, which I was happy to apply to my model. Later I learned that many Fokkers from this unit had their wing undersides left in the original lozenge pattern, but no decals for this were included in the Revell kit. The decals in my kit were in terrible shape from exposure to the elements but with some careful work I was able to revive them and apply them to the model, a testament to the toughness of Revell's decal sheets. Since I built my model, the reconstituted Copper State Models (same product range, now based in Latvia, www.copperstatemodels.com) has marketed a 1/28 lozenge decal sheet for this kit, which will be helpful no matter what scheme you choose.

I was happy with the finished model as it was big and menacing and looked the part of the deadly Fokker biplane fighter from the last year of WWI. The "upside down" top wing might be noticeable to us airplane enthusiasts but not to the casual observer and I found I could live with it on a display model. The other dimensional issue, the too-deep/too-wide fuselage, is less noticeable and if a modeler really feels the need to hack away at the kit, I'd say fix the wing but don't worry too much about the fuselage.

These kits are hard to find today, but if you get one or have one, give it a try, with or without the corrections- it's well worth building and with a minimum of work you can end up with an impressive replica.
---
Kit Review
Heller 1/72 T-6G Texan
by John Tate
Here's another golden oldie- the Heller 1/72 T-6G Texan. This kit is about 40 years old but there isn't a lot to choose from in 1/72 if you want to build a T-6 Texan, so fortunately with a little work this kit will still build-up into a nice model. Understandably, Heller kitted airplane subjects to appeal to their domestic market, so this particular version was intended to represent an Armee de l'Air COIN bird used in France's colonial war in Algeria during the 1950s. Conceivably a modeler could make other versions of the Texan from this kit, but building the model out-of-the-box produces an eye-catching replica of a warrior Texan.

Just like the real plane, Heller's Texan is simple and rugged, with no surprises during construction. Unsurprisingly for a model this old, some work is required to fill seams and ensure a good wing/fuselage fit, but nothing too taxing. The cockpit has reasonable detail so all that was added was a pair of seatbelts to bring some interest to this area. The canopy looks nice after polishing and fit well, although painting the greenhouse frame can be a chore for airplanes of this type. Add the landing gear and underwing stores, and voila! - a French T-6.

One kit shortcoming was the poor decal sheet, but fortunately an excellent substitute is available, Berna Decals' "North American T-6G in Algeria," No. BD 72-85, with colorful markings for six different aircraft. The decals are nicely printed and set down easily; using them really made all the difference to the finished model.

This is a simple kit that can be built into a nice replica and is worth the time invested. Thanks to new decals, it can be turned into a unique model of an old prop job that saw plenty of action in Africa through the 1960s while military technology elsewhere was moving headlong to fast jets. Recommended.
---
Kit Review

FROG 1/72 Vultee Vengeance

by

John Tate

At the January meeting, club president Mike Blohm asked for reviews on old kits for our website and newsletter so here's a model that's so old it's almost prehistoric- FROG's early 1970s-vintage Vultee Vengeance. Conveniently, I finished the model in December and it's a good example of how an old kit can be given new life through transplanted parts from a newer kit of the same airplane, in this case, the Special Hobby 1/72 Vultee Vengeance.

As for the real plane, the Vengeance was the hardest-working WWII plane you never heard of, successfully employed by the RAF bombing Japanese positions in the jungles of Burma and fulfilling a variety of second-line duties such as training and target towing. However, it never found favor in the country of its origin, as the USAAF saw no need for a vertical dive bomber when fighter-bombers were coming into vogue and considered the Vengeance obsolete and lacking performance. Hundreds were produced, however, from Vultee's plant in Nashville, TN, and they saw service from French Morocco to Australia. BTW, that unusual cranked wing? No, it wasn't a secret dive-bomber design trick, it was an effort to correct a center-of-gravity problem, one of the many fixes made to this plane during its fairly short service life.

I liked the FROG kit because the outline is more or less correct, it's a tough model that can take a little abuse during construction, and was engineered to be built quickly. Detail ranges from questionable to non-existent but that's where the fun is, correcting it. When tackling the kit, the two things that must go are the oversized and ridiculous rear guns, and the lump of semi-clear plastic that is intended to be a canopy. Then replace the engine and prop (spares from a B-25 work nicely), add larger exhausts, and lengthen the landing gear struts. As for the interior, you can add seatbelts and a pilot's gunsight but otherwise don't waste too much time here because even under a new greenhouse canopy not much can be seen. Fortunately, Special Hobby's vacuform canopy (two come with the kit) fit perfectly to the FROG kit, as did the Special Hobby kit's resin exhaust tubes. The decals from the Special Hobby kit were the finishing touch, which I used to depict a Vengeance from No. 45 Squadron RAF based in India in 1943.

It took a few months to correct and fix the FROG kit but it was an enjoyable build and I'm happy to have a unique model of a little-known WWII dive bomber. Someday I'll finish the Special Hobby 1/72 Vengeance as a comparison model but since it's a limited-run kit it probably has its own quirks and problems- the FROG kit might be the way to go as long as you have the Special Hobby kit to use as a guide and parts source. So don't pass up an old kit if you're curious about building it- it can still provide plenty of scale modeling enjoyment and compare nicely to more recent kits as long as you don't mind borrowing from newer kits to accurize it.
---
History Lost and Found - General Giller and the Millie G
By John Tate
For scale modelers, what can be more exciting than the story of a pilot who flew P-51D Mustangs in the ETO during WWII? Since we were kids and first drawn to this hobby, fighter pilots have been our heroes, so when Albuquerque Scale Modelers member Glenn Bingham alerted the club via email on June 30 that the Albuquerque estate of Major General Edward B. Giller was being sold, I did not want to miss it. I was not immediately familiar with Maj. Gen. Giller, but I discovered that as modelers, all of us were familiar with the plane he flew - the famous "Millie G" from the 55th FG, 343rd FS, 8th AF, depicted on dozens of model kits and decal sheets and even a restored warbird, thanks to a series of well-known 1944 air recognition photos (picture 1 below).
I was fortunate to obtain from the estate sale one of Maj. Gen. Giller's WWII photo albums, which documented his time at Wormingford irfield in England, including many shots of his fellow pilots and squadron mates. Inside I found several pictures of his Mustangs as well as photos of P-38s he flew, but one of my favorites was this one - his squadron's WWII briefing room (picture 2). We have seen this setting in a hundred WWII movies, but this is the real thing - how many of us have imagined ourselves seated before a mission map just like this, ready to take on Berlin, while gluing together our plastic P-51s?
Being a fighter pilot was not all work and no play, however - here's the bar at the "new" officer's club at Wormingford. (picture 3). To have been a fly on the wall and to have heard some of those flying stories...
Here's a great shot of Ed Giller in Spring 1944, in the cockpit of a P-38, the plane his squadron flew before exchanging them for P-51Ds later that summer.
Giller ended the war as a Lt. Colonel and group commander, but his career really took off after WWII, when he enrolled at University of Illinois and obtained a Ph.D. in chemical engineering. He was assigned to the Armed Forces Special Weapons Project, in charge of the radiation branch, and then to Albuquerque to the Air Force Special Weapons Center, and involved in nuclear testing throughout the 1950s. Remember those famous pictures of suburban homes being blown apart by a nuclear blast? Those were the projects he was involved in, before going to work for the CIA and the Atomic Energy Commission and, along the way, managed Project Blue Book, the famous USAF UFO study; he retired from active duty as a Major General in 1972 but continued working as a civilian with a defense contractor, Pacific Sierra Research, in Washington, DC, until 1990, when he retired and returned to Albuquerque. That's quite a career - now you know how these gentlemen ended up being known collectively as the Greatest Generation.
As it turns out, Maj. Gen. Giller also crossed paths with IPMS/USA. In a prominent place in the General's living room was a display case containing four in-flight models of the Millie G, representing the four different P-51Ds he flew from 1944 to 1945. I was fortunate enough to pick up the display during the last day of the estate sale, thinking perhaps a modeler from ASM might have built it for him, years ago. When I brought the display to our club meeting on July 8, veteran ASM member Jack Morris recognized the display immediately but pointed out, to my surprise, that the models were not presented to General Giller by ASM, but by IPMS/USA, at the 1968 National Convention in Washington, DC, where General Giller was a banquet speaker. Sure enough, Jack was able to locate an IPMS Quarterly, Vol. 4 No. 2, from 1969, which contained an article on General Giller and the Millie G, as well as some photos of General Giller receiving the four P-51 models at the banquet. The models were constructed from the Hawk 1/48 P-51D kit, which in 1968 was the best model available of the P-51D in that scale; Jack told me they had been built by IPMS modeler Tom Mitchell, from Texas. Those models were part of IPMS history as well as General Giller's history, and I felt fortunate that just by accident, I was able to rescue the display (pictures 9-16).
When I discovered the story behind the display models, I contacted Jim Pearsall, IPMS/USA historian and Publications Director, who kindly arranged for re-publication of the 1969 IPMS article in our club newsletter (pictures 5-8). It gives a good account of the WWII story of General Giller and his P-51D Mustangs, but keep in mind when reading it, of the difficulties of researching and publishing back in the pre-IT days; the article was prepared and set by hand.
I learned a few things from my experience with General Giller's legacy; that this is a better hobby if we collaborate and share information, that old hands still have sharp memories, and that it is important to act quickly and decisively to preserve history. But most of all, that those gentlemen whom we present models to at IPMS functions, really do appreciate our handiwork and our efforts to capture the history those models represent. Remember this the next time an opportunity presents itself to build and present a model to a veteran at one of our events; this can be more rewarding than all of the trophies and awards we will ever win at competitions. And if you're looking for a worthy P-51 modeling project, give some thought to the Millie G; as modelers, there's no better thank-you to Major General Giller for his lifetime of service to this country, than by preserving his memory with a beautiful replica of his sleek Mustang.
| | | | | | | | |
| --- | --- | --- | --- | --- | --- | --- | --- |
| 1 | 2 | 3 | 4 | 5 | 6 | 7 | 8 |
| | | | | | | | |
| 9 | 10 | 11 | 12 | 13 | 14 | 15 | 16 |
| | | | | | | | |
---
Kit Review
Great Wall Hobby's Handley Page Victor B.2
By Larry Horyna
Retired from active service in 1993, the Handley Page Victor was the last of the British "V" bombers (the Vulcan and Valiant being the first two). Removed from the strategic nuclear bombing mission in 1968 due to the discovery of fatigue cracks, many Victors were modified to fly strategic reconnaissance missions. After the nuclear deterrent role was handed over to Polaris missile carrying submarines of the Royal Navy, the Victor found new life as an aerial refueling tanker. In this capacity, the Victor saw service during the Falklands War refueling Vulcan bombers on the long range "Black Buck" missions. The 1991 Gulf War saw the Victor in its last use in wartime before being retired.
Great Wall Hobby has recently released a 1/144-scale kit of the this historically important Cold War British aircraft.
Given the scale, the kit is very well detailed. The casting is clean and crisp with very little fit issues. There were a few ejector pin marks in places that were a bit of a hassle to remove, most noticeably on the tiny fuselage intake doors near the tail. Nose weight is required to get the model to sit on the gear (very little though, three grams as I recall). The large wing leading edge intakes pose a bit of challenge as there is a seam running right through the middle of it (but, hey, isn't that just a fact of life for "jet guys?"). Careful filling and sanding will get rid of what was the only seam issue on the kit.
One other very small gripe. There are several antennas on the fuselage. Three are very small blade antennas. Two have to be glued on but for some reason, one is molded on the fuselage top center, making it a certain victim of covering the fuselage seam. After accidentally sanding it off I made a simple replacement from plastic card. I just thought it was strange that Great Wall elected to mold that antenna on the fuselage when the other two would not have been in the way. That's about it for assembly! Everything else was a breeze as far as fit. The real challenge was the paint scheme. The leading edges of the wings and tail had a slight wraparound, which required a lot of masking. In fact, I would say that I spent half the time on this model masking! The result was well worth it, though.
Paints were Tamiya acrylics following the same techniques I use for larger scale models. I start with a black pre-shade, followed by base colors and then a highlight using the base color with a little white mixed in. This is the third model I have used post-shading on and I like the technique very much. I keep a bottle of a particular mix for this. It is made up of Tamiya black and red brown thinned about 75% with Tamiya thinner. I spray this in shadowed areas as well as on the demarcation lines between the camo colors. There is a very good tutorial on Hyperscale.com where Brett Green demonstrates the technique.
I used Future for the clear coat followed by the decals. The kit decals went down without a problem and reacted well with only a few coats of Micro-Sol. Next came a panel wash using MIG dark brown followed by Testor's clear flat mixed with just a little semi-gloss. I wanted a tiny bit of sheen but not much because of the scale. Lastly, the landing gear were added. Here there is one little glitch in the instructions. The instructions have you add the gear doors before the gear struts. This is a little unusual but it works fine for the main gear. If you follow the instructions for the nose gear you will have a problem. The doors will interfere with the strut going into the bay. You will want to attach the gear and then the doors. Otherwise, this was a very nice little kit and a very enjoyable build. Highly recommended.
---
Kit Review:
Eduard 1/48 Siemens-Schuckert D.III
with Brassin accessories
By Larry Horyna
Near the end of the First World War, Siemens-Schuckertwerke's D.III was one of the last late war German aircraft designs to see action. The airplane was basically build around its 160 hp Siemens-Halske bi-rotary engine. This engine featured a propeller and cylinders that rotated opposite to the crank-case. This offset the typical rotary engine torque and allowed a slower propeller speed for the same power. The initial design was similar to previous ones in that it featured a large two blade propeller and long landing gear struts. After noticeable ground handling problems, a shorter four blade prop and shorter undercarriage struts were added. Rate of climb proved outstanding and the little fighter showed great promise, outperforming both the Fokker D.VII and Albatross D.V in rate of climb.
Unfortunately, Voltol mineral oil was used in place of the diminishing supplies of Castor oil and this proved problematic. The engines began overheating and seizing after just ten hours of operation. This was also partially due to the cowlings not offering enough open space for cooling. The aircraft were withdrawn from frontline service (only about forty examples had been delivered by May of 1918). After redesigning the rudder and cutting away much of the cowling to improve engine cooling, the type was re-introduced near the end of July. Another forty were produced for a total of eighty aircraft by war's end. One of the most famous aces to fly the aircraft was Ernst Udet, although it is not known for certain if he actually flew the aircraft in combat. There is a well documented photo of Udet sitting in the aircraft with his signature "Lo!" marking just behind the cockpit.
Eduard's new release of the SSW D.III in 1/48 is a complete re-tool of their previous release from the early '90s. The molding is very clean and crisp, just like any of their new toolings. Eduard's Brassin line makes a resin and photoetched Siemens-Halske engine as well as Spandau guns. Eduard also produces a very nice set of fabric seat belts. This particular kit itself (8256) is a "Profi-Pack" edition with a very nice photoetched fret that includes rigging anchor points and turnbuckles (and they are small!). The decals are excellent and quite complex, featuring separate rib tapes for the lozenge camouflage. This is most certainly the complete opposite of a "weekend edition" kit!
Assembly was fairly straightforward. The only tricky part is on the interior attaching the bar that supports the shoulder belts. There are two internal braces that attach to the cockpit sidewall as well as the floor. This is a bit difficult as the floor is attached to the lower wing and fits up into the fuselage. To help fit these parts, I glued one side of the fuselage to the lower wing and then attached the other fuselage half to this assembly. That made it a little easier to deal with the tricky internal parts.
Fit was superb on the entire model. Of special note are all of the struts, which fit into their designated holes perfectly and provided plenty of rigid support. Everything aligned quite well too. I did not need to use my biplane alignment jig to attach the upper wing. As far as building a biplane is concerned, this was quite simply one of the easiest to assemble I have ever done. It was pretty much like building a tiny Wingnut Wings kit! And it is tiny! The beautiful little Brassin engine is a gem, but be forewarned, you're not going to see too much of it! The Spandaus are equally nice, with more than a dozen parts each!
The decals went down with no major problems. I first painted the entire airframe flat white and then sprayed a coat of Future floor polish. The wing rib detail is very pronounced and it did take several treatments of Micro Sol to get them to completely conform. To add to that, the separate rip tapes took even more. But in the end, the rib detail is still visible! I was pleasantly surprised. Eduard supplied a small piece of extra lozenge which I did need for the upper wingtips. Otherwise, the decals fit perfectly. The only thing I decided not to try (partially wimping out and partially because I liked the look more!) I opted to not use the lozenge decals for the interplane struts. I think they would have been very tricky but when considering how well the rest of the decals went on, they probably would have worked. The real aircraft commonly had lozenge fabric wrapped interplane struts but I liked the renditions of Udet's airplane with the red ones (funny enough, Eduard's initial release of this kit featured Udet1s on the box cover as well, but with red interplane struts!).
Now the rigging. I have a fair amount of experience rigging biplane models, but this was a bit of a challenge. Part of this is no doubt due to the fact that I have pretty much converted to 1/32 for my own WWI aircraft models. It's a bit easier when you have more room to work with and line that you can see! I used Uschi van der Rosten's fine elastic rigging line. It worked quite well with the photoetched turnbuckles and anchors. I attached the anchor points to the upper wings with one end of the rigging attached. After attaching the upper wing, I attached the loose ends to the turnbuckles, which I glued in place before attaching the wing. The turnbuckles can easily be bent slightly to align the line straight to the anchors.
The most difficult part was the attachment of the rigging lines between the cabin struts. These attached to a small photoetched part and let me tell you, there was not much room to work in there!
All in all, this was a very pleasurable build (except for where I temporarily lost my eyesight after rigging!). I would definitely categorize biplanes as a bit more challenging than most monoplanes. But in the end, it's mostly a matter of needing to take a little more time, nothing more (and don't drink coffee before you try rigging!). I highly recommend this kit for anyone interested in 1/48 WWI subjects!
---
Kit Review: Revell 1/32 Spitfire Mk.II
By Larry Horyna
The Supermarine Spitfire is one of the all time iconic fighters to come out of the Second World War. While the model is well represented in every scale, a good modern tooling of the early variants has been lacking in 1/32. Revell of Germany attempted to "come to the rescue" with their new offering of the Mk.II. Revell did indeed spend some time researching this aircraft but unfortunately, as most everyone has now heard and figured out, they measured and copied an extant example that was something of a "hybrid," having parts from other variants on it. In the end, what they ended up with is much closer to a Mk.Va than anything. I don't know where the propeller came from on the aircraft Revell measured--it does not look like any propeller the Spitfire used, De Havilland or Rotol.
I decided to do what I will call an "economy" build and correct the major problems myself (although several companies now offer corrected resin aftermarket parts) and do a simple backdate to Mk.I standards.
This required making the ailerons look like fabric-covered ones instead of metal. To simulate the fabric ailerons, I first filled the metal rivet holes in the kit ailerons with Tamiya putty and sanded them smooth. I then added strips of plastic, cut them to length, and sanded them down.
T
he oil cooler had to be modified to make it the earlier half-round shape, and this was bit more tricky. I cut the kit one in half lengthwise. The tricky part of this is in the way the part is broken down. You end up with a notch in each side that I filled in with cardstock and putty. You also end up with a gap all the way around the cooler, which I filled with Apoxie Sculpt and added the rivets with a pounce wheel.
The seat needed to be reshaped a bit and have the back padding added, as well as a Sutton harness. The curiously-missing pilot armor behind the seat had to be fabricated.
Although the radiator is not completely correct (it lacks the front and rear ramps) I decided to leave it alone as the overall shape is close enough. The wheels are a little odd looking, but not so much that did anything to them. I also decided to reshape the spinner and propeller blades to get them as close to a De Havilland look as I could. The spinner is still way too short, but in the end the model looks like an early Spitfire.
Overall construction was straightforward and offered very little in the way of fit issues. You will need to take a little time when fitting the wings to ensure there are no gaps, especially under the fuselage at the trailing edges. Again, careful fidgeting will result in very little to no filler being required. Revell uses a pretty soft plastic which usually results in sinkholes and there are few that need filling, mostly along the forward fuselage joint.
The cockpit is a little sparse, but not bad. I added a little wiring and made a new oxygen hose out wrapped wire. The back pad on the seat was made from Apoxy Sculpt and the Sutton harness was make from scrap RB Productions material with buckles from the photoetch scrap box. The instrument panel ends up pretty nice using the kit-supplied decals. The pilot armor is a pretty simple shape cut from cardstock. I also dug through the spare decals box and found some unused stencils at threw a few in the cockpit.
With the major mods out of the way, I was ready to paint. I decided to do this airplane in top Battle of Britain ace Eric Lock's markings. I wanted to make a pretty beat-up looking Spitfire, so I went with the "hairspray" method for heavy weathering. I first sprayed the areas to be heavily worn with decanted Tamiya Silver Leaf spray paint. Tamiya's Silver Leaf is a great, durable metal finish, and goes on like a dream through the airbrush. Next, the silver areas were sprayed with Aqua Net hairspray, also decanted (you can buy this stuff in a pump bottle and just pour it into your airbrush, no thinning required). I let the hairspray dry overnight before commencing with the paint work.
The model was pre-shaded with Tamiya flat black, then the bottom color was applied.
After masking, the first top color was applied. I masked off the second top color with poster tack and Tamiya tape. Here is where I ran into a dilemma. To achieve the chipping effect with the hairspray, I had to go through two colors where the second top color was applied. When I applied water with a brush to start the chipping on the green, the brown came through first before the metal and it was difficult to not have any brown showing on the green where the chipping was. I was able to accomplish the effect, but in future I will rethink this on multiple layers. I know there are some good articles out there on multi-layer chipping which I believe involves chipping a color, sealing it, then applying hairspray again followed by the second color and repeating the process. The effect was also used on the propeller and spinner.
I
n the end, I was very happy with the result and would recommend this technique for heavily weathered subjects.
After the chipping was finished I clear-coated the model with Future Floor Polish and added the decals. This is where the kit shined best! The kit deals were simply fantastic. With a few applications of Micro Sol, the roundels looked painted on! No edging, so silvering, and all the rivets were visible. The only trick is on the bottom wing as the roundels go over the large cooling vents. I had to cut and touch up the roundels there. Even the stencils went down with no silvering, which I typically find common on stencil decals. Unfortunately, to get the codes and serials for Eric Lock's airplane, I used decals out of a Pacific Coast Hurricane kit. These did not perform nearly as nicely as the kit decals. I had to modify some of the code letters to make what I needed. The "B's" are made from two "R's" and the "Q's" are modified "D's."
After the decals were dry I applied an enamel wash using MIG Pigments dark brown wash.
This was followed by an airbrushed post-shade using a mix of Tamiya flat black and red brown thinned about 80%. The post-shade was applied between the camouflage colors and streaked along the wings in the direction of airflow. I also used the post-shade color for initial cordite stains around the guns and shell ejection ports. This was followed by pastels to further accentuate cordite, exhaust, and oil staining on the bottom of the airplane.
All that was left was final small details and adding the middle canopy section. This is where I am most disappointed in this kit. What is the point of offering a sectioned canopy when the middle section does not fit at all in the open position? Revell is, of course, not the only company guilty of this, but it really does astound me that so many manufacturers cannot get that right. To get it at least close, I applied a little Testors clear parts cement to the rails and carefully pressed the canopy down and secured it with Tamiya tape until the cement dried. It's not all the way down, but it's close enough to not bother me that much. It is one of my biggest "pet peeves" with airplane kits. The side door is a bit thick and the detail is a bit heavy as well, but I left it. The antenna wire is made with Uschi's fine elastic thread (this stuff is great as well, by the way. It comes in three sizes; standard, fine, and extra fine).
So, in the end, I am happy with the results for the economy of the kit. I found my kit on sale for $20.00 and other than time, paint, and glue, I didn't spend anything else on it. For that, this kit is a great value for the money. It would have been amazing without the silly errors Revell made measuring a pieced-together museum airplane. The only thing I would truly recommend buying for this model is a corrected aftermarket propeller.
---
Classic Airframes
De Havilland Sea Hornet NF.21
By Larry Horyna
Pushing the limits of wooden combat aircraft design based on the success of their earlier Mosquito, De Havilland aircraft company introduced the Hornet toward the end of the Second World War. Initially designated the DH.103 Hornet, the aircraft would equip postwar RAF Fighter Command day fighter units. With its excellent low speed characteristics and pilot visibility, it was a natural choice for the Fleet Air Arm in developing a carrier-based fighter. The NF.21 Sea Hornet was the night fighter variant of the Sea Hornet.
Adding a seat just aft of the wing trailing edges for the radar operator/navigator and elongating the nose to accommodate an ASH rotating dish in a "thimble" radome, the Sea Hornet certainly attained the look of sleek design modified to look a bit ungainly! The design was very successful, however odd looking, and remained in FAA service until 1954.
The Classic Airframes kit of this unusual aircraft is welcome addition to any FAA collection. The kit is molded in gray plastic and comes with resin cockpit details, exhausts, and wheels. The moldings are very clean. As is typical with many short-run kits, there are no alignment pins. The kit also includes two clear vacuform canopies and windows for the radar operator/navigator's hatch.
Assembly is fairly straightforward. The kit is tooled to make a standard Hornet with the resin nose requiring some cutting to graft to the forward fuselage. Fit was pretty good with only a little filler required. My only disappointment with the interior was a lack of seat belts. Usually resin seats have molded-on belts, but for some reason Classic Airframes did not do that, nor did they supply any photoetched ones. I elected to use an Ultracast Tempest seat that had molded-on seat belts, since I had a couple lying around.
The resin cockpit fit great! I was actually a bit surprised as just how nicely this kit went together. I would say this was the best-fitting Classic Airframes kit I have built next to their Model 239 Buffalo. One structural weakness was the wings and tail surfaces. As I mentioned, there are no alignment pins and nothing to support the wings, which are essentially shoulder-mounted. I made brass wire spars which worked great. I also made brass wire alignment rods for the tail surfaces. The resultant model is quite robust. The wing root joint required a little adjustment/filling to get everything nice and even but, again, this was minimal.
The model was pre-shaded and painted using Tamiya acrylics mixed to match the specific colors. The model was then clear-coated with Future floor polish and decaled. The kit decals worked quite well with just a little Micro Sol. An enamel wash was applied followed by a very subtle post shade using a mix of Tamiya flat black and red brown thinned about 80%.
The vacuform canopies fit great. The landing gear fit without any problems as well. The propellers on the Hornet series were "handed," meaning they rotated in opposite directions to offset torque. This requires making sure you use the correct propeller blades for port and starboard engines. For a limited-run kit, this was actually a pleasure to build. I will be doing the standard F.3 Hornet in the near future and am now looking more forward to it!
---
By Larry Horyna
Undoubtedly one of the most iconic medium bombers of the Second World War was the Junkers Ju-88. An extremely versatile design, the Ju-88 served admirably in many roles, from level daylight bomber to anti-shipping and night fighting. This build represents the standard A-4 series daylight bombing configuration and is done in the markings of well known Ju-88 exponent "Hajo" Hermann.
Dragon's kit in 1/48 scale offers a good representation of this excellent airplane. The kit is cleanly molded, with very nice clear parts and fairly nice detail built right from the box. As this was for a client, and one who really loves interior detail, I used Eduard's color etched detail set and a few scratch built bits to enhance the cockpit area.
The build was very straight forward and did not exhibit any fit problems. The fuselage construction is a bit different than most standard aircraft kits in that the vertical stabilizer was a separate piece and not molded to the fuselage. This was obviously done for the sake of producing other variants with different shaped tails. The forward cockpit area was also molded separately for the same reason. However, neither of these separate sections provided any difficulty of fit. I used very little filler on this model.
I can't explain exactly why I chose not to buy an aftermarket canopy mask when there was so much glass to mask on this airplane. I suppose some of it had to do with the recent debacle I encountered with Great Wall's P-61 masks. It was also a bit due to the fact that all I could find was a "generic" mask that was supposedly for all the 1/48 Ju-88 kits. was a bit suspect of that since the glass cannot be the same on all of them. So, I went ahead and masked the glass myself. My particular method is very time consuming but for me, the most comfortable. I really don't like to put tape on the part then trim it with a knife. Invariably, I slip and cut a nice line right into an area that shouldn't have a line in it. To avoid this, I cut fine strips of Tamiya tape and outline each section of glass. T hen I fill the sections in when finished. It takes some time, but it works really well.
Being a standard Luftwaffe daylight scheme, the camouflage was a "splinter" scheme of RLM 70 and 71 on the upper surfaces and RLM 65 on the lower. Hermann's markings were fairly straight forward, with a white fuselage band and the KG 30 unit badge on the nose. There were no aftermarket decals available for this particular aircraft at the time I built it (I am sure someone did them at some time as Hermann was a pretty well known Ju-88 pilot) so I had to piece them together from a couple of different sheets. Splinter camouflage is fairly straight forward and not terribly difficult to mask but it is time consuming. One of my references offered a very nice schematic of the standard pattern. I like to pre-shade my models so after outlining the panel lines with flat black I applied the bottom RLM 65, masked the bottom and them applied the RLM 70, being the lighter of the two upper colors. This is where pre-shading runs into a bit of a problem. After applying the first color on the entire airframe, you lose some of the pre-shade on the second color. A fter masking the RLM 70, I pre-shaded the areas to be painted RLM 71 again.
Here is where I ran into trouble! I have been using acrylics on my models for years now and I very rarely have problems with adhesion. I clean my models well before assembly and use Polly Scale plastic prep or alcohol to clean again before painting. I used Testors Acryl (my favorite is Tamiya, but they don't make these particular RLM colors and I didn't feel like mixing them, which I usually do). After painting the RLM 71 I carefully removed the Tamiya masking tape and...arrggghh! The RLM 70 lifted in several places! This is a real pain in the butt to fix. You have to wet-sand the area, remask and repaint. After I did this I carefully lifted the tape again and...nooooooo! The RLM 71 lifted! Now I had a choice, strip the whole thing and redo it, or try one more time to wet sand, remask and repaint. I chose the latter and thankfully, it worked. I have no idea why the paint lifted. I do not know how old the Testors paint was, it was given to me by a fellow builder and for all I know it was very old. However, the bottles had not been opened and didn't look odd when I thinned it so in the end I simply determined that the modeling gods were just not with on this one (in case you don't know, there is an entire pantheon of modeling gods covering fit, glue, paint, etc. It's just the paint god that wasn't with me, everyone else cooperated).
After removing the mask I clear coated with Future floor wax and applied the decals. Next I applied a wash with MIG pigment brown followed by Testor's Acryl clear flat. For those of you who have not tried MIG pigments, I highly recommend them. I used to make my own oil washes with artists oil thinned with terpenoid. I was always a bit of a pain to have to constantly thin the oil pain. The MIG washes are basically a pre-thinned oil based wash that works like a charm over acrylics. I have found that it saves me lots of time in doing washes.
All that was left to do was add the landing gear, bombs and small details. The end result is a very nice representation of what I would simply call "a really cool airplane." This was a very enjoyable build (except for the painting adventure, which of course was no fault of the kit!) and I would highly recommend it to any fan of Luftwaffe subjects.
---
Kit Review - Flashpoint Fighters
A Pair Of 1960s Warplanes From Hobbycraft
by John Tate
There have been a lot of great model kits released during the past twenty years, so many that it's easy to overlook some decent, low-end kits in favor of the latest-and-greatest, high-tech models from the premier manufacturers. But tucked away in our model closets are some real jewels that, with a little work, can be turned into fun, worthwhile projects. Hobbycraft kits are a good example-their later-issue models are affordable, easy to build, passably accurate, and have some great decal choices. Here are a couple of good, solid kits by Hobbycraft, their 1/48 Sea Fury and MiG-17F, that most modelers can turn into decent replicas while picking up a little modeling experience at the same time.
The Hobbycraft 1/48 Hawker Sea Fury was initially released circa 1990 but had some shortcomings, which were addressed by Hobbycraft when they re-released the kit several years later. The retooled Sea Fury was released in three different versions, all of which contained excellent decals, nice box art, and useful color profiles on the bottom of the kit box. One of these was the "Bay of Pigs" Sea Fury which had interesting markings for Sea Furies from Fidel Castro's Fuerza Aerea Revolucionaria (far), which played an important role in defeating the CIA-led Bay of Pigs invasion of Cuba in April 1961.
The kit builds into a nice representation of the Sea Fury right out of the box, is accurate in outline and goes together with a minimum of fuss. I used some aftermarket resin details, from a variety of sources, to replace the wheels, propeller blades, bomb racks and cockpit and added a vacuform canopy; these extra parts helped add some realism to the model. However, it's possible to add detail just from the odds-and-ends in the spares box and still get a nice replica. The kit decals went on flawlessly-Hobbycraft has some of the best decal sheets from any manufacturer, and I've used plenty on other projects over the years. I was happy with the final result and a Bay of Pigs Sea Fury makes for an eye-catching and historically significant model.
Like the Sea Fury, the Hobbycraft 1/48 MiG-17 was initially released circa 1990 but later retooled and rereleased several years later, with nicer box art and new decals. I liked this kit release because of the interesting "small air force" subjects on the decal sheet, which highlighted the MiG-17's use as a widely-exported Soviet fighter jet during the 1960s.
Like the Sea Fury, the retooled Hobbycraft MiG-17 went together without too many problems. The model had some questionable contours in various places but when it was finished it looked like a MiG-17, which was good enough for me. I added some cockpit detail, a corrected ejection seat and extra sway supports for the drop tanks-the kit only provides one per tank, while the real plane had two. But nitpicks were secondary to what was a fun, quick build. I modeled mine as a Nigerian MiG-17F from the Biafran Civil War, circa 1969 - 70.
So if you're interested in some quick builds that can also help hone your modeling skills, keep an eye out for overlooked models like these "black box" Hobbycraft kits-with a little work you can end up with a decent replica, usually of an interesting and historically-significant model subject. As sticker shock increases with all the $200 mega-kits hitting the shelves, it might be a good idea to return to the basics, tackling affordable kits that can be fun to build and completed in just a week or two. In fact, that might make a good theme for a future club contest-models built from kits that cost $25 or less.
---
Kit Review - Great Wall P-61B Black Widow
By Larry Horyna
Great Wall models of China has recently released their long awaited and hopefully corrected 1/48 P-61B Black Widow kit. Following on their flawed P-61A, Great Wall has taken steps to correct cowling and other general shape errors in hopes of releasing a better received kit. The first overall impression of the kit shows that they have indeed done the majority of their homework and produced a far more accurate rendition of the United States' first designated production night fighter.
What is in the box: The kit comes with many items that would have to be purchased as separate aftermarket features if one wanted to detail up the model. Photo etched ignition wiring, weighted main gear and canopy masks are the main features of additional detail. Separate instrument decals coupled with a finely molded instrument panel help the modeler create an instrument panel that rivals any photo etched aftermarket accessory. The injection molded parts are finely cast in grey plastic. Some of the smallest parts require extreme care to remove from the trees (and even with extra care and some precision sprue cutters I managed to break a few things!). In fact, for some of the finest details, such as the forward crew access ladder and fuselage exterior antennas, I had to use a photo etched razor saw and very carefully cut the parts from the tree. The interior is ambitious and fairly busy. I am not sure why they chose to mold a representation of the upper turret cylinder (it is not visible in any configuration of open panels that the kit provides) as that only complicates getting the fuselage halves together. All I added in the end was a bit of extra wiring to the cockpit.
Construction: Again, fairly straight forward. The fuselage halves fit reasonably well. The four under fuselage cannon made the alignment of the fuselage halves a bit tricky. It would be much simpler to cut the cannon barrels off and put them in at the end. Also, the kit instructions call for installation of the landing gear during the main airframe assembly. I have never been a fan of this as it is a pain to mask the gear off and not damage them during the sanding and painting process. You do not have to put the gear in as you assemble the airframe. It was no problem to install the gear at the end. Overall fit of parts was good and very minimal putty was needed to fill any gaps. All of the clear parts fit well and they are very cleanly molded. I was a bit nervous about the wing roots because there really is not much support for them. There are no spars or large tabs to guide the wings, only a small ridge round the fuselage wing root. However, the fit not only proved to be good, the tail booms added plenty of support and the overall airframe ends up quite stout. The only little thing that just looked funny to me was the position and height of the pilot's control column. It looks very high and way too close to the pilot's seat. I simply glued it in forward of the hole that it was designed to go it.
Painting and decals: Here is where a few problems crop up. Firstly, the canopy masks. Frankly, I would not use them. Many do not fit the panes in outline; the compound curve areas do not stick well at all and in the end, the areas that did stick, stuck too well! The masks left a gummy adhesive mess that was very difficult to remove. All in all, it would have been easier to mask them myself given the time it took to clean the clear parts up after removing the masks. Great Wall also completely forgot to make masks for the too farthest aft windows at the radio operator's compartment. Given the quality of the mask, this ended up being merciful! Secondly, the decals were not good. The register is slightly off, leaving a very thin white outline on some parts, and they did not react to solvent. I started with micro sol, which is what I use 99% of the time. When nothing happened I broke out the old Solvaset, which also did nothing! The decals did adhere well enough in the end, but they did not sink down into the panel lines much. Also, these decals are very unforgiving of a rough surface texture. I gloss coat pretty liberally but once in a while you end up with an area that is not perfectly smooth even though it has a nice glossy sheen. If these decals end up on anything like that, they will silver. I have found that really nice decals are bit forgiving of this, so long as the surface is shiny. So to reiterate, mask the canopy yourself or get a better made aftermarket mask and use aftermarket decals!
Finish and detail: The last bits of the kit went on without a hitch. The gear are plenty stout. You will need to make sure you add as much weight to the nose as you can. I did not put the radar in the nose since this version had a solid painted nose, and I was still a bit tail heavy! I ended up having to add some more weight to the engine nacelles to get her to sit on her nose. Having said that, I used crumpled lead foil for weight, which is not space efficient. Make sure you use something like lead shot, especially if you have the radar in the nose. The kit engines are beautifully detailed, but I will say they are a bit of a chore to assemble. This was a commission build and my customer wanted one engine exposed. All I added was one little oil drain line coming out of the gear reduction housing. The rest of the engine is all from the kit. Because the kit engine includes all of the exhaust pipes, great care in aligning the two cylinder rows in crucial to getting the pipes to fit correctly. Take your time here and test fit a lot, and you should have no problems.
Conclusion: This kit will certainly make a nice representation of the P-61B right out of the box (excluding the kit decals). Because this was a commission build, time was of the essence in terms of efficiency in construction and detail. Nothing "bogged" me down (except cleaning the gunk off of the canopy that was left by the masks) and overall, this kit was a pleasure to build. It is certainly light years ahead of the old Monogram kit. I would recommend the kit to anyone interested in a 1/48 model of this unique and fascinating airplane.
---
Capt Danny Roberts - New Mexico's Fighter Ace
by Mike Blohm
This article was originally written in September 2012 to coincide with ASM's "New Mexico Centennial of Statehood" theme contest. It is republished now for the "Danny Roberts Memorial - Best P-38" Sponsored Contest being held at the November 1st, 2013 ASM meeting
Capt Daniel T. "Danny" Roberts Jr. is a little-known but fairly high-ranking fighter ace born in Tucumcari, New Mexico. At the time of his death in November 1943 Roberts was one of the top-scoring aces in the Pacific theater with 14 aerial victories. He was barely behind Dick Bong and just ahead of Tommy McGuire in scoring.
Roberts was born on 20 Sep 1918 and graduated from New Mexico Highlands University with a degree in music and became a music teacher in Las Vegas, Nevada. He joined the U.S. Army Aviation Cadet Program and was commissioned as a second lieutenant and rated a pilot on 16 Sep 1941. He initially served at Mitchell Field in New York, but after the Japanese attack on Pearl Harbor he was sent to the Pacific. Due to his quiet nature - he never drank, smoked or uttered a strong curse - he almost ended up being assigned as a base commander out in the desert. However, he was able to influence a general that was passing through and instead joined the 80th Fighter Squadron (FS) "Headhunters" of the 8th Fighter Group (FG). The unit was equipped with the P-400 (export P-39) Airacobra which was not much of a dogfighter but Roberts used it to gain his first two victories. Roberts was involved in a surprise attack on Milne Bay early on the morning of 26 Aug 1942. The 80 FS caught the Zeros of the 2nd Wing just as they had just begun their takeoffs and Roberts scored a "double" and 1 damaged. He scored another "double" over two Vals on 11 Apr 1943, at that time flying the P-38G Lightning.
| | | | | |
| --- | --- | --- | --- | --- |
| | | | | |
| 8th Fighter Group | 80th Fighter Squadron | 475th Fighter Group | 432nd Fighter Squadron | 433rd Fighter Squadron |

Roberts joined the 475 FG "Satan's Angels" when it was formed in May 1943 as the first "all P-38 squadrons group". He initially served in the 432 FS "Clover squadron" as the Operations Officer and scored 5 victories in Aug - Sep 1943 while flying the P-38H. Roberts was unusual as a fighter pilot because of his meticulous habits and gentle speech and manner. He easily won the trust and affection of his comrades and showed a knack for leadership. Roberts was the commander of the 433 FS "Possum squadron" from Oct - Nov 1943 and knew how to get the best from his men by fully understanding them and leading them with the example of his hard work. Roberts quickly impressed the pilots with his enthusiasm for their survival as well as maximum efficiency in accomplishing the mission. "Stay together like a pack of wolves" he would repeat to his men. During his short time as squadron leader the 433 FS was credited with fifty-five victories against the loss of only three P-38s. Roberts himself downed five Zekes in one week, including two "doubles" on 17 Oct and 23 Oct 1943.
Roberts was killed in action on 9 November 1943 during an escort mission of B-25 Mitchell bombers hitting Japanese airfields at Alexishafen on the northern coast of New Guinea. Roberts had scored one kill - a Hamp - and was engaging an Oscar at low altitude when Roberts own wingman collided with him during a hard turn, destroying both P-38s. He was posthumously promoted to major. Roberts is buried in the Manila American Cemetery and Memorial on Luzon in the Philippine Islands. Roberts credits were 14 destroyed, 1 probable, and 1 damaged. Various sources credit Roberts with 15 victories but the official USAF Historical Study No. 85 and Air Force Aerial Victory Credits: WW I, WW II, Korea, and Vietnam documents both list him with 14. His awards include a Distinguished Service Cross and three Distinguished Flying Crosses.
Had Roberts not been lost in this accident, he may have become one of the top-scoring aces and fighter leaders in the Pacific theater, such as Charles MacDonald, who commanded the 475 FG from Nov 1943 to Aug 1944.

Overall, Roberts is the top-ranking ace of the 433 FS (tie), the 9th-ranking P-38 ace (tie), the 38th-ranking American ace (tie), and the 33rd-ranking USAAF/USAF ace (tie).
Ro

berts neither swore nor drank, but is still remembered affectionately today as "The Quiet Ace.

"
Sources:
Stars & Bars - A Tribute to the American Fighter Ace 1920-1973 by Frank Olynyk
Attack & Conquer - The 8th Fighter Group in World War II by John C. Stanaway & Lawrence J. Hickey, Schiffer Publishing Ltd, 1995
Po

ssum, Clover & Hades - The 475th Fighter Group in World War II
by John Stanaway, Schiffer Publishing Ltd, 1993
USAF Historical Study No. 85 - USAF Credits for the Destruction of Enemy Aircraft, World War II, Albert F. Simpson Historical Research Center, Air University, 1978
Air Force Aerial Victory Credits: WW I, WW II, Korea, and Vietnam
, Edited by Dr. Daniel L. Haulman and Col Willam C. Stancik, USAF Historical Research Center, 1988
Pictures of Roberts' P-38H aircraft are posted below, built by Mike Blohm from the Heller 1/72 scale P-38 kit

Spinners and props are from the Hasegawa P-38J/L kit, with wheels from True Details
---
KC-135 and F-105 Aerial Refueling Diorama
by Victor Maestas
This diorama is of a KC-135A refueling Vic Vizcarra's F-105D "Pussy Galore II". The scene takes place in 1966 while he was based at Takhli Air Base in Thailand during the Viet Nam war. The diorama was built for display at the F-105 pilot reunion of 34 TFS to be held in Colorado Springs, Co. in May, 2012. The request to build this diorama came from Howard Plunkett, an ex-coworker that has a great interest in the F-105 Thunderchief. He also helped Albatros decals with the research to produce the markings for several F-105s including Pussy Galore II.
This specific aircraft is the second aircraft to carry these markings, both by pilot Vic Vizcarra. They were applied to help boomers to connect with his plane when air-to-air refueling. These particular markings were put on but only lasted about two weeks before having to be removed.
Having worked on aerial refueling simulators for the KC-135 and always wanting to do "those" markings on the F-105, this seemed like an interesting project.
F-105D
This aircraft is shown in a photo (see below) with the following loadout:
- Centerline hardpoint: MER with six 500 lb bombs
- Two fuel drop tanks on the inboard hard points in un-camouflaged finish, which is unusual, but when the original tanks are damaged during side-slip
maneuvering after a bomb run they are replaced with new ones without the camouflage.
- ECM pod on left side outer hardpoint
- Empty right hand outer hardpoint
The starter kit for the F-105D is a Hasegawa kit. This kit has very fine recessed panel lines but an extremely basic cockpit and pilot. The kit also didn't have the gun camera or refueling receptacle. The kit fuselage did include the afterburner cooling intakes on aft sides of fuselage which were appropriate for this specific aircraft.
An Aires cockpit set (meant for the Trumpeter kit) was added that included a resin cockpit tub with side consoles, throttles, HUD as well as a more complete instrument panel and glareshield. The set also included a nice resin ejection seat. A pilot figure from a Hasegawa pilot set was added to complete the front office. Since the set was intended for the Trumpeter kit, it did require a lot of chopping and filling to get it to fit in Hasegawa fuselage.
The refueling receptacle was added to give the boom a place to plug into with the open in-flight refueling door. A set of line drawings from one of my reference books were used to determine the size of the cutout and locate the opening in the correct position on the nose. On the F-105, the receptacle is located off center to the left. After the correct size cutout was made, the panel lines around the receptacle were scribed. The actual receptacle inside the fuselage was built up from blocks of styrene glued to the inside of the fuselage. The receptacle was sanded and drilled to the correct shape and angle to mate with the boom extension. The receptacle door/ramp was made from brass sheet from a piece of spare photo-etch and rolled to match the contour of the fuselage.
On the outside of the fuselage, additions to the Thud included adding the gun camera under the nose from carved styrene and an aftermarket brass pitot tube on the nose (from Master Models). The afterburner cooling scoops were drilled out as they were molded solid.
Reinforcements made from sprue runners were added inside the fuselage aft of the centerline pylon and forward of the ventral fin to accept an insert made from brass tubing. This was sized to fit a 3/16 inch diameter stainless steel support rod. The hole for the insert was drilled at angle to match the correct angle of attack of the aircraft during refueling, about 10 degrees, as seen on pictures of the aircraft. The upper end of the insert and the lower end in the base were crimped in-line with the fuselage centerline and then glued in place. Both ends of the support rod were ground to a chisel point. The shaped rod and insert self-aligns the aircraft on a single support rod.
After masking the clear parts, the nose and canopy frames were painted black along with pre-shading the panel lines. The nose was then masked off and the camouflage was applied starting with the tan. The medium green and dark green were then applied freehand with the airbrush at a low pressure and the tip just off the surface. The yellow seals around canopy panels are thin strips of yellow Tamiya masking tape cut by clamping two X-Acto blades together and cutting strips of tape on a glass surface with a straight edge. After touching up missed spots and some overspray and letting it all dry, the whole plane was covered with several coats of Future floor polish applied with a wide soft brush. This provided a smooth finish for the decals and sealed in the yellow tape around the canopy.
The Albatros decals went on well with no problems. For the refueling "target", the receptacle door was placed in the closed position by supporting it with a small chunk of poster tack from inside the receptacle opening. The whole decal was placed over the nose making sure to have everything aligned. After the decal had dried, the outline of the door was cut out with a sharp X-Acto knife. The door was then repositioned to the open position and glued in place. After all the decals were applied, the plane was again sealed with a coat of Future.
The aircraft was weathered with a black wash in the panel lines followed by a brown wash around moving surfaces and especially on the bottom of the aircraft. A final flat coat was sprayed over the aircraft. Pastel powders were applied to break up the colors and show paint fading.
The final steps included loading up the bottom of the aircraft with the MER, fuel tanks and ECM pod and unmasking the canopy.
KC-135A
The KC-135A used for this project was an Esci kit. It has the correct configuration for the A model with the proper engines. The kit has engraved panel lines and generally good detail. The wings parts were warped and taping them together showed that they wouldn't stay straight. One wing tip pointed up and the other drooped down.
In the interest of time, all the internals were blacked out and only structural internals were used. The clear windows were installed and painted black on the inside before the fuselage halves were put together. The windows were then all masked with liquid mask on the outside.
The fuselage parts were reinforced all around with bits of styrene sheets at all the joints. Reinforcements were added just forward and aft of the landing gear bays, which is where the wing spar went through. These were added to support the two rods that would hold up the plane.
On the wings, supports were added at the joint between lower center section and outer lower wing sections. The wing spar was extended by installing nested brass tubing and rod (3 sizes) to the lower wing halves. These were covered with two part epoxy to hold them in place inside the wing. The wing was clamped to sections to square tubing sections on the outside to ensure the wings stayed straight until the epoxy set.
All the doors were installed in the closed configuration and most didn't fit well, especially the main landing gear doors. The seams and joints were cleaned up as much as possible before paint.
The plane was painted with one coat of Bare Metal Silver from Tamiya rattle can as a primer and all blemishes cleaned up. After the second coat of silver, the nose, tail top, ruddevators and wingwalk areas were painted in black and these areas were then masked. The wing walk lines were masked with long sections of thin pin striping tape. The boom extension markings were painted with red / orange / yellow / green fluorescent paint decanted from Tamiya rattle cans.
The decals used were the kit markings for a standard refueling aircraft used in this particular timeframe. After the decals had dried, the entire plane was then sealed with a coat of Future floor polish and then overcoated with semi-gloss and flat top coats to vary the sheen of the silver paint.
For final assembly, the boom was installed free to rotate vertically and the boom extension free to extend for ease of assembly to the fighter. When installed between the planes, they would adjust to the correct extension and angle.
Support structure
The support structure consisted of a main wood dowel with two cross dowels passing through. The ends of the cross dowels were supported by wood balls with flats on the bottom. The three holes for the aircraft support rods were then drilled into the main dowel after setting the planes directly on the main dowel and marking the correct locations. The goal was to have the boom extension at half throw to allow easy assembly while still remaining stable when on display. All drilling had to be set up on a drill press to ensure that they were all parallel and perpendicular to each other as needed. The vertical support rods were then trimmed to ensure that the correct relative height between the two aircraft was maintained.
The final touches, done by Howard, included a wood base, white batting to represent clouds (and hide the support structure) and a Plexiglas enclosure to protect the diorama.
The report from the reunion was that the diorama was well received.

This was a challenging project, but it satisfied several of my modeling goals, stretched my skills a bit and provided an accurate depiction of an event that occurred forty-six years ago.
Webmaster's Note: The pictures below were taken at the August 3rd, 2012 ASM meeting:
x
---
by Frank Randall
I (as most of you know) build small scale (1⁄72, 1⁄144 and 1⁄200) aircraft which a good number of people refer to as "Braille scale." Hey, I have good close-up vision so I can.
Anyway one of my latest projects is the Minicraft 1/144 AC130H gunship version of the long-serving C-130 Hercules series of aircraft.
The kit has extra parts for the guns and wind defectors and the front left part of the back wheel well. There are also parts for a basic interior if you wish.
I started with the left fuselage and removed the panels where the guns will go, then added the wheel wells and interior parts. I did not paint any of the interior parts since I was not opening the ramp and was going to black out the cockpit windows (like a lot of airliner modelers do). Then the fuselage and engine nacelles where assembled (and be prepared to use a fair amount of your favorite putty as the fit is not that good). Once I got that done, I added the wings and again, the fit at the roots is not good either. The canopy is next and is an entire unit which removes the headache of individual windows. Don't forget to add weight or you will have a tail-sitter. The gear doors are quite the headache and took a number of fittings and trials to get right. The wheels look fine in this scale, just be aware that you need to tweak them to get them to all touch the ground.
I left the props off to paint them separately.
AC-130 gunships come in three basic paint schemes: black, all gray, and two grays.
To me the black schemes were boring, same with the all gray ones; so I choose a Gunship gray over light gray with the nose art for "Wicked Wanda." I recommend that you refer to your research, as the exteriors of these aircraft changed rather often in gun layout, antennas, paint jobs and markings.
After painting and glossing, the decals went on without too much fuss even though they are rather thick. I then rather heavily weathered it, as most pictures showed they were rather dirty in operation. I used a dark oil wash to accent the panel lines and show general wear. C-130s have a rather characteristic exhaust stain on the undersides of the wings, which I airbrushed.
Lastly I added all the guns and small parts and painted the props (check your resources as they varied from black blades to silver with black parts).
Overall, I was pleased with the outcome, but it is most definitely not a "shake and bake" kit, and has the drawback of being rather pricey - I recommend shopping around. There are other issues of this kit, which allows you to do quite a number of different variations and over the life of the C-130 there are many!
---
Quick Review : Hasegawa 1/32 P-40E Warhawk
by John Tate
The P-40 needs no introduction - it was one of the most famous U.S. warbirds of WWII. Fortunately, Hasegawa did right by the legend when they released this big-scale kit back in Spring 2008. If you've got one of these kits, or plan on buying one, here's what to expect.
The model comes in a big box and has lots of parts, but is generally well-engineered and once you start cutting sprue you'll find the build no more difficult than for the average 1/48 scale model. Assembly follows the usual steps but you'll need to break out the putty for the rear fuselage section, wing roots, and join seams for the front and rear canopy sections. Hasegawa figured out an ingenious solution for installation of the P-40's clear canopy parts by molding them integrally within larger, clear fuselage sections - they look great when installed and if you're careful, they won't be mauled by gluing and sanding.
Unfortunately, Hasegawa molded "extra frames" onto the windscreen, similar to those found on the later P-40N, but not present on the P-40E. However, I found that sanding and polishing out these unnecessary frame lines was a breeze, and I've read that Hasegawa corrected the problem on later issues of this kit.
The cockpit is nicely detailed and aftermarket is unnecessary for this model, but if you must, you can pick up a photo-etch set for the seatbelts, which aren't provided for in the kit. A very nice U.S. pilot figure is included if you want to go that route instead. Once you've got the airframe together, you'll find that the model is a manageable size, and despite the scale, should fit OK on most model shelves.
The landing gear installed easily with good alignment. By this point, you're home free and close to having a great model of a P-40. Hasegawa did their research on this bird and every detail is clearly and accurately represented - you won't have to spend a lot of time "adding and correcting" on this kit.
For modelers, one of the great things about Warhawks is the wide variety of schemes and markings - they saw action with many Allied air forces, from the Pacific to North Africa to the Arctic. This kit will allow you to build almost any P-40E, although for accuracy's sake you might need to replace the kit's smooth tires with an aftermarket treaded version as these were installed on many Warhawks operating from rough fields - check your reference photos. The kit markings are for a sharkmouthed Warhawk from the 23rd Fighter Group in China in 1942, and for "Texas Longhorn" from the 49th Fighter Group on New Guinea, 1943. Although Hasegawa provides a detailed decal sheet, I found the decals themselves were brittle and prone to silvering, so you might want to pick up one of the many aftermarket sheets available instead. I used an excellent sheet from BarracudaCals, with markings depicting another P-40E from the 49th FG - "Tarheel," flown by USAAF ace George Preddy at Darwin, Australia, in 1942.
Webmaster's Note: Pictures of George "Ratsy" Preddy and his P-40E "Tarheel" are posted below.
Verdict? This is a great kit, easy to build and accurate, and sure to provide a fun build and pride in the completed model, which accurately captures the lines of the famous P-40E. The only drawback is the price - in the $70 range, and the kit itself can be sometimes hard to find, depending on supplies to retailers. But if you've got one, build it - you'll be pleased with the result.
Webmaster's Note: See related article on the ASM Review Articles Page
---
Review of Accurate Miniatures P-400 Airacobra
Cactus Air Force at Guadalcanal Issue 1/48 Scale, Kit No. 0407 by Ken Liotta
In case you missed having a peek into this or the sister release by Accurate Miniatures of the Air Racer version boxes, this kit is a re-box of the Eduard kit. While the Eduard kit and this A-M kit share the same basic plastic parts, there are a few differences between the two.
What You Get:
This issue includes the same 3 styrene trees, molded in grey this time, of the 127 pieces with finely engraved panel lines and details and one clear tree with 5 pieces. The clear parts include separately molded "car doors" that can be glued open or closed. The kit also includes decal markings for three aircraft:
1. P-400 (BW-156) "Fancy Nancy" of the 347th FG, 67th FS out of Guadalcanal in Aug 1942.
2. Airacobra I (AH-636) flown by Capt Ivan Gaidaenko in Russia, Oct 1942.
3. P-39M of the 345th FS, 350th FG in Algeria, April 1943.
The kit does not include the lead weight/ballast for mounting in the nose (to keep the finished model on all three wheels without a pogo like prop under the tail) that was included in the Eduard, both ProfiPACK and regular, releases.
Color Diagram:
This kit includes a multi-color paint scheme diagram sheet for the three aircraft markings outlined in four views (top, bottom, and both side profiles) of each. Unfortunately, it is not clear which of the 5, FS color references should be used for which of the printed colors on the three different paint schemes. They list 36270 Medium Gray and 34079 Olive Drab which fit the Russian paint scheme. Then the only other two camo colors listed (besides a red for the spinner) are 33531 Sand and 30266 Middle Stone. None of these four colors listed works for the Earth Brown on the P-400 or the Algerian P-39M. I'm not sure what the intended use of the Sand color was supposed to be either. It may be possible that the Sand and Olive Drab were supposed to be used on the Algerian aircraft. The color sheet erroneously depicts the 347th FG aircraft as having been painted 36270 Medium Gray color on the lower surfaces and makes no reference to any use of a Light Blue, Sky Blue, or Sky (depending on your belief of what color was actually applied) that would have been the color the lower surfaces received for the original British RAF Airacobras before the US commandeered them.
Instruction Sheet:
The 16 page instructions include a brief aircraft development history, text that covers the differences between the various versions and their associated model parts, a numbered color coding chart for painting components, followed by 10 steps with clear assembly diagrams and written assembly instructions. There are a few "holes" in the instructions and I found myself repeatedly referring back to the Eduard instructions just to make sure I wasn't going goofy and was missing something. For example, no where in the A-M sheet is there any mention of a need to add weight to the nose, like the nifty half round/wedge lead weight that you get in the Eduard sheet. In fact, step 2 has you glue the cockpit assembly into the right fuselage half, but then never tellers the builder to glue the two halves together and then jumps over to fuselage-to-wing assembly. Also, a few of the decal numbers on the A-M sheet do not correspond with what is printed on the actual decal sheet. A little detective work was required to get them all placed correctly.
Also, the instructions are lack clarity on which nose/gun top to use for which version and no mention is made of the pre-drilling and subsequent installation of the internal wing guns. They do include assembly notes for the under-wing gun pods.
Part Options:
As in the original Eduard release, you still get all of the options to build nearly ever variant of the P-39 and P-400. You get the three different top nose caps (with and without gun ports, cuffed or non-cuffed), nose gun port/vents as separate pieces, the different gun tips for the spinner, three different types of prop blades (one set I believe are meant to be longer blades for the Air Racer issue), two different spinner assemblies (3 bladed and 4 bladed), accommodations for gunned and non-gunned wing leading edges, three different sets of (solid) exhaust stacks, two different nose wheels (different hubs), both weighted and non-weighted looking tires, an external fuel tank, a 1000 pound bomb, and auxiliary gun packs. The cockpit compares quite nicely to interior photos and can stand up on its own without much more detailing or after market replacement. All three wheel wells are fully boxed in with moderate-to-excellent detail quality. Even though the kit includes a nice boxed in baffle to go inside the air intake scoop, it does not include the horizontal splitter that can be easily seen in the middle. When I built mine, the only thing I added outside of what is included in the box was the noted intake splitter and a set of Eduard photo-etched, pre-painted seat belts.
Assembly Notes:
While the majority of the kit parts fit was straight forward and required nearly zero adjustment and/or excessive putty application, I did have one problem area that really didn't rear its ugliness until it was too late. That was the upper wings to fuselage assembly. I mistakenly went the route of gluing each upper wing to their respective fuselage root BEFORE gluing them to the lower wing (all the while keeping an eye on alignment with the fuselage and the vertical tail). I have done this with other kits in the past, with relatively great success. I chose to do this on this kit because fellow modelers that had previously built the Eduard kit gave me heads-up that they had been left with a significant gap between the wings and the fillets when they assembled the wings the traditional way (gluing the top and bottom wing halves together first, then attaching them to the fuselage sub-assembly).
So, as I bonded them, I got the alignment and uniformity of the wing placement from one side to the other correct and excellent wing-to-fillet joints, but what I lost was the correct upper wing dihedral when I pulled the tops down to bond to the lower half. Yikes. I pushed and pulled to no avail. On the flip side, while looking closely at the wings during this adventure, I noticed a significant dihedral look to the bottom of the wing. I figure that if I were to have pulled the upper wings up further, I would also have increased the lower wing dihedral and ultimately chose to leave it alone. Check the photos, you be the judge. (OBTW, Nats judges, just ignore all that you just read, in case I decide to enter this at Columbus. Nudge, nudge!)
This kit's clear parts were just as clear and crisply molded as the Eduard release. The main canopy seemed a little narrow on the rear half when it was bonded to the fuselage, but gluing down one side before applying a little persuasion to the rear half while gluing the other side down seemed to correct that. All minor, but noteworthy.
Painting & Decals:
Of the three cool paint schemes provided, I liked the well known "shark-mouthed" 347th Guadalcanal scheme the best. I figure these markings will look cool next to another P-400 built as the infamous "Hells Bell" of the same squadron. (That will follow later). When I applied the airbrush camouflage, I also tried another experiment. Lately, I have been trying out the "Pre-shading" method of airbrushing a darker color than the camo colors along the panel lines prior to actual camo application, to provide a 3 dimensional forced accent to the paint scheme. Many times, modelers just use flat black. Because of the trickiness associated with having good aim while airbrushing the pre-shading, I thought that I would try to "brush" paint the pre-shade using a thinned down flat black paint. While I am happy with the forced pre-shade look of the finished paint job, I am not as happy with the visibly stepped layer the pre-shade black left after the application of the camo colors. Even though I thinned the black down it still shows up. And also the application of Future floor wax prior to decal application and oil paint wash followed by the typical flat coat afterwards still didn't level the step out completely. (Nats judges, please continue to disregard these details. Wink, wink).
The kit decals were applied over the noted Future floor wax coating using the standard Superscale Set and Sol system. I had a fair amount of time for positioning and corrections before the decals began to adhere and they were then gently blotted and pressed down onto the model. They laid down very well. While some other decals require several attempts at poking and coating with Sol to get them to completely lay down, these required only one pass.
Conclusion:
If it weren't for the potential tail heavy syndrome (and the lack of a preventative notation about it in the instructions), the goofy camo color recommendations, and a potential minor wing-to-fillet gap issue, I could confidently recommend this kit to modelers with minimum building experience.

However, I think that any modeler with moderate building experience should have little problems with this kit and be able to garner several hours of building satisfaction.

I think that this kit with an MSRP of $26.99 to $30.00 is a good value for the return enjoyment of the build.

I wish to express
thanks to Accurate Miniatures for the opportunity to build and review this sample.
Check out Ken's review on this kit at the IPMS/USA website at:
http://www.ipmsusa2.org/reviews2/aircraft/kits/accmin_48_p400-guad/accmin_48_p400-guad.htm
---
by Victor Maestas
This is a buildup report on the Cutting Edge F4H-1 Phantom II conversion in 1/48 scale. I built this kit for the "Phabulous Phantom Phiftyth Anniversary" special contest in May of 2008. I built the plane in the first flight configuration.
The conversion set is a multi-media set to convert the Hasegawa F-4J kit to the early airframes used in flight testing. The set includes resin parts for the small nose, "S" intakes, early thin wheels, replacement upper wings and unslotted stabilators as well as various scoops and fairings used on the early test planes. The original "flat-style" canopy is provided in clear resin in both one piece and split to display opened up. There is a small set of photoetched parts to represent the perforated spoilers on the upper wings. The markings included in the set cover the first 18 airframes built. Decals are provided for specific markings and stencils. Masks are provided to paint all of the Day-Glo Orange markings on the planes. The aircraft markings in the set include first flight, altitude record flight, low altitude speed record flight as well as other flight test schemes.
The instructions give a basic history of the subject aircraft as well as suggested starter kits. The conversion instructions have detailed written instructions on where to modify the existing kit and where all the conversion parts go. There are color pictures of the conversion in progress in to illustrate the steps needed.
After doing some research, there were a few items that were not included in the kit that would need some attention. These included the ejection seat, the back cockpit and engine nozzles. The first few airframes used an in-house ejection seat before going with Martin-Baker units. The kit ejection seat was modified to make it look like a McDonnell seat. The headbox and backpan were reshaped to match pictures found on the internet and the upper ejection pulls were made from wire to represent the ones on the McDonnell seat. On the first flight of the Phantom II, the back seat was omitted from the aft cockpit and the space used for instrumentation. As I could not find pictures of the inside of the cockpit, I made some orange "instrumentation looking" boxes with handles out of styrene and wire to put on the floor of the aft cockpit. The kit engine nozzles were for the standard J79-GE-10 engines and the first flight aircraft had the earlier J79-GE-2 engines with shorter nozzles. I used a set of shorter nozzles from Cobra Company to replace the kit ones.
The kit was built using both the kit instructions and the conversion instructions to get all of the new parts installed on the kit. Modifications to the donor kit were described and shown in the instructions and construction was straightforward. The conversion parts generally fit well, but needed some amount of dry fitting and trimming to get everything to mate up cleanly.
For the finish, the canopies were masked and the underside and upper flaps were painted in white. This was then masked using blue painting tape as well as Plasti-Tac rolled into sausages to get the wavy demarcation between the upper and lower fuselage. The upper fuselage was then painted in Flat Gull Grey. After this had dried, the grey was masked using tape to paint the black anti-glare on the upper nose. The supplied masks were then used to paint all of the Day-Glo Orange markings. The last painting step was to paint the natural metal parts on the leading edges of the intakes and wings, the aft fuselage around the engines, inboard stabilator panels and the engine nozzles. Model Master metalizer stainless steel, titanium and magnesium color paints were used on these areas.
After the paint had dried, I applied a couple coats of Future floor polish to get a smooth surface for the decals. The markings supplied in the conversion went on smoothly and settled down around all the contours and in the engraved panel lines. The kit national insignia were used as they are not included in the conversion set.
A coat of Dull-Cote gave the plane a satin finish over the gloss. I didn't weather the finish, as it was to show the aircraft on the day of its first flight.
Overall, the conversion requires more work and time than a standard kit, but it's worth the extra effort to get a unique configuration of a very familiar and significant airplane.
---
by Ken Liotta
Accurate Miniatures 1/48 Scale F3F-1
The kit consists of 61 pieces molded on 4 light grey sprues with an additional 4 pieces molded on 1 clear sprue. Two frets of 17 Photo Etched pieces are included along with a comprehensive decal sheet that allows you to build nearly every F3F-1 that flew. The kit is packaged in what has become typical AM boxing: Top and bottom with an added false bottom that usually holds the decals, photo etch (PE), and clear sprue. The box top is covered with a beautiful painting of the F3F-1 and the sides include all the data and multi-lingual description of the model. The box bottom includes a photo of the completed model in the kit primary markings.
The instruction booklet is well illustrated throughout 16 steps and includes several exploded views. They begin with a brief history of the F3F-1 and lead into significant directions on how to build the model accurately. Color callouts are included in these directions and also accompany each assembly step. While you are working on the model itself, you have the option to paint it in a variety of aircraft based on the Lexington to the Saratoga and more.
The parts include some exquisite scribed details and crisp molding that are virtually flash free. Clean up of seams took very little time and the majority of the parts fit together exceptionally well.
The assembly sequence laid out in the instructions is quite typical; Cockpit/interior sub-assemblies, fuselage, engine, tail planes, wings, and details. The 7 color decal sheet that covers most all of the F3F-1's is approx 5 x 6 inches and includes two variations of decals for the instrument panel that is molded in clear styrene.
Once I started trimming the main component parts it became apparent that there was a significant problem with the upper and lower wings. The upper wing had a series of scalping dips along the leading edge while the perpendicular details along the top were wavy and not straight. The bottom wings had a similar wavy condition, but not as pronounced. The best solution that I came up with was to layer super glue into the low spots on the leading edge and once I was satisfied that it had cured sufficiently, I used a sanding block and wet/dry paper along the edge to even it out. While doing this, I also restored the aerodynamic shape of the edge and back over to the top.
I made an effort to correct the wavy perpendicular detail lines by strategically applying super glue and once cured sanded and re-scribed the detail. Besides the dipped leading edge and wavy detail lines, the wings had a swirled injection pattern in the plastic that didn't appear deep enough to be a concern once they were painted.
All three of these anomalies appear to be the result of either a cold injection or removal from the molds too soon or both. I have looked at two other kits and have seen traces of the same anomalies but they were not as pronounced as this kit's. After repairing the wings, they were assembled following the assembly steps paying particular attention to their alignment. While gluing the lower wings on I took advantage of the join lines and worked them into natural looking panel detail.
Before gluing on the horizontal tail planes, I drilled out the fuselage details that would be behind them and then positioned the planes to give the appearance of having been trimmed or adjusted as seen in numerous photographs. The remainder of the assembly was straight forward with no further problems encountered. In fact, the fit of the majority of the pieces could rival many of the big name manufactures.
Painting began with the doped finish aluminum color were I used Alclad basic aluminum over an enamel primer gray (Model Master (MM) FS 36440). The red is Testors flat red, the green is MM FS 34187, and the wing top Orange-Yellow is Polly Scale acrylic. Except for the Polly Scale and Alclad, all paints are enamel. I used a Paasche Type H single action airbrush driven by a Badger Silent 1 set at about 25 psi. Most all of the assembly was done with Plastic Zap super glue but several areas were glued using Tenax 7R solvent glue.
Before the PE rigging wires were glued in, I coated the model with Future floor wax through the Paasche. Once that had dried, I applied the decals without any difficulties. Another light coating of the Future was applied and once dry, I applied a gentle oil paint wash that was thinned with Turpenoid. Since these aircraft were kept in relatively pristine condition, I didn't apply too much. I also didn't hit the model with any paint chipping effects.
Once I was satisfied with the decals and wash, I applied another coating of Future on the wings to replicate the doped, gloss finish. Conversely, after careful masking of the wings, I applied a coating of Testors Dullcote to the remainder of the aircraft to replicate its less than glossy appearance. The remaining details (prop, wheels, bombs, canopy, etc.) had been getting painted while the main construction had been going on and they were now added to the model along with antennas and the PE rigging. Since the rigging wires are provided in stainless steel, these were left as they were to more closely replicate the real wires. Nav lights were first painted MM chrome silver and when dry were over coated with several layers of Tamiya acrylic clear red and green.
In conclusion, looking past the anomalies on the molded wings, the rest of the kit fell together quite easily and was an absolute blast to build. For the latter reasons, I can comfortable recommend this kit to modelers with average experience to build.
---
Kit Review:
21st Century's Macchi C.202 Folgore
by Tim Wood
Click here to access Tim Wood's review article: Macchi C.202 Review (PDF file).
---
October 3rd
Hosted by Patrick Dick
-- Held-over from September 5th --
Best build of Hasegawa's 1/32 scale P-40E kit in the"Texas Longhorn" markings from the kit.
Webmaster's Addition:
Here's some "History" to go with your modeling of "Texas Longhorn"
by Mike Blohm
"Texas Longhorn" was a Curtiss P-40E Warhawk flown by John D. Landers while he served with the 49th Pursuit Group, 9th Fighter Squadron in the Pacific Theater, achieving 6 credited victories against the Japanese. He evaded capture in December 1942 after being shot down and bailing out of his fighter plane near Dobodura, New Guinea after achieving his 5th and 6th kills. The link below takes you to a description of Landers early career over Darwin and New Guinea and the air battle when he was shot down - great reading!
http://books.google.com/books?id=Q3b3d7-T4hMC&pg=PA21&lpg=PA21&dq=John+D.+Landers&source=web&ots=dPLVYkkMSy&sig=Ruh4Ebaam8y_RtC5gURS4_GmzZk&hl=en
Further info on Landers' career and pics of both "Texas Longhorn" and "Big Beautiful Doll" are posted below:
Colonel John D. Landers is the 36th ranking U.S. ace (tie); and 31st ranking ace in the USAF (tie). Landers was an ace in two war theaters, and was one of the great USAAF fighter group (FG) commanders in WW II. He initially served with the 49 FG, 5 Air Force (AF) in the Southwest Pacific (SWP) and scored 6 kills in the P-40. With the 8 AF in the European Theater of Operations (ETO) he was commander of the 38 Fighter Squadron in the 55 FG, Group Executive Officer for 357 FG; and then Commander of both the 78 FG and 361 FG. His famous and much-modeled P-51D was named "Big Beautiful Doll". He scored a "triple" on 7 July 1944 (3 Me 410s) near Bernberg, Germany, and 3 "doubles". Landers scored 8 ground kills on one mission. Landers score included 14.5 aerial victories (14.5 confirmed / 0 probable / 1 damaged) and 20.0 ground (strafing) victories. He scored 6 in the P-40E, 4 in the P-38J, and 4.5 in the P-51D. He was promoted to Colonel in May 1945. Landers passed away in September 1989.
The Color Scheme of "Texas Longhorn"
So - what was the color scheme for John Lander's "Texas Longhorn"? Is it really what is depicted in the kit's instructions?
Hasegawa's kit instruction state that the colors to use are Dark Green (DG) and Dark Earth (DE) on the upper surfaces over Azure Blue (AB) or a slightly-blued Light Gray FS36495 (LG) on the under surface. Links to portions of the instruction sheet are included below.
However, John Tate and I exchanged a few E-mails on whether "Texas Longhorn" was really painted as per the kit's instruction or was actually in an Olive Drab (OD) over Neutral Gray (NG) scheme. To help resolve this question, I went on a research hunt and discovered a few interesting facts that you'll need to ponder over before you paint up your model.
The excellent Schiffer book on the 49FG, "Protect & Avenge" has some wording on page 24 describing the paint scheme's of the 49th's P-40s:
"Each 49er squadron was allocated 25 Curtiss P-40E fighters from the first, second, and third production blocks and P-40E1CU types from the fourth block. Several of the third and fourth block planes were in earth brown and dark green with pale grey undersides camouflage, indicating RAF-contract machines for Europe or China duty. They had been commandeered from RAF distribution after America joined the war effort."
So that more or less says that "Azure Blue" is out for an undersurface color. More on this shortly.
To answer the OD and NG versus DG-DE and LG scheme question for "Texas Longhorn", I had to do some comparisons of photos. I checked the excellent pictures of Lander's P-40 found on page 8 of Squadron-Signal's "49th Fighter Group" book against photos of P-40's in the DG-DE scheme in the "Protect & Avenge" book. Some good examples are on pages 56, 57, 60, 64, and 65.
One of the "49th Fighter Group" book photos of the right side fuselage showing the Longhorn's face shows what looks to be a DG-DE division line to the right of the horns, not too far from the front of the nose (third picture from left above). Comparing this same view of the aircraft to multiple photos in the "Protect & Avenge" book reveals the same DG-DE division line on those aircraft as well.
This answers the upper paint scheme question. Yes, "Texas Longhorn" was painted in a DG-DE scheme.
So what color was the lower side of the aircraft?
There are several possibilities. Per the "Protect & Avenge" quote above, the undersides camouflage was pale grey. Another possibility is Sky Type S, or a U.S. light blue version of that color, as was painted on U.S. aircraft ordered by Great Britain. Per the quote above, some of the 49th's P-40s were RAF-contract machines.
This conundrum is much like the debate over the underside color of the American Volunteer Group's (Flying Tigers) Hawk 81 aircraft. Advocates argue for either a Light Grey or Sky Type S.
So what to do? Your best bet looks to be to build two models and have one Light Grey and one Sky Type S. Actually, you can build whichever looks best to you, as it is highly likely that no one will be able to challenge your choice.
If you have any additional insight or inputs on this issue, please send me an E-mail and I'll include it in this article.
-------------------------------------------------------------------------------------------------
Of Note: One of Landers' squadronmates in the 9th Fighter Squadron flying P-40E's didn't do too badly either when he also transferred to the ETO.
George E. Preddy, who flew P-40E "Tarheel" (an OD and NG acheme) alongside Landers, went on to fly the P-47 and P-51 with the 352 Fighter Group, where he became the top Mustang Ace with a total of 26.833 victories. He flew a series of P-47's and P-51's named "Cripes A' Mighty". See P-40 and P-51 pictures below:
---
---
---
Kit Review
Takom 1/16 Renault FT "3-in-1"
by John Tate
Several of us in the club built these big-scale Renault FT tank models for ASM's Group/Chapter entry at the 2018 Nationals and did well enough with them to win a respectable second place. But after Nationals I still had one half-built on the model shelf so decided to finish it up and do a review.
First, it's true what you've heard--the Renault FT was the first modern tank and easily the best tank of WWI. But when the Great War ended, the FT's service was far from over, as these tanks saw plenty of action between the wars, from Brazil to China, and were still useful enough as a combat weapon to see action in the early stages of WWII. What that means to us as modelers is that there is plenty of variation in markings and camouflage to make this kit a fun build.
The Takom FT is a recent kit, with the "3-in-1" version released in 2017, so generally it's well-engineered and goes together nicely. There are three basic construction stages--the hull, the running gear/tracks, and the turret. I built the kit with an interior and spent much time painting and detailing the engine and driver's compartment, but then buttoned it up anyway, so if you're looking for a quicker build you can skip most of this work. The engine is very nice but needs spark plug wires and priming valves, and the throttle controls in the driver's compartment need control wires that run to the front of the hull. Here you have to decide if you want to build the turret with the Puteaux cannon or Hotchkiss machine gun; the cannon version used the kit shell racks and the machine gun version had ammo boxes attached to the inside of the gunner's area, but unfortunately no ammo boxes are supplied with the kit. No cannon shells, either--a noticeable oversight if you want to open up the interior.
Something else I noticed about the interior--there's a firewall separating the engine compartment from the crew compartment. Some accounts say the WWI tanks lacked this firewall, so check your references.
Two turret choices--the hexagonal omnibus turret or the round Girod turret. Both could house either the cannon or the machine gun, and both were used throughout the service life of the tank. I chose the Girod turret with cannon, as the shell racks for it came with the kit. The Girod turret took some work to get right, as I had to add the raised seam line around the top of the turret, plus some bolt heads that were either missing or poorly-formed, but no significant problems.
The running gear and tracks are almost models in themselves and although tedious to get together, are generally trouble-free. The tracks are fully workable when properly assembled. Paint as you build to make finishing easier, and use extreme care when separating the individual track plates from the sprues or you'll end up with divots in the plates which will have to be repaired. You'll also need to decide at this stage if you want the WWI-style wooden front idler wheel, commonly used on most FTs, or the updated steel one, as seen on many French tanks in 1940.
Well, after several weeks to months of steady work, you're finally finished, so how do you paint it? First, do your research and match your build to a real vehicle in a real photo. There are a myriad of FT images online, so finding something interesting shouldn't be difficult, especially as no two of these beasts seemed to painted the same way. There weren't a lot of variations with the FT itself, but there were a few that were noticeable, so pay attention to details in the interest of accuracy. I selected a Vichy French FT used in colonial Morocco to oppose the Allied landings during Operation Torch in 1942, as it had the French post-WWI steel idler wheels and double trail hooks for the tow chains, but still had the early WWI-style vision plate for the driver. Many French FTs that faced the Blitzkrieg in 1940 had a later armored visor for the driver, which unfortunately isn't included with the kit. Decal markings for the model were from the spares box, as there is a distinct lack of accurate decal markings for the FT in this scale, although those that come with the kit are usable.
Overall, this is a nice kit of a great historical subject, and well worth building if you want to try something different in an uncommon scale for armor. By the way, a reminder--the FT would make a good addition to ASM's "1939" display at the State Fair this year, as it was in service with both Poland and France at the start of WWII.
---
World War I Armor Modeling
by John Tate
In the centenary of WWI, Great War armor modeling has undergone a renaissance the same way WWI aircraft modeling has--new tank and figure kits and a wealth of reference material are available now on what was once an overlooked area of scale modeling. Recently I picked up two useful reference books on WWI armor modeling that every tank builder should have on his shelf--Modelling WWI Tanks, a Histoire & Collections by Frederick Astier, and Armour in Theatre: Camouflage & Markings, Tanks in the Great War 1914 – 1918, Scale Armour Modelling Colours Vol. 4, by Mark Healy.
Modelling WWI Tanks, published in 2016, is a thick softcover book that covers master-level builds of a Mark IV Female, a Mark IV Male, Saint Chamond, A7V, Schneider CA, and Renault FT, with most models placed in dioramas for context plus historical text and photos. The model photography is first-rate and brings out all the richness and detail of the subjects. This is a book you read for inspiration to plan your next build--you won't be able to finish it without starting construction on a WWI tank model.
Armour in Theatre Vol. 4 is a true reference book, packed with historical text and photos, battle diagrams and color profiles that provide excellent coverage on the development and employment of the tank by Britain, France, and Germany in WWI. To the delight of the modeler, much attention is paid to camouflage of WWI tanks and the color profiles are among the most accurate available, with text helping place each tank in battle context. Most interesting is a concluding chapter on what tanks would have been employed by the Allies if the war had continued into 1919. This is a must-have book for anyone embarking on a WWI armor project.
Both of these books helped motivate me to finish a couple of WWI modeling projects that had been on my shelf--a Mark IV tank diorama and revising the camouflage of an A7V Sturmpanzerwagen. I've included a few images of these projects. Note the barbed wire on the Mark IV diorama--Zebrano 1/35 barbed wire from Belarus. Unlike two-dimensional photoetch barbed wire, Zebrano wire is three-dimensional, complete with tiny barbs, and looks and handles just like the real thing. Scale barbed wire is a necessity for most WWI dioramas and Zebrano provides a product that is the most accurate available.
New model kits, references and accessories catering to the WWI modeler are helping re-create the equipment and battlefields of modern history's most momentous year--1918. In 2018, put a WWI kit on your build list and add a new dimension to your scale modeling repertoire.
---
by Tony Humphries
The DML Imperial Series Sherman M4A3E8 (Easy 8) is an old kit - twenty years by my reckoning and it could even be older than that. Like many of the DML Imperial Series kits, it fits together fairly well for the most part and is generally accurate but also like many others from this series, it has some issues as well. The kit supplied tracks are a pain in the proverbials, for a start... Who on earth thought that separate guide horns were a good idea?!? There are about 72 of these to stick on the tracks on each side, as well as assembling the individual links. This is sillier than a pair of one-legged pants. Needless to say, I threw them away and used a set of T66 tracks from the spares box (either T66 or T80 tracks would be appropriate for a WW2 M4A3E8, as I'm sure you all knew). The attachment points for the bogies on the lower hull are very weak too, with very little surface area to make a decent join. They're basically as slender as a ballerina's ankles and twice as fragile. So, something of a challenge, shall we say? One that Tamiya also made a dog's breakfast of in their recent Israeli M51 kit as well actually.
The version I had was the Korean-war kit but I backdated it with aftermarket decals and a certain amount of artistic license (AKA "making it up as you go along") to a late WWII version. Actually, apart from the tracks and markings, there is very little difference between the two anyway. The rest of the build is pretty standard. You start with the wheels as usual, and build upwards from there. Wheels are always annoying to build and paint, but at least this was an Allied vehicle and so it didn't have the insane number that you find on late war German armor. Some of those look as though the designer started drawing them on the plans in a frenzy and couldn't bring himself to stop. Either that or he put the decimal point in the wrong place. Maybe he had shares in the tire manufacturing company or something? Or a seizure? Who knows...
Anyway, returning to the M4A3E8 kit, it builds into a fairly decent replica in the end, despite the kit being old now. It could probably use some photoetch parts for the headlight guards and engine grill, but even without those it's significantly better than the Jurassic Tamiya equivalent anyway, which looks about as realistic as John Traviata hair. Hopefully you will be able to view the results of my build at the "1945" competition night and you can judge for yourself. In the meantime, though, I'd recommend grabbing one of these kits if tracked things are your particular cup of tea (and if not, why not?) if you come across it. They can be picked up pretty cheaply these days and are a fairly simple and enjoyable build, apart from the tracks, which are as much fun as a wet weekend in Clovis. Verdict: 3.5 out of 5.
---
The Tamiya 1/35 M51 Sherman
by John Tate
Three iconic weapons in the Israeli arsenal gained international recognition in the 1967 Six-Day War: the Uzi submachine gun, the Mirage IIIC fighter jet, and the M51 "Isherman" tank. In the case of the latter, the M51 spearheaded the Israeli armor effort on all fronts and was instrumental in pushing out the quantitatively-superior Egyptian forces from the Sinai Peninsula, quite an accomplishment for an up-gunned WWII tank past its prime, especially since it faced much more modern Soviet armor. The M51 has been done before in plastic, by both Dragon and Academy, but this is the first mainstream kit of the M51 version used in the Six-Day War. Tamiya has produced a good kit, with a few quirks, but well-worth building. Here's what I found when I built mine.
This is an all-new-tooled kit, with very nice moldings; there is no flash and little cleanup required on most parts. The kit assembly is traditional, from the hull and running-gear up, and Tamiya finally filled in those empty sponsons found on their earlier Sherman kits. The kit was designed with the builder in mind so construction goes smoothly. However, even though it's not over-engineered like many other contemporary armor kits, it still takes some patience and modeling skill to get right, and there are plenty of small fiddly pieces, especially on the hull. The track is Tamiya's gluable, one-piece type, but it's easy to handle and fit perfectly. The one bugaboo about the tracks is the prominent mold seam along the track sides, which I thought would be a deal killer but turned out to be easy to remove, with a little sanding and super-glue. One nice feature about the kit is the depiction of the canvas mantlet cover-it fit nicely and looks great when finished; I wish all armor kit manufacturers would follow Tamiya's lead and add similar covers so modelers wouldn't have to purchase expensive resin aftermarket sets.
On the downside is something I've noticed about most Tamiya kits-they get you 90% of the way there in style, but leave you on your own to get the rest of the way to an accurate model. In this case, Tamiya didn't provide wire mesh for the rear engine deck ventilation ports, or any detail for the tow-cable attachment eyes on the front hull transmission cover. The barbed-wire clamp on the transmission cover is also missing and has to be scratchbuilt, and the jerrycans stand upright on the fenders but lack the retaining bolts that would have held them to the hull. You get the idea-a lot of little details have to be added to produce an accurate replica. Tamiya makes a photoetch set for this kit, which can be hard to find, but I would recommend purchasing it in the interest of an accurate model.
Like many Tamiya armor kits, this one comes with a piece of string to replicate the tow cable-save yourself some trouble and get an aftermarket replacement instead. The .50-caliber machine gun looks like it comes from an earlier Tamiya Sherman kit so if you have an extra Dragon one in your parts box like I did, I'd recommend using it.
The finishing stage went smoothly and I painted my model in overall '67 sand. It's an open question what this color might have looked like after some time in the desert sun so I simply painted to suit. The decals went on flawlessly, with almost no silvering. As a final touch, I added a tethered antenna and some tarp rolls and musette bags, and my M51 Sherman was complete.
Bottom line, this is a nice kit of a historically-significant tank, and a nice change from the usual armor diet of wwii subjects and 21st-century mbts. Recommended.
---
Walk-Arounds: M2A1 Half Track and M-18 Hellcat
by Jim Guld
Jim Guld posted two pictorial "walk-arounds" on the Armor Modeling and Preservation Society website covering the M2A1 Half Track and M-18 Hellcat.
Click on the following link and scroll down to find Jim's two entries: http://www.amps-armor.org/ampssite/preservation.aspx
---
by Jim Guld
I thought I would write about a couple of builds I have going at the moment. One is the Dragon Sherman M4DV kit and the other is Tamiya's reboxing of the old LRDG Chevy 30CWT with the Italeri Breda 20mm AA gun kit.
The Dragon M4DV kit came out last year and is a nice addition to their Sherman family. I'm building mine as a tank made by Pressed Steel Car and which participated in the early battles in North Africa, and this particular tank was knocked out on February 15, 1943, at the battles around Sidi Bou Zid. I will be modeling mine prior to being KO'ed. I had to make a few modifications to the kit to make it into a Pressed Steel Car tank. The one thing you find out when building Shermans is that certain factories had particular builds. In the case of this Pressed Steel Car tank it had a very early one-piece front nose without any bullet splash. Currently no one makes this style of nose. Dragon does make an early one-piece nose, but I had to remove the bullet splash. The other area I had to change was the inside of the bullet splash around the top of the hull. The Pressed Steel Car tanks had a flat area, and Dragon portrays it with a slight downward chamfer similar to how a number of other Sher­man hulls were produced. Along with this, I had to put a slight chamfer on the short return bullet splash which goes around to the back of the hull. Like I mentioned earlier, Shermans had a number of subtle differences. All the early M4s and M4A1s sent to 1st Armored Division in North Africa had two short raised rails welded to the top of the engine deck to secure items. On a number of tanks, they had a rack for a Jerry Can on the left rear, and they moved some of the Sherman tools.
Now on to the painting and markings. The 1st Armored Division had a peculiar way it marked its vehicles with a turret: stars and bands around the turret that were interrupted with a geometric symbol to denote the different companies within the battalion. I'm working on the paint job as I write this and decided to do a reverse mask process. First I sprayed white over the areas where markings go and then followed that with yellow. After that I will make masks up for all the yellow markings and then spray on my OD. After that I will apply the name of the tank on the hull sides with yellow lettering from Archer Transfers. I've done a test on some scrap styrene and was happy with how it came out. More to come.
The Tamiya LRDG Chevy 30CWT is an old kit first re­leased in the late '70s. It has surfaced from time to time and its latest appearance has it teamed up with the Italeri 20mm Breda AA gun. The LRDG never towed these into battle, but they had one heavy gun truck with either this or a Bofors 37mm AT gun per troop. These vehicles would usually be the last in line to keep a lookout for enemy patrols. A few minor changes are needed to the Tamiya kit to make it into one of these gun trucks. The top of the rear compartment sides need to be cut down to the metal frame and then a raised wooden extension added that goes in the front half of the bed. Inside the bed itself, it has a wall right in front of the wheel wells to help hold stowage. The Breda is bolted to the rear floor area. It could traverse roughly 180 degrees.
The only aftermarket items I'm using are replacement resin wheels from Hussar. Right now the basic build is done and I'm just waiting on the wheels to arrive and then it's on to paint. This one should be fun! The LRDG had some wild paint jobs and changed them basically from patrol to patrol due to the different areas that they might be working in. Mine will be a three-color disruptive pattern based loosely on the Caunter pattern. The colors will be Portland Stone, a light blue and a light pink.
Considering the age of the Tamiya kit, it has held up very well. A few areas need to be thinned down like the front grill and the exhaust but overall the fit was pretty tight and I only had to use some filler in a couple of spots. A few things that would make this kit even better would be some new figures, replacing the rubber tires with styrene ones and a new weapons set. Model On.
---
by Jim Guld
This month we'll look at the Academy M10 Gun Motor Carriage kit #TA990. I'll go through the build and what I added or changed to portray the initial version seen in the first battles in Tunisia.
The kit came out in 2001, and was soon picked apart for a number of size and angle issues regarding the turret. I decided to forego trying to fix any of those problems and instead planned to add the missing details to the turret and the hull interior. The kit comes with a decent hull interior but like most kits it could use a little help here and there. There are aftermarket updates for this kit both in photoetch and resin but I decided to break out the styrene and just use bits of photoetch I have in my stash.
Starting from the bottom up, the kit comes with what modelers think of as the later style M4 Sherman bogie with your choice of an initial top return symmetrical skid or the later style skid seen most often. I opted to use a style of skid that was seen on Shermans and M-10 built in 1942 and early 1943. These are sometimes called the intermediate style skids. Dragon models provide them as an option in some of their newer Sherman kits and I had them in the spares box. Since the M-10 I'm modeling is from the initial production batch from the fall of 1942, I needed to use these. The bogie units themselves had a few injector pin marks on the front faces that needed to be filled along with adding on some of the missing bolt detail for the return roller mounts on the top and the backside of the mount. I drilled out the four corresponding mounting holes on the opposite side of the return roller arm. T he bogie units were designed to work on either side of the tank. I went with the open style road wheels. The kit comes with this and the stamped style and from pictures I've seen both are possible for an M-10 from this time period.
The kit comes with a fixed rear idler but I cut it off and added an adjustable one from the spares box. I also had to change out the front drive sprocket for a Tamiya one since I ditched the kit tracks for a set of T-41-style DS styrene tracks from Dragon. I had to shorten the Dragon tracks down by two links. You could use the kit drive sprocket but would need to shim it out by about .015" to get the tracks to fit.
The kit comes with both styles of cast one piece final drive covers so I used the earlier style and added on the missing casting part numbers made from the Archer Transfers resin casting symbols and numbers set. These are great. They go on like regular decals and look great.
Other additions to the front housing included moving the siren to it from the front hull glacis plate, adding on the small U-shaped step made out of styrene and a small L-angle plate you see welded onto most early style covers. I also added on the missing bolt detail on the bottom of the housing where it would connect with the lower hull. The only other thing I added on the lower outside hull was weld beads for the rear shackle mounts. The front mounts were part of the casting but the rear mounts were welded on. Fit-wise, the sides of the lower hull to the front final drive cover needed some putty.
Moving on to the hull exterior, I decided to just thin down the kit's plastic light guards for the front and rear. I had to make arms for the rear ones after I broke the kit ones while trying to thin them down. For the front guards, I also added on the socket mount brackets with chains that you would see in most pictures. When the lights were removed there were small plugs that went into the light sockets to protect it and this was attached to the cylinder mount with a small chain. I had to change out the kit's front hull lifting lugs for a more U- shaped ones. The ones provided for the front of the hull I ended up using on the rear of the hull since they were the correct shape for an M-10 of this time period. I also added on small pads that the lugs were cast onto. These in turn were then welded to the hull front and rear. Later style lugs on M-10s were just welded on directly. This is when doing research comes in handy.
For the front hatches, I added on some missing details and on the rear hull deck I added on the missing retention chains for the fuel/water/oil caps. I also added on the missing handles for the fire suppression system mount. For the onboard tools mounted on the rear I added on the missing footman loops and straps. I made the footman loops out of styrene discs punched out with my punch and die and the arm for the loop is .010" styrene. Some of the tools are from the kit and others came from the spares box. The kit tools were kind of poor, imho. I had sand and file the gun support mount on the rear deck so the gun tube would fit since I'll be showing mine in the travel mode. I used the kit-supplied tow cable ends and added on a resin clasp mount on the rear deck from Formations, along with some nylon thread for the cable itself.
On the rear deck I filled in a small seam along the sides where the rear deck plate meets the sides of the hull. I added on the thin sheet metal bracing for the front fenders and the thin lip you see were the upper hull overlaps the side and angles inward. It is a subtle thing but something Academy missed. This is why a lot of people on the Allied DG on Missing-Lynx are hoping for a new M-10 and M-36.
Moving on to the inside. This is where I did the most work. Here is where good reference books come in handy. I added in the missing wiring and the main electrical junction cutoff box to the hull floor. I tried something different on this kit and went with .010" and .015" styrene for a lot of the wiring instead of solder. I used .032" solder for the heavier cable going to the electrical junction cutoff box due to the many twists this piece had. I used Plastruct styrene for this. Ever­green only goes down to .020" and seems a bit more brittle then Plastruct.
Other additions include the seat operation mechanisms and a more correct looking style of radio for an M-10. It should be a SCR-610, which I believe only Formations makes in resin, but I did have a SCR-510 left over from a Dragon halftrack kit which is very close. I then added the relay box on the sponson wall. Other minor additions were seat belts and straps for the ammo.
The turret needed a bit of work as well. I made a mold of one of the kit interior stowage boxes and cast up a couple more since Academy only gives you two in the kit and you need four. They didn't provide the larger stowage box seen on the right side interior and missed the stowage rack and Thompson on the right rear wall. I added on a spare .50-cal barrel and to the left rear wall along with another smaller missing stowage box down in the lower left corner. I had to cast up a fire extinguisher for the interior.
Other missing items included some interior footman loops, springs on the side of the recoil guard, pads on the side of the recoil guard, and some other smaller L-angle mounts on the left interior, for which I have yet been able to figure out what their function was. I made up the signal flag canvas cover out of Duro Kneadtite putty.
Moving on to the outside of the turret I added all of the missing welds and added on the casting numbers for the gun mantlet. I made up the initial field expedient turret counter weights seen on some M-10s in Tunisia. The stowage was made from the Duro putty and the packs were made from Apoxie Sculpt. I have molds of packs and can impress the putty into them and then carefully take it out of them and form them to make different shapes on my tanks. After it dries I add the straps to the packs. The same goes for the stowage. I roll out the shapes I want and impress the areas where the straps will be and then later put the straps on.
I won't be painting this one for a while, but when I do it will be done in OD with the mud-applied camo that was often seen on US vehicles in Tunisia.
Some of the references I used are pictures from friends I've met through Missing-Lynx along with the following books:
"US Tank Destroyers In Combat 1941 - 1945"
by Steven J. Zaloga
"Walk Around US Tank Destroyers" by Jim Mesko
"British Tank Destroyers Achilles 17-PDR M-10 S.P."
by Wojciech J. Gawrych
"Sherman A History of the American Medium Tank"
by R.P. Hunnicutt
---
by Jeff Frickstad
Italeri 1/35-scale Bofors AA Gun 40mm (Kit #6450)
Finally, a 40mm AA gun! Way back in the 1980s there as one. I don't recall the company that put it out. So now that Italeri has one, I thought that I would build it.
First thing you see is the parts trees, the instruction and no decals. Building starts with the tires and axles for front and back. Next is the towing or firing position — I went with the firing position.
Step 3 in the firing position is a bit odd for model parts 55B; the pads are short for three sides (back and two side wings); the front is fine, it sits like it should. The other three are short about 1/16", so I added some rod stock (3/64) and it fit perfectly. Parts 53B are tiny little handles, be careful with them!
Step 7: parts 82B fit into parts 81B. One problem: the holes are too small. A hobby knife and a small file will open the holes for a good fit.
Step 8: The frame is fragile—be careful. The pedals are set at an angle.
The rest of the kit went together very well.
The figures with the kit are a bit big for the seats. The two seated figures need a Dremel diet…
The two standing figures with ammo are so-so, but you can use them.
There is a detail set out and a wheel mask, and maybe a metal gun barrel(?) and hopefully seated crew.
So if you need protection from those pesky aircraft, I think you will like it.
I give it 4-3/4 tanks.
---
by James Guld
Bronco Models' Hotchkiss H39
I thought I would give you my impression of the H39, which I had at last month's meeting. This was Bronco's first model from 2005 and I built it basically OOB except for adding a few missing bolt details here and there, filling in the seams around the turret vision slots, and adding some casting numbers to the front nose under the Hotchkiss logo.
Starting from the bottom up, the running gear comes with metal springs for the bogey units. The fit of the pieces is slightly off when assembling the two halves together, so you have to watch that or they will sit askew. The tracks come as individual links which you glue together, but they didn't have any knockout pin marks at all. The rear idler can be positioned on its mount, but make sure you mount it as low as possible—otherwise, you'll have problems with the tracks hitting on the bottom of the fenders.
The lower hull tub is a one-piece unit and the upper hull is broken down into two parts. The front section stops about at the middle of the driver's hatch where there is a natural seam line just like on the real tank. The rear section then has the engine deck grills as a separate piece.
The kit actually comes with a bit of an interior, but they left out any inside hatch details for the driver's hatch so I left it buttoned up. The side fenders are separate and I had to cut off the location tabs to get them to sit right on the tank.
I tried something different on this build. I built the road wheels and put the tracks on and then assembled the upper hull to the lower hull. Basically, I built the entire tank and then painted it. The only thing I left off was the chain.
The turret comes with the side and front vision slots as separate pieces, and it also comes with a brass barrel. There are also interior details of the gun itself. The turret has some very fine details that you have to add to the top dome, and for mounting the gun itself they give you a thin plastic rod that goes through the side of the mantle.
They did forget to give you the exhaust shroud for the muffler, which I made out of spare photoetch brass, and I added the support arm, which goes down to the fender. All of the kit tools are a little weak on the detail side but I didn't have any references other than the Char Francais web site (http://www.chars-francais.net)
I used part of the kit decals (the red hearts) and used Archer Transfers for the registration numbers on the front and back.
The overall fit was okay but not great. It's not up to Tamiya or Dragon standards but not terrible either. The only other fit problems I saw were around the visor slots. I saw pictures at the Chars Francais site, which show gaps around the visor slots, and in other pictures I saw tanks that didn't have the gaps. The tank I wanted to model didn't seem to have the gaps, so I filled mine in. So to rate it, I would give it a 7.5 out of 10. Not bad for their first kit.
---
by James Guld
1/35 Academy M3 Lee Tank
Well, this month I'm working on the 1/35 Academy M3 Lee tank.
Right now it's a W.I.P. but I'll give you my take on it, along with what I've taken off of the PMMS site.
So far, I've assembled the bogie units, the inside of the lower hull and the upper hull. Starting with the bogie units, they are slightly too tall, by about 2mm. I had picked up some resin replacement parts but I wasn't 100% satisfied with them. In addition I am building a mid-late M3 which had horizontal reinforcing ribs added to the front face of the bogies, so I just reworked the kit parts. Other fixes to the bogies include adding two bolts to the top of the unit near the center return roller, and to file out a relief fillet at the rear of the top stiffeners on each side of the unit.
The lower hull is basically good except for the right side sponson. It is too narrow by about .032" from the front 75mm gun sponson to the back. A little Evergreen fixed that.
The Academy kit is a bit off due to the fact that what is depicted is an early M3 and the kit decals are for mid/late Lees. All of the pictures I've seen of Lees in North Africa had the later "quick fix" square air filters and fishtail exhaust below them, and not the earlier round exhaust as depicted in the kit. Formations' resin replacement square air filters are on the way to solve the problem.
The only other weird thing about the lower hull is a large oval cutout that is supposed to be used as a location hole for the inner floor panel. Why? It isn't necessary, as there are two small tabs at the back of the inner floor panel and this locates the panel just fine. It was filled in with .020" styrene and the missing rivet detail put back in.
The upper hull is a little tricky as it is made up of seven panels, so getting this good and flat will help with mating it up to the lower hull later.
There are a number of places where the rivets are either missing or are in the wrong location. The biggest "fitment" problem is with the rear top panel that goes vertically from the engine hull deck to the top hull deck. There is a .010" gap the entire length. I used some Evergreen to fix this and had to replace some rivets lost to the sanding gods.
The kit comes with a pretty nice interior and so I decided to leave the hatches open. Well, all those nice rivets on the outside have to be replicated on the inside. Let's just say that the punch and die set got a good workout!
That's where the kit stands right now. I still have the turret to build and fix. On the rear wall, Academy got the shape wrong—they included a flat spot vertically behind the upper hatch and it really should just be a slight protrusion at the top with a slightly rounded lip to it. Luckily the turret wall is thick enough that I can sand it down and reshape it.
I still have some photoetch pieces for some of the outside details to add along with new rear stowage boxes, since the kit ones are of the style used on Commonwealth Lees. They are slightly smaller then the US style. A bit of styrene will fix this.
I plan to use Archer Transfers for the yellow stars and blue drab registration numbers. I also need to come up with the yellow turret bands and unit markings. I did a test and Archer makes a clear decal film for use with their transfers, which I sprayed a lemon yellow to match the stars and it goes on nice and thin and looks great.
Well there you have it. I would give the kit a 6 – 7 on a scale of 1 – 10.
---
by James Guld
1/35 Dragon 251/16 C Halftrack
This month, I thought I would give my build impression of the 1/35 Dragon 251/16 C halftrack.
The level of detail and accuracy is pretty good overall. The front firewall/dashboard aren't 100%, but after it's buttoned up, you can't see all that much anyhow. One nice feature is that the front and side visors can be left in the open position, and these parts are clear for the vision blocks. When I started this kit, I decided I would add a few tweaks here and there but wouldn't go crazy and buy aftermarket photoetch. I didn't even use photoetch for the tool clasps; I just made the handles out of thin styrene.
The interior of this halftrack has the motor and fuel tanks for the flamethrower unit and they look good from the few photos I have of 251/16s. I only added some minor wiring to the rear of the unit and used .010 lead solder inside the braided hose they give you for the flamethrower guns. This helps shape the hose to the right look. The rear door detail is nice and the only thing missing was the MG magazine holder on the rear wall, which you would have a hard time seeing due to the motor unit. I did have some minor fit issues between the upper and lower hull. This resulted in a slight gap at the right rear corner of about 1/64". What seemed to be happening was that the top hull was pivoting off of the dashboard but even after I sanded it slightly it still had a gap at the back. I also think that when I glued the rear panel to the side panels that it was just ever so slightly low and helped the gap form. A little filler fixed it and I was on my way. There are a number of other minor issues with the Dragon hull. The kit is too narrow at the top as compared to scale drawings, and where the top hull meets the lower hull it should have a slight overhang but Dragon omitted this.
The running gear is pretty good except for the front drive sprocket itself. On the real sprocket they have a series of teeth that catch on openings between the track links, and these teeth should have a roller between the two halves of the sprocket. Dragon left them out. Funny, since they could have easily molded this in. I added thin round bits of styrene using my punch-and-die set to correct this problem. The tracks themselves are pretty nice. I made myself an assembly jig out of masonite where I could lay up all the tracks and then just put a small amount of liquid glue on the hole that holds the track pad. This way, the tracks stayed basically workable and I was able to paint and weather them off the vehicle. That's a real timesaver. So now that it was basically built the real fun was to start.
I had previously painted and weathered the interior so it was now time to paint and camo the outside. I was going to try out the hairspray technique that I gave the clinic on last month, but I forgot to bring it to my shop where I paint. I did have with me the Marmite, and I applied it with a Scotchbrite pad and then gave the vehicle a couple of thin coats of acrylic flat that I had in the shop. It worked out similarly to how the hairspray works. This was done over the previously painted and "Futured" halftrack along with the decals being in place. I also used the Marmite to mask the decals and it worked great. I then proceeded to apply the whitewash with a few thin coats of acrylic white. I let this dry for about 20 minutes and then carefully used a wetted paint brush to remove the Marmite first and then used a stiffer brush dipped in alcohol and blotted off and then worked the surface to remove the whitewash. I was going after a heavily worn finish as the vehicle is to be set in a diorama later around March of '44. After that I wanted to try and just use acrylics for the weathering on this one. I tried to use gouache for the pin washes around the bolts and details, but it didn't work the same as oils. The one nice thing about gouache is that if you don't like it you can remove it. I also used some cheapo craft paints from Hobby Lobby and they thin very well and dry dead flat. I wanted to add in some slight filters to break up the white ever so slightly. I then did a light dry-brushing on the running gear and on the weapons followed by graphite for worn metal on the drive sprockets and the vehicle edges in spots here and there.
I would give the kit a 7 – 8 on a scale of 10.
---
by James Guld
Italeri RSO/03
Well, since I'm writing this before Nationals, I can't tell you how good it was, so you'll have to wait until next month for my comments on that. What I will blather on about is my last build.
I started in on the Italeri RSO/03. There isn't all that much out there on the RSOs as to reference material, and some of what is out there is wrong. I found this out the hard way. Oh well, at least I found it out prior to painting.
I have the MK/35 editions book on the RSOs but it is in French with a poorly translated supplement. I was going by what someone else built and I should have known better.
I made a number of upgrades to the kit both using photoetch and some scratchbuilding with styrene. All was well, I thought. I posted pictures up at the Missing-Lynx constructive comments forum, and, lo and behold, found out that the kit has many flaws.
Italeri missed the boat on this one. The cab layout is wrong, the back cargo bed is wrong, and a few details on the chassis are wrong. I did glue the cargo bed down, but I didn't glue the cab down.
One other detail I found out, from a gentleman from Austria who is restoring one, is that they were issued until the fall of 1944. So much for putting it in my next dio set around Coutance, France, at the end of July.
AMS (advanced modelers syndrome) got the better of me and I'll now have to de-construct the RSO. Sometimes it's one step forward and three steps back. I guess I'll get to practice more scratchbuilding skills. I have to change the shape of the cab interior engine covers and narrow the rear cargo bed to match the cab width, along with making all new sides for the cargo bed and making new bows and braces for the cover tarp. On the chassis I have to change the front tow hooks or delete them, change the rear drive sprocket cover, and change the rear tow pintle and layout of the stowage. Basically I have to re-do the entire kit.
Oh well, better get back to the bench…
---
by James Guld
1/35 Skybow kit of the WC-51/52
This month, for your modeling pleasure, I bring you my progress report on the 1/35 Skybow kit of the WC-51/52. It is a 3/4-ton Dodge weapons carrier. The 51 series is without the winch, while the 52 had the winch. The Skybow kit is now available from AFV Club. They bought the molds a few years ago.
I have to say this is the best fitting kit I have ever built. Yes, even better then some of the Tamiya kits I've built. The level of detail O.O.B. is pretty amazing since this kit is now seven years old.
I decided I was going to go "hog wild" on this one and picked up the Eduard photoetch set. It is okay, but has some flaws in it—for example, they provide the wrong style for the rear tool holder. They give the earlier 42-43 style, and the kit depicts a WC 51/52 from a 44-45-body style. There are subtle changes like the tool holder, the seats, and the rear cargo area seats. I also picked up the Wings & Wheels Production book on the Beep (that was the nickname given to WC 51/52).
I decided to add all the major wiring in the engine compartment and to the chassis. When I picked up the Eduard set I was hoping it would contain new parts for the hood, but it didn't. I had to scribe lines on the inside of the panels for where the louvers were located, and then took my micro chisel and used it to push the plastic to give it the look of the louvers from the backside. It came out okay but not as slick as it would with new photoetch pieces.
Right now, I'm at the point where I have to get some paint on the chassis and paint the engine bay parts. I can then add the front hood and cab pieces and the rear cargo bed. I will be painting it with an OD/earth red camo pattern seen in the Italian campaign.
So if you're looking for an Allied softskin that goes together without much fuss, then this kit might fit your ticket.
Here are a couple good websites on the Beep:
http://www.wheelsofvictory.com/index2.html
http://lend-lease.airforce.ru/english/photogallery/dodge_wc-51/index.htm
---
Kit Review (March 2006)
By John Tate
British Universal Carrier Mk. II
Tamiya 1/48th Armor Kit (MM No. 16)
The Universal Carrier Mk. II was one version in a family of light, tracked personnel carriers common on British and Commonwealth armies during the Second World War. Tamiya's recent 1/48th-scale kit is the newest tooling of this important WWII armored vehicle and a delight to build.
Tamiya's model represents a Universal Carrier Mk. II, used by Allied forces during the latter half of WWII in the European and Mediterranean theaters. The Universal Carrier was designed to transport motorized infantry support units, known as Motor Battalions, for the British Army and thus saw much action with armored brigades in Northern Europe.
Assembly of the kit is straightforward with few problems. The normal seam-and-gap issues arise, but are minor and easily handled with small amounts of putty or CA glue. Fit is generally good. I found the kit's biggest drawback to be the mold line running around the interior and circumference of the pre-molded track-and-bogey assemblies. It is difficult to remove and the modeler must be careful not to cause damage to adjacent parts during cleanup. However, I commend Tamiya for molding the track-and-bogey units in single pieces, rather than having the tracks molded as separate links or vinyl bands.
Marking schemes and decals are provided for four British vehicles, three from Northern Europe in 1944/45 and one from Tunisia in 1943. All are overall dark green, although paint shades varied considerably. I chose the Tunisia scheme because of the striking red-and-white ID flashes.
Overall, I enjoyed building this little model, which in 1/48th scale fits comfortably on a dollar bill. Given the choice of subject matter, I would expect Tamiya to soon release a Churchill, Cromwell, or Firefly tank in 1/48th scale to provide some fire support for those Motor Battalions. I recommend this kit to all modelers interested in WWII British subjects and especially those wishing to try Tamiya's new line of 1/48th-scale armor kits.
---
by James Guld
Last month I went over a couple of builds I had started and I figured I would continue this month.
Well, the Bronco CV-33 kit is stalled for the time being. Right after I did the last article, I put the tracks on. They look like crap! Between operator error and the poor design of how the bogie units mount, they look terrible. One side is passable but the other side has all kinds of twists. I almost "binned" this kit, as Tony Humphries would say. I haven't decided as yet what to do but for now it's consigned to the back of the model display case.
The Staghound kit, on the other hand, came out rather well. I'm just putting the finishing touches on the weathering right now and I still have a couple of figures to do for it along with a small base.
Since last month I also wanted to start another project before jumping back to my M16B diorama. I decided to do tackle the Tamiya 1/35 Pershing kit.
Like most Tamiya kits it goes together flawlessly and only needs a little filler here and there to hide seams that wouldn't be there on the real tank. These include the front and rear corners where the sides meet the front and back hull plates, and the other area that needs the most attention is the turret. The fit is fine but on the rear tank, where the side pistol port is, Tamiya has you add this part and you need to blend it in to the rest of the casting. The other area on the turret that needs fixing is the seam for the turret halves. You need to put a slight flat here since in real life there is a casting seam here. I also added a bit of Mr. Surfacer to some parts of the turret to give it a slightly more cast look.
I was given some pictures by a friend of my online and saw a modified M26 from the 3rd AD. It was apart of the first 20 "Zebra Mission" tanks and thus had some minor differences from the Tamiya kit. On the rear final drive covers, Tamiya has a reinforcing strip. On these early tanks they didn't have this. I had to remove it and add on a drain plug to the casting.
I also added in casting numbers to the parts using Archer Transfers' resin impregnated decals. These are super cool. I also added casting numbers and symbols to the front lower hull, front hull hatches and on the mantlet face. This is another area where Tamiya missed the boat on detail. The Pershings had a small canvas cover that went in between the mantlet and the turret and was held on by a heavy strip with bolts. Luckily the Tank Workshop makes a replacement mantlet with this cover. The fit isn't perfect and I'm not sure if it was designed for this kit or for the M-26 kits from Dragon. A little bit of Apoxie Sculpt fixed it along with some Mr. Surfacer.
The tank in the photo I'm modeling mine after has been modified in that it is missing the side skits and has the front and rear fenders bobbed. They then added an L-angle brace across the front glacis to keep the fenders from sagging and storage racks on the back fender corners and the rear of the turret. It has a bit of the "Beverly Hillbillies" look that late war US armor had. That's actually what I like about US armor from this period. It adds some interest to the vehicles.
I added the long right side camo net out of Apoxie Sculpt and textured it with a piece of embroidery fabric which had the right kind of square pattern that the real camo net had. I made the straps out of lead foil with Aber photoetch buckles and also added some of the missing footman loops to the side stowage boxes and fenders.
The other major item I changed out were the handles for the fender stowage boxes. I replaced these with resin handles from Tiger Model Designs and had to remake the stops out of Evergreen styrene.
Other minor tweaks I did are as follows: thinned out the front light guards and added the tube holders with Aber photoetch chain; added styrene strips for where the front fenders would have attached; weld bead detail around the tow hook mounts and rear pintle mount; drilled out the side fenders where the skirts would be bolted; added retention straps to track mounts on the side of the turret; added the small catch to the bottom side of the gun crutch; added the tow cable hasp to the rear plate; made covers for the .50-cal mount and for the foul weather hoods that were stored on the right side of the turret along with the footman loops that were on top of the holder; added hatch catches to the front hull hatches and loader's and commander's hatch; and replaced the kit commander's hatch for one from Caliber 35. I also added the interior detail to both the loader's and commander's hatches. The covered muzzle brake is from Tiger Model Designs. I went with T-81 tracks from WW2 Productions. These are snap-together resin items.
One other item of note: with this kit, the suspension is movable up and down. So I haven't decided if the tank will be going over an uneven surface or just displayed on a flat surface. So that's where it stands now. Just about ready for the spray booth.
---
by James Guld
Well, the economy might be in turmoil but you would never know it by the new releases still coming out. I'll give you this month's highlights plus an interesting marketing plan by Dragon. They are coming out with an "Orange Box" program where they take older kits and add in some newer parts from more recent releases along with some figures and come up with a new kit. So far I've seen three items listed but hopefully more will follow. They plan to keep the price down, around the $30.00 range. This looks to be a good idea if you know what the updated parts for the kits.
So lets jump into what's new since last month.
We now have a choice of dead cows for those "Falaise Pocket" dioramas. MK/35 added one to their line to go along with the one from Doug's Originals.
Hauler has a small photoetch set for Soviet onboard tools in 1/35 and a few release for 1/48 that include Hummer and Marder III updates.
Zvezda has the WWII Mercedes-Benz L4500a cargo truck out and some Soviet WWII Mountain troops listed as an early 2009 release.
Fruil Model has a set of Sherman T56 tracks listed but they look like T62 style to me from the picture.
Mig Productions has some new releases of their filter oils now sold individually along with some remastered kits that now come with photoetch. I noticed some new figures too.
Tasca announced a M4A4 Sherman V kit with a March release date.
Hobby Boss has a few new modern armor items listed: A Delta Force FAV, LVTP-7, AAVR-7A1 Assault Amphibian Vehicle Recovery, AAVP-7A1 Assault Amphibious Vehicle (w/mounting bosses), AAVP-7A1 RAM/RS, AAVP-7A1 RAM/RS w/EAAK, V-150S Commando APC 90mm Cockerill Gun, and a Spanish Leopard 2E.
Aber have a new photoetch set out for the Tamiya Opel Blitz and some new barrels out also for the 75mm barrel for KwK40L/43 with single baffle muzzle brake for Pz.Kpfw.VI, Ausf.F2, 75mm Pak39 L/48 barrel for Hetzer or E10, 88 mm KwK 36 L/56 Barrel with late muzzle brake for Tiger I middle & late, and the 75mm Pak 40L/70 gun barrel for Jagdpanzer IV or E25.
A new company out of China called Orange Hobby has a photoetch set available for the new AFV Club Churchill along with German stick grenades, star antennae, and tapered antennas.
Tiger Model Designs is getting closer to releasing their conversion set for a German BergPanther. They also re-tooled their Bilstein Crane conversion set for the Famo and have some more resin bits for Shermans.
Trumpeter also continues to announce some modern releases. Australian ASLAV-25 (Reconnaissance), and the M198 155mm Medium Towed Howitzer (Early Version) set for a January release.
AFV Club continues on with another Churchill. This time it's the Churchill Mk.III AVRE set for a February release.
Dragon/Cyber Hobby also has a German BeutePanzer Sherman M4A2, Jagdpanther Late Production, U.S. Marines Guadalcanal 1942, and M4 Sherman 75mm Normandy.
Archer Transfers has some markings for the Churchill MKIII and some new double row rivets in their surface detail line.
MiniArt has the dingo Mk.1b British Armored Car w/Crew listed as a February release and announced a dingo Mk.III British Scout Car w/crew.
Italeri announced the following: 508C 1100 "Coloniale," Carro Armato P 40, Semovente L 40 da 47/32, Staghound MK IV, LCVP with 1/4-ton Utility truck, SWS with FLAK 43, Leopard I A2A2, Autoblinda AB 40, M4A2 76mm "Wet" Sherman, and a Crusader III AA with Bofors 40mm gun.
Academy has the following listed: Merkava Mk.IV, Swedish Army CV9040, and a M50 ONTOS.
Well ,that about does it this month. As always keep checking the PMMS web site for your armor updates.
---
Jim's Armor Corner (April 2009)
by James Guld
This month I thought I would discuss a couple of builds that I have going; both are from Bronco Models.
First up is the CV-33 tankette. This is a real small vehicle, only about 3.5" long and 1.625" wide. Now, crammed into that you get a full interior for the fighting compartment and the engine. The level of detail is great and down the road I see that they plan to release a 1/16-scale version. The hull tub comes as panels that you assemble. The fit was okay but I did have a few minor seams to fill on the rear panel. Now if you're into fiddly little builds, then this is right up your alley. At just about every step you have to make up a subassembly, usually out of four or more parts, and then add it to the model. The bogie units were the toughest to assemble, and keeping the wheels straight was a minor miracle. The problem is that the wheels themselves have just tiny recesses on both sides that the front and rear side backing plates attach to. I think it would have been a better design to have holes in the wheels and have the front backing plate include a shaft to go through the wheel and into the rear backing plate. It would have made the units stronger and kept the wheels aligned. After a kit like this you can really appreciate how a Tamiya kit is engineered. Right now I have the interior all built up along with the engine and radiators awaiting paint. I should also mention that the radiators on the real vehicle were made up of four units basically forming a circle. For the kit each of these units is made up of eight parts and then there is the top and bottom connector for the radiators. The top is another six parts and the bottom four parts. I think you're getting the idea. I'm all for detail as long as it can be seen. A great deal of the interior won't be seen even with all the hatches open. Oh well…
The other kit I started on this past week is the Staghound Mk1 armored car. This kit is also available from Italeri, but the reviews I've seen give the Bronco kit higher marks for details but give Italeri the upper hand for ease of build. This kit has a really poor instruction sheet. The entire lower hull unit is again a series of panels that you assemble and in the instructions they tell you to add all the details to the panels and then to glue them all together. Well, that just isn't happening. I glued the lower hull together except for the front bow panels, which have some interior pieces that I have to paint first and then will assemble. The fit was really good except for the top hull plate, which the turret sits on, had a slight bow to it. I was able to just bend it slightly back to shape and after gluing it in it looks fine. Again the level of small detail parts is tremendous and along the way a few parts took tweezers shots, never to be found. A bit of Evergreen styrene came to the rescue and all is well again. The kit comes with a small fret of photoetch for items like the front light guards, which have a plastic bending jig to help form them. Other little goodies include the straps that secure the sidesaddle tanks, and this involves bending the ends over and using a small piece of wire to act as a hinge pin. Off the ends of these straps are a "T" hook at the bottom and a small round loop with a post at the top. You insert the hinge pin through the strap and it holds these pieces in place. I thought it was going to be tough to get everything to align, but it all went together without any cursing or yelling. That's always nice! Right now I have most of the lower hull together along with all the fittings for the suspension. I still have to do a little research and see how the brake lines were fitted. I haven't started in on the turret yet, but it has some gun details along with the Number 19 radio set, which has a nice photoetch guard for the set.
Bronco has released a number of Staghound kits, so if you're looking for something to build for our armored car contest, this might not be a bad idea.
I have decided to change my column slightly. Instead of just regurgitating what you can find for yourself on PMMS, I will try and focus on an armor-related subject of some sort. I hope you enjoy it.
---
by James Guld
I have decided to change my column slightly. Instead of just regurgitating what you can find for yourself on PMMS, I will try and focus on an armor-related subject of some sort. I hope you enjoy it.
This month I thought I would discuss researching, as I'm in the middle of a new diorama involving an M16B "Wasp" halftrack set near a canal lock near the town of Sarreinsming, France, in December 1944. Personally, I get into doing the research for a diorama almost as much as building and finishing it. I have found that the Missing-Lynx site (http://www.missing-lynx.com) is a great place to start for getting info on a particular subject.
The people that contribute to the site are some of the top armor modelers in the world. For my current diorama, I had asked a question about the setting and received some answers from some members, and also started Emailing with one member who was able to help me find a site on canal locks. This guy is a lock nerd. The web is great for this sort of stuff. People are into the weirdest stuff…
Through this site I was able to find a modern-day picture of the lock I'm working on and of old abandoned locks that were built at about the same time as the lock I'm working on. I also started corresponding with this person and he acted as my second set of eyes. Working from an old black and white photo is tough and it helps to have a second opinion as to what something is in a photo or how it might be constructed. With his help, we've been able to figure out many of the items in the photo with some degree of certainty. Some items are still a mystery as to what their function is, and you just have to go with your best WAG. will bring in this diorama as a Work-in-Progress and it will also be apart of an article I'm writing for "Boresight," the AMPS magazine.
---
by James Guld
Time for your X-Ma$$ armor update, people. Not a lot to report since last month, but a few gems.
I got a sneak peak of the new Tamiya JagdTiger last weekend and it looks pretty nice and comes with both rubber band and link and length tracks. The texture of the armor plate is excellent and captures the look of the beast.
Atak has a new resin zimmerit set for the Dragon Brumbar.
Echelon Fine Details has some new decal sheets out.
MiniArt has some pictures and sprue shots of new figure sets of Commonwealth and Soviet Jeep riders.
Concord has a new book out on British Armor in NEW from D-Day to Arnhem.
AFV Club has a new Centurion with a dozer blade and a 1/48 251/1 C.
Accurate Armor has a few new modern resin releases of English 6x6s.
SKP has an engine for the AFV Club 251 half-tracks.
Italeri has its L6 Italian light tank listed as an early 2009 release and announced models of a Crusader 40mm Bofors AA tank and a German 305 Tanker truck on an Opel Blitz frame.
Voyager has a bunch of new photoetch releases.
Cromwell Models has a bunch of new Churchill conversions for use with the new AFV Club kit.
Lion Roar has pictures of their new Zundapp KS750 motorcycles and a new resin stowage set for the upcoming Bronco Models Staghound AA armored car.
Legends Productions has some new resin stowage sets.
Azimut has a resin launch ramp for the Bronco Models V-1 kits.
Archer Transfers has some new ammo crate stencils for 105mm and for 37mm crates.
MK/35 has a resin Atlantic Wall bunker with a Panzer 2 turret.
Trumpeter has some new armor announcements including the new 1/16 King Tiger for 2009.
Dragon/Cyber Hobby has some new announcements of figures and a German Sig33.
Tank Workshop has a bunch of new rail car releases and updates to earlier releases.
Griffon Models has some new photoetch releases for German armor.
Fruil Model has tracks coming out for the new L6 Italian light tank, the Russian SU-76 series of tanks and the BTR-50, PT-76 series of light armored vehicles.
As always keep up to date by checking out the PMMS web site.
---
by James Guld
It's officially Fall, and that means the baseball playoffs are winding down, football is underway, and for modeling the Tokyo Modeling Show is happening.
You can search the web and probably find a bunch of links to the show, but here is one: http://www.sembado.com/photo/48th_ths/index.html .
I had told you last month about the new Tasca M4A1 DV Sherman but I didn't know they are also adding a new early .50 cal to the kit. I have one on pre-order from Dragon USA but haven't received it yet. Hopefully by our next meeting I'll have it.
It looks like FineMolds also has some new figures and a new 57mm version of the Type 97 command tank.
Trumpeter looks to be very busy with both new and old armor and some more trains to boot.
Dragon had a test shot model of the T-34 with the Hex turret along with the biggest surprise from them, the M3 75mm GMC halftrack. Now with this and the M16 halftrack, the regular M3/M3A1 shouldn't be too far off. They also had a number of other kits displayed—a late Hummel, Panzerjager 1, an early Panther G with zimmerit, a Tiger 1 Late with zimmerit, and some nice early war figures of French tankers surrendering.
Tamiya had models of their new JagdTiger kit along with their re-dos of some earlier kits with new added details. They redid their Italian M-13/40, Semovente and the German 232 armored car. They also have some new modern Russian figures. In 1/48-scale, they have the Marder III, Opel Blitz truck, and an AB41 armored car, which is an Italeri re-box. I also saw pictures of an L6 Italian light tank listed, but I think this is actually an Italeri kit. Either way it looks nice. It would look good K.O.'ed in the Western Desert.
Lion Roar showed off their BMW R75 with sidecar and it looks like a light trailer is also included.
AFV Club has models out of their new Churchill III and some test shots of the upcoming T-34 model 1941 with full interior. Looks like it will have a clear hull. They also had a 1/48-scale 251/1C shown.
Academy had a model of the K1A1, which I believe is the Korean Army version of the Abrams tank.
There was a number of interesting looking ship models also shown on the site along with some new finishing products. The only downside is the site is in Japanese, so it makes it a little hard to figure out what the product details are.
Well, that about wraps it up for
this month. Now off to the closet to figure out what to build next.
---
by James Guld
What's hot in the world of armor, you ask? It seems that with fall, a bunch of new releases are coming out—that's if you still have a house to build models in.
Some of the releases have been talked about before, but a couple are out of the blue.
From Tristar we have a Panzer 38t ausf. B with full interior and British paratroopers with Welbikes.
Formations has some new resin goodies for us: a set of wheels for the M-6 Dodge and a British vision cupola with adaptor for use on a Sherman.
AFV Club has the Stryker M1128 MGS coming out in September and the Churchill MkIII is still slated for October.
In the reference world we have new releases from The Factory Publishing and from Capricorn Publications. The Factory Publishing has "Panzers of Kasserine" and Capricorn Publications has a detail book out on the Studebaker US-6.
Now, after you've built that model you'll need markings, right? Well, Archer Transfers has some new releases for you. They have markings for Marine M4A3 flame tanks and M4A2s on Iwo Jima, along with some new crate markings for US 105mm ammo. They also have new UN Flags, more surface details, and British Paratrooper uniform badges.
For you photoetch fans, Aber has some new items. They include items for the Dragon E-100, Geshutzwagen Tiger, Soviet Infantry belts, etc., a barrel for the Dragon Panzer IV G, a 105mm barrel for the Tamiya howitzer kit, and some German tapered antennas.
Resicast has a T-16 Universal Carrier coming out in September.
Trumpeter has a new Stryker M1127 recon version and for those of you liking 1/16 scale, they have a KT with full interior and an M16 halftrack. The KT is listed as a limited run and due out in October.
Tamiya has some re-pops out of Italian armor with some updates to them such as new plastic track and figures. They are the old Italeri kits. They do have listed as new an early version JagdTiger. These are 1/35 kits. They also have some new stuff in 1/48, including a new Marder III with the Russian 76mm gun, and re-pops of a Sdkfz. 222 armored car and AB41 armored car.
But by far the biggest surprise is from Tasca: an M4A1 DV Sherman in British service. The sprue shots look great. This is set for a mid October release. They will also be releasing the suspension set as a separate kit.
Bronco models also has their A13 Cruiser tank out and a 1/35 scale V1 Buzz bomb. I hadn't heard of that one.
Dragon has some new announcements: a Panzerjager I, a 1942 version T-34 with Hex turret, a Premium Edition kit of the 250/8 German halftrack, a Panzer III J and Borgward combo kit, and a Stug III with the Flussigass tanks on the rear deck.
Well, there are the highlights. As always go to the PMMS web site for your armor modeling updates.
---
by James Guld
The dog days of summer are drawing to an end, and hopefully autumn will bring more releases. I know I have my fingers crossed! Unfortunately, a few armor subjects that were supposed to be released this spring got pushed back to the fall.
Here is what is new or on the horizon:
Mig Productions has some figures and diorama bits for modern settings like Jersey barriers.
Tank Workshop has a German railway boxcar.
Blast has some cool items for the Stryker, including a mine-clearing plow and lane markers for the rear.
A new book on Shermans from Steve Zaloga is due out in October from Stackpole.
Trumpeter says they are to release the 1/16-scale M16 halftrack in September.
Dragon has some new figures coming out of Commonwealth troops for the Italian campaign, and are supposed to have the 1/35-scale M16 halftrack out in September.
Hobby Boss has their version of the Land-Wasser-Schlepper coming out in late August.
Tiger Model Designs has some updates for the new M5A1 from AFV Club and some exhausts for T-34s.
AFV Club is supposed to have the Churchill MKIII out in October, along with crew figures from Hobby Fan.
That's about it for the major armor items. As always, keep up to date by checking the PMMS web site.
---
by James Guld
This month I thought I would talk more about a recent book I purchased than just give an armor kit update.
The book is called "Getting Started Painting Diorama Figures in Acrylics" by Brett Avants. The title is a little misleading, as you don't have to do dioramas to learn to paint figures in acrylics. I've been painting my figures entirely in acrylics for about a year and have checked out some of the sites online for different people's methods and had heard good reviews of this book, so I decided to pick it up. It is fairly cheap and may be out of production. I got mine through Amazon.com and it was listed as used but was brand new-looking to me. It looked like it was never opened up.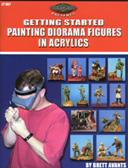 It starts out with a material listing of what Brett uses to paint figures, like what kind of brushes, paints, Optivisor, reference materials, etc. It then goes into explaining how painting in acrylics differs from painting in oils and explains how to do shadows and highlights. The one major difference I noticed was that Brett does his shadows first and then the highlights. Most of the other articles I've seen from the Spanish painters have them doing it just in the reverse. The book takes you through painting a few figures and has very good pictures along the way to show you step by step what he is talking about. He also has a step-by-step process for painting faces.
I learned a good deal from this book and between it and what I already knew, I feel I will become a better figure painter. At least, that is my goal. I think the two biggest things in figure painting are not to rush it and practice. You've just got to keep at it. I'm trying to force myself to do at least one figure a month along with whatever else is on the bench.
So there you have it. By the way here is another site I like (http://www.acrylicosvallejo.com) that has a great step-by-step article for painting figures using acrylics.
---
by James Guld
So what's new in the world of armor related goodies, you ask? Well, read on, you treadheads.
There haven't been any earth-shattering new releases, just a number of minor releases like wheel sets and figures.
There have been some more announcements of upcoming kits, like the Dragon M4A1 DV Sherman in English service, and they have also released the M4A2 75mm gun turret late kit as a Marine tank (but it could also be used as a lend-lease tank).
Speaking of Marine tanks, this past weekend I picked up a cool new book from Squadron. It's called "Tank Warfare on Iwo Jima." Lots of cool pictures of Jarhead tanks. Good inspiration for the Pacific contest coming up.
Continuing along with the Pacific theme, Master Box has announced a couple of figure sets - one with Marines on Tarawa, and one with them in hand-to-hand with Japanese soldiers. Master Box did this same theme before with Germans and Russians on the Eastern Front. Nice in-action stuff for either full-blown dioramas or vignettes.
Other new interesting figure releases come from Dragon. They have some US tank riders, a couple of sets of Soviet infantry-related sets, and a set of Italian infantry in North Africa.
Moving onto tanks they have announced another Tiger II but this one is from 505 Heavy Tank Battalion with the charging knight symbol and with the zimmerit removed around the symbol. They also have a Panzer II C as a smart kit. So it looks like the early war stuff is still popular. Nice to see this kit.
Just remember, you can visit the PMMS site for all your armor related info.
---
by James Guld
May's here and that means one thing, the Shizuoka Model Show in Japan. With that it also usually means a lot of new releases from the major players. Here is a link to some show pictures: http://www.geocities.jp/hobby_show_album/japan/shizuoka2008/index.htm
There has been a flurry of new kit releases along with some updates on earlier kits. My favorite site for keeping up is PMMS. Just go to the New Kit News page and you can pull down a list of most of manufacturers and see what's new. Here are some of the highlights.
MasterBox has some new figures sets, a BMW motorcycle, a couple versions of the French Panhard armored car, and a couple versions of the German 170 VK staff car.
Trumpeter has some photos of a B4 203mm gun and limber.
SKP has a picture of the A30 Challenger Mk VIII model but no release date.
MiniArt has announced some new figure releases along with a new diorama building. Also the US Jeep crew with MP's is now out.
AFV Club has their Churchill MKIII listed as a May release along with the Stryker M1128 MGS.
Dragon has announced a DV M4A1 Sherman in British markings for El Alamein, early and mid production Brumbar's, Marder IIIM initial production and a Sdkfz. 7 8 ton halftrack.
Tamiya has their new Panzer II A-C along with some older kits updated with new figures.
Tristar has an early Brumbar listed as a May release. They also have an early flak 38 kit with Waffen SS crew and a Marder III M kit listed.
Bronco Models has a few new kits listed. Two different Staghound armored car variants and a Humber armored car variant. There is also some test shots of the upcoming A13 Cruiser tank.
So it looks like a good year for new armor.
---
by James Guld
May's here and that means one thing, the Shizuoka Model Show in Japan. With that it also usually means a lot of new releases from the major players. Here is a link to some show pictures: http://www.geocities.jp/hobby_show_album/japan/shizuoka2008/index.htm
There has been a flurry of new kit releases along with some updates on earlier kits. My favorite site for keeping up is PMMS. Just go to the New Kit News page and you can pull down a list of most of manufacturers and see what's new. Here are some of the highlights.
MasterBox has some new figures sets, a BMW motorcycle, a couple versions of the French Panhard armored car, and a couple versions of the German 170 VK staff car.
Trumpeter has some photos of a B4 203mm gun and limber.
SKP has a picture of the A30 Challenger Mk VIII model but no release date.
MiniArt has announced some new figure releases along with a new diorama building. Also the US Jeep crew with MP's is now out.
AFV Club has their Churchill MKIII listed as a May release along with the Stryker M1128 MGS.
Dragon has announced a DV M4A1 Sherman in British markings for El Alamein, early and mid production Brumbar's, Marder IIIM initial production and a Sdkfz. 7 8 ton halftrack.
Tamiya has their new Panzer II A-C along with some older kits updated with new figures.
Tristar has an early Brumbar listed as a May release. They also have an early flak 38 kit with Waffen SS crew and a Marder III M kit listed.
Bronco Models has a few new kits listed. Two different Staghound armored car variants and a Humber armored car variant. There is also some test shots of the upcoming A13 Cruiser tank.
So it looks like a good year for new armor.
---
by James Guld
So what's new this month for you treadheads? Well, let's start out with Trumpeter's announcement and, by the looks of it, soon to be released Sdkfz 7 8-ton halftrack. People have been asking for a replacement for the old Tamiya kit and it looks like we'll soon have one. There are images at Armorama and at PMMS of the test shot model built up. And, not to be outdone, Dragon has also announced that they will do one.
Next up, I was able to see sprues for the new IDF 1973 Sho't Centurion while at the AMPS convention. I'm not a modern armor guy so I don't know the differences between it and the recent release of the 1967 version.
Also in the vendors room at AMPS were the new releases from Formations of the M-50 Israeli Sherman pillbox and "Oddball's" Sherman conversion.
Another cool new source I came across was a company called PFA Productions, doing all sorts of laser-cut boxes. Great for dioramas or onboard stowage for tanks. There is an article about them at Armorama.
Plus Model has three new releases: a Rural Farm set, a German ammo cart, and the twin light flak mg 36 mount.
MK/35 continues their range of civilian figures, with a seated Frenchman playing the accordion.
AJ Press from Poland has a new book out on the Churchill tank. It is vol. 1 of three. There is a review on Armorama.
Mike Starmer has updated his British Army Colors and Disruptive Camouflage book with new color chips and more info. There is a review at PMMS.
Tasca has their new M4A1 late version out along with the VC Firefly with cast in cheek turret armor. PMMS has reviews.
Tamiya announced a Panzer II A-C, a set of German infantry for the French front, and a Russian recon team vehicle and crew. Word has it that this is a re-release of the old Ford GPA with some ICM figures thrown in.
---
by James Guld

Not a whole lot to report this month, armor-wise. The two biggest items are the new Stug III G from Cyber-Hobby, which comes with waffle pattern zimmerit. From the pictures it looks good. The other major item is from Armorscale. These guys usually just make aftermarket barrels but have now gotten into resin stuff as well. Go to the PMMS site and check it out.

There are also a number of new reviews up since last month. They review the new Grant tank from Academy along with the new SU-76 kit from Mini-Art. The only other item that caught my eye is some of the new replacement wheel sets from Hussar Productions. They have some nice alternative wheel sets for both the Humber Scout Car and Staghound Armored Car.

Next month I should have more new stuff to report to you, as I'll give you a report from my trip to the AMPS National Convention. I'm not looking forward to the drive but the vendor's room should be a gold mine.
---
by James Guld
So what's new for you treadheads? Well a ton of new stuff.
Dragon has a new JagdPanther G and a Flakpanzer 38t. I haven't seen either in person yet but there are reviews of the JagdPanther at the PMMS and of the Flakpanzer at Missing-Lynx in the Time on Target area in the discussion groups. Academy announced a Grant to go along with the earlier Lee. Hopefully the boogies will be the correct height not like the Lee. They did fix them for the M7 Preist kit. Italeri has a slew of new listing for 2008. - Sd.Kfz.140 Flakpanzer 38 Gepard,Staghound AA, Horse drawn Breda 20, Crusader III AA MK.I, DUKW British Royal Army, Kfz.305 tank wagen, 1/4 Ton 4X4 Utility truck, Carro Armato L6 PRM Edition, LVT-(A) 2 "Saipan", Sd.Kfz.VI Tiger Ausf.E (w/photo etched parts), Sd.Kfz.179 BergePanther (w/photo etched parts), Sd.Kfz.V Panther Ausf.D (w/photo etched parts) and a Bedford QL with 6 Pdr.AT gun.
SKP has announced a British A30 Challenger tank. There are some particle sprue shots up at PMMS. Alpine released a couple of new figures of 12SS HJ. Formations jut came out with a replacement DV hull for the M4A2 Sherman along with a late High Bustle turret. Aber just came out with U.S.30 cal barrels that you don't have to roll the perforated sleeve. Voyager seems to have also entered the fray with their rendition of a U.S. .50 cal barrel. Italeri have their version of the Staghound armored car.
Up next is Hussar resin replacement wheels for the new Humber Scout car kit. They have a couple of different style tread patterns available. They also plan to do some for the Staghound and for the Studabaker 2-1/2 ton truck. I also spotted stowage for both the Humber and Staghound by Blast and by Legend Productions. There is also a book out on the Staghound by Service Publications. It covers the Staghound in Canadian service. You can find reviews at the PMMS website for all of the above at: http://www.perthmilitarymodelling.com/
I recently got for X-Mas, a CD from Easy One Productions on the DUKW 2-1/2 ton truck. It is the tech manual put on a CD. Now I always prefer a book to a CD but for the price it is a good compromise. Easy One Productions has a number of different CD's available and I also have one for the M36B1 and B2 tank destroyers. Their site address is: http://www.easy1productions.com/
Oh my aching credit card.
---
by James Guld

'Tis the season for getting more stuff. What's new on the armor front, you ask? Well, my fine plastic building friends, it looks like Hobby Boss is about to release their second kit of the M4 High Speed tractor. This one is for the 155mm gun and 8 inch Howitzer.

I also saw some resin update wheels announced by Hussar for the Studebaker 6x6 truck that ICM recently came out with.

There are also some resin updates out now for Tamiya's UE tractor. Blast and Azimut each have a set.

Dragon has a bunch of new planned releases either through Cyber-Hobby or Dragon. The latest I saw announced is for a Panther G early version done in the "Smart Kit" series, but it doesn't have pre molded zimmerit like some of the Tigers recently redone. They also have some more paper panzers and odd variant for a Stug IIIG. Seems like they are trying to get as much mileage out of kits as possible. Yet, still no word on when the M3 halftracks will come out. Come on, Dragon, get it done…

As always, keep your eye on the PMMS web site for the latest information on armor-related goodies (http://www.perthmilitarymodelling.com)
---
by James Guld
With fall comes Balloon Fiesta, chile roasting, and, of course, the Tokyo Model Show. That means a lot of new releases and hopefully some sprue shots or kit builds of the new kits. I regularly check in at Perth Military Modeling Site (PMMS) to bone up on what's new or to get reviews, so I wasn't too surprised by what I saw from the show. (http://www.perthmilitarymodelling.com).
The surprises for me were from AFV Club: their Early T-34 with full interior and Bofors AA Gun. From Tristar, a Flakpanzer Gepard and 20mm accessory set to go along with it. They also have a Fieseler Storch for you plane guys in 1/35.
From Bronco Models, there is a new Humber Scout car with twin Vickers MG and a couple of new Staghound armored cars. One has the 60lb rockets off of Typhoon's mounted on the side of the turret, and the other is a Stag with the Crusader turret on it with a 75mm gun, I believe.
From Tamiya, we have some early war French Infantrymen for Mike Blohm, and a JS2, which looks pretty nice. It looks like it comes with link and length tracks like what they are doing in 1/48.
Also up from Tasca is a mid M4A1 Sherman. I know that I'll be adding a few of these to my stash.
The only area of disappointment for me was not seeing any of the other M3 halftrack series from either Trumpeter or Dragon. But then again, it's not like I don't have enough to keep me busy for the next five years. Model on!
---
by James Guld
Well, with Nationals coming up I figured I would talk about some of the new kits I hope to spot in the vendors' room and see in the back of Rick's Bronco on the ride home.
Armor-wise, there should be some new releases at the time of Nationals. Dragon is talking about an M2 halftrack with the 37mm gun mounted in the back for infantry support. It is supposed to be a Cyber-Hobby release. They also have the M3/M3A1 and M16 announced, but I haven't heard any release dates for these kits.
I hope to see some of Tasca's aftermarket sets in the vendors' room. They have two really nice .50-cal sets and a new set of US water and gas cans. One other item they recently released is an assembly jig for doing Model Kasten Sherman tracks. It looks to make a horrible job a bit easier.
Bronco Models has just released their Humber Scout Car and hopefully their Staghound armored car will be ready too. From the test shots I've seen online, these kits look really nice with full interiors and engine bays. Wow!
Trumpeter has also been talking about their own line of US-based halftracks, but I haven't seen any release dates, so I doubt we'll see any at the show other than maybe some test shots at the Stevens booth. They should have some new Axis stuff like the Bridge layer on the Panzer IV hull and the armored train flatbed car with the Panzer IV turret. I saw a review of this kit at the PMMS site, and it didn't get a great review. Trumpeter seems to be hit or miss with its armor kits. Their KV series of tanks are really well done, but some of their newer armor kits aren't at the same level.
So you guessed it I'm getting pretty excited about next month. The contest itself should have some stiff competition. I think if you win anything this year you really deserve it. Well that's it for me. Back to the bench and working on that M3 Lee and I still have to finish up those bases for the Blue Angels.
---
by James Guld
This month I thought I would talk about acrylic paint for painting figures and some of the web sites that I have come across in my journey to learn to improve my figure painting skills.
I think painting figures is one of the most frustrating aspects of our hobby. You have a number of different media to choose from and so the learning curve can be quite steep. I have bounced around with using acrylics and oils for painting figures. I have decided to try and stick with acrylics, at least for the time being.
I have found some interesting articles on the web along with a good book put out by Andrea Press called "FAQ: Frequently Asked Questions about Painting Figure Techniques" I got it from Amazon (http:/www.amazon.com)/.
The first two sites below list face painting techniques by two very talented painters, Andres Heinz and Jaume Ortiz. They are good step-by-step articles with pictures.
This site, http://www.acrylicosvallejo.com, has an article which walks you through how to use acrylics for painting figures. You have to go to the site and then click on the English translation link. then up at the top of the page is a pull-down bar. Click on the link to Model Color and when that page comes up, scroll down the page to near the bottom and you'll see a link to Painting Figures with Model Color. It is a very good article that explains a number of different techniques used when painting with acrylics. I learned a lot from it and plan on trying out these new steps on my figures. Hopefully this will make the learning curve a little less steep and not so frustrating.
So get out there and don't be afraid to try something new. Just remember that while making mistakes, you are learning what not to do the next time.
---
by James Guld

This month I thought I would talk about something different: safety in modeling.

I work as a custom furniture maker, mainly in steel, but also incorporate other materials like wood, stone, etc. Last December, I was working on a piece at my shop and it was a very cold day and I decided not to open up my back door where I have my exhaust fan located and was doing some finish sanding on some metal chairs. Well, you guessed it. I got a small piece of metal dust in one of my eyes that didn't come out with eyewash. After a visit to the emergency room and to the eye doctor for antibiotics for my eye, I thought I would write about safety.

We often don't think about it or take a short cut like I did on that cold day. Well, it's just not worth it. I'm generally very good about wearing safety gear at the shop and now even more so. Now how does this relate to model making? Well, think about where you spray and what you spray. Good ventilation is a must. I personally use a 3M -mask respirator with filters for inorganic materials along with having the exhaust fan running at my shop when I paint. I usually prime my models with enamel spray paint and finish them off in acrylics. For the acrylics I usually don't wear the mask and just have the fan on which works fine.

There is an easy test for this. Just get a tissue and pick your nose. If you see paint residue then put the mask on. Besides painting you should be wearing a respirator when working with resin if you're doing a lot of dry sanding. Now, if you do wet sanding you'll be okay. If you're using a table saw or doing any sort of cutting or grinding with a Dremel motor tool, then I would suggest some sort of eye protection.

I just wanted to pass this on. I was lucky back in December, so think safety first.
---
by James Guld

I thought I would touch on some of the cool items I've seen or picked up over the holidays. These first two items came from Model Military International, January 2007.

The first is from a company I'd never heard of; Shinsen?gumi makes 1/35 German camo patterns in waterslide de?cals for seven different patterns (currently, all are SS patterns). They are available online (http://www.lsamodels.co.uk).
The second company is also new to me; Fiba Model makes diorama products in 1/35 and 1/72 scale. They have a set of laser-cut boxes in thin plywood in 1/35 and a few sets of leaves in both 1/35 and 1/72 scales. They are em?bossed and have the stems attached and are colored. From the picture it looks like oak and maple leaves to me. Very cool indeed.

I picked up a "Chopper II" from Northwest ShortLine. I have an old Dremel table saw, but sometimes I wish I had something that I could do angle cuts without having to make up custom jigs. So for Christmas I asked for one, but due to the snowstorm it hasn't reached me yet. What I like about it is that you can change out the cutting mat once it gets worn from cutting, and it also comes with some angle guides to make various angle cuts. Looks like it will come in handy in working with scratchbuilding projects.

One other item I picked off of the Missing-Lynx site is to use Future for gluing down photoetch parts. I haven't tried it yet, but plan to. Now get back to the worktable and finish off that Sherman.

---
Jim's Sprues & Reviews
by James Guld
Oh, no—not another post-Nationals report! Sorry, kids, but I promise to make it "tool related."
With my shopping list in hand I headed into the vendors' area and started to scope out where the best deals were to be had for what I was looking for. On my tool list was the Micro Chisel from Mission Models. They have also come out with a scribing set and a replacement chisel set for this tool. It is a simple metal shaft with a rubber grip about 5-1/2" long with the ends held in by a tiny Allen head set screw. They even come with protective rubber tips, but I've already worn through them. That's how sharp the ends are. The scribing tip set comes with four bits: a plain pointed bit, .005, .0075, and .010. The 1mm replacement chisel set comes with two flat tips and one round tip. One of the side benefits of this set is the round tip. I was experimenting with it and found it great at making half-moon shape weld beads in styrene. I have a technique that I picked up from AFV Modeller that uses putty and a small shaped brass tube to make the same look, but this new tool needs no putty. I was pretty jazzed about that. I know what you're thinking: "Jim, you gotta open up a window when working with glue!" That was the only cool tool I came across.
I was hoping to find a good deal on a new Iwata airbrush but none were to be had, so I had to spend money on kits and books. I know it's tough, but we all have to do our part to spur on the economy. I did get a sneak peak into one of the new Dragon "smart kits" of the Panther G late. Looks like a nice kit and should be out soon. They did have some for sale on Saturday, but at $50 a pop.
I did pick up the Academy M3 Lee, Dragon premium edition so-called Porsche turret King Tiger, Italeri 232 6-rad early war recon vehicle, and a bunch of sweet resin goodies from Formations. Rob from Formations is one of the nicest vendors you'll ever meet and he makes beautiful kits and conversions for U.S. related armor.
On the book front I picked up the WWP book on the WC-51 Beep, the Allied/Axis book on the Chafe, and the JJ Fedorowicz book Funklenkpanzer which covers all the German remote- and radio-controlled units in WWII.
On the ride home, the conversation centered on what to build next. Boy, it's getting tough with a lot of different kits pulling at me. But I decided on some of my next projects. I have an itch to do some Zimmerit so I'm starting in on a Stug 3 late with the waffle pattern, and then after that I'm going to start in on a series build of the vehicles of the 653 Panzerjager battalion. First up will be the Bergtiger P, which also has Zimmerit, and I'll try out my hot knife method on it.
Well enough from me. Now get back to that workbench and build something!
---
Jim's Sprues & Reviews
By James Guld
Balsa Foam: what is it and where do I get it? Well, I will let you know, along with how well it works. It is Phenolic resin foam. It comes in three different densities: 7lb, 12lb and 20lb. I'm currently working with the 12lb density and find it carves easily while still being pretty durable. It glues with white glue, yellow carpenter's glue, or even thick super glue. I've been using yellow carpenter's glue and it has worked fine for me.
The parent company maintains a web site (http://www.balsafoam.com/aboutbalsafoam.asp) but you will have to buy it from one of the online retailers; for example, Dick Blick Art Materials (http://www.dickblick.com/zz331/11a).
That is where I got mine. There are also others out there.
The downside to working with it is that it doesn't come in large sheets in thin thicknesses. I bought the 1/2" thickness sheets, which comes as two 6x9 pieces. Yes, it can be glued up to make bigger sheets, but it would be nice if it came in larger pieces. Another downside is the 1/2" thickness. For a 1/35-scale building, that translates into an 18" thick wall. Now yes, there are some older stone-type building that would be that thick, but I would also like to see it in 3/8" thickness. For one of the barn buildings I'm working on, I re-sawed the pieces on the band saw and then made a thickness gauge out of wood (screwed to my worktable) and I then took a palm sander and sanded the pieces to 3/8". Make sure you are wearing a respirator while doing this—the dust is super fine.
One other thing you have to do after working with balsa foam is to clean off your tools well. I wiped mine down with some WD-40 afterwards.
The Balsa Foam has some sort of citric acid in the binder glue that holds it together and it will rust metal quite easily. I forgot and left a piece on the table saw overnight and the next day found a ghost image of rust when I picked it up. Not to worry, a little WD-40 and a Scotchbrite pad and it cleans up the metal fine.
So what do I think of it? I like it, but it is a little pricey; still, it sure does work nicely. I don't think I'd use it for all my buildings, but I heard about it and thought I would give it a try.
---
Jim's Sprues & Reviews (March 2006)
By James Guld
While sitting down to write last month's column, I had two ideas of what to write about. You all saw one and the other was supposed to be for this month. Well guess what—I forgot to write it down and it went out of my head. So I decided—well, actually, my wife Stacy suggested—that I write about how I got into model making and how it makes me feel. So here goes.
Like many of you, I built kits as a kid and into my teen years. I even managed to continue into my early 20s when on winter/summer break from college. I then stopped for about seven years, and at the time I lived in New York City and had my own model making shop for architectural models and advertising props, etc. Through a mutual friend, I made a large window display diorama for a trendy southwest-style restaurant. Fate, maybe? I traded my services for food, since I like to eat. It was a good deal because they made killer margaritas and mean shrimp ceviche. After that, I didn't really do much model-wise for fun. I guess it was like a "busman's holiday" for me. Too much of it at work had taken away the urge to build tanks. Well, fast-forward to 2002, a year after moving to Santa Fe, and while talking to my brother-in-law (also a fine model maker in his own right) he was telling me about how the hobby has grown in recent years. He told me about a number of model-making websites and I had to check them out, so, lo and behold, the bug bit me big-time. That fall I picked up a few kits and did a diorama for the Bataan Museum here in Santa Fe. It was through the museum that I found out about ASM.
The thing that I love the most is that it makes me feel exactly like I did when I was younger and just building for the first time. I don't know of anything else in my life that makes me feel this way. No matter how bad a day is at work, I can usually come home and relax by putting on my optivisor and picking up some minute piece of photo-etch for a model. Now that may sound crazy to most, but hey—whatever floats your boat!
Now please go build something for Chile Con.
---
JIM'S SPRUES & REVIEWS (Feb 2006)

James Guld


So what did Santa leave under the tree for you this year? My better half got me a couple of books: The Jentz book on the King Tiger, and a book on sculpting and modifying figures. Both will come in handy in the future.

Other goodies that I picked up are a bunch of figure sets and accessories for my Falaise Gap dio. S eems like I have enough bits and bobs to work with now, so now it's just a matter of building it all and hopefully pulling off the battle presentation. I hope to have it done by March, but we'll see.

On the armor model front, Dragon just doesn't quit with releasing new stuff and Trumpeter isn't too shabby itself. If you follow the Perth Military Modeling Site you'll see in the new kit section all the new releases.

Trumpeter is putting out a plastic version of the German BR52 locomotive. It's pretty big at 30" long, so make room on those shelves if you plan on having it pulling the Leopold rail gun.

Dragon is about to release the 251/17, M4A3E8, 234/4, Marder II and a bunch more. They also have the limited releases available only online through Dragon USA.

"Wow" is all I can say. So I'll keep it short this month and follow my own advice and go out and build something.


Happy New Year to all.
---
---
---
Kit Review
By John Tate
Citroen Traction 11CV "Staff" Car
1/48-Scale Kit by Tamiya
(Military Miniature Series No. 17)
Tamiya's all-new kit of the Citroen Traction 11CV sedan is a great new addition to their 1/48 armor series. At first glance, the little Citroen might seem an odd choice for a military model, but it saw widespread military and civilian use during the Second World War and can be adapted to a wide variety of modeling projects, from "stand-alone" model to diorama accent. Car modelers can also enjoy the kit, as the Citroen Traction was a popular and technically-advanced auto design and can be modeled as a civilian vehicle.
The best part of building this model was the state-of-the-art engineering that Tamiya put into the kit. It is no exaggeration to say this is one of the best model kits I've ever built—accurate, well-designed and easy to assemble. If you are looking for a fun and easy modeling project that will turn out a contest-winning model, I highly recommend this kit. The model went together beautifully, with no seam problems or construction flaws, and the kit can be built easily in an afternoon.
Tamiya supplied decals for four different vehicles: Luftwaffe and Wehrmacht staff cars in overall field gray from early WWII, a dark green French military staff car from 1940 and a French civilian vehicle from the WWII era. I chose the Wehrmacht vehicle, as it served on the Eastern Front and offered the best opportunity for weathering.
This kit is a beauty—an offbeat, interesting subject engineered to perfection by the model masters at Tamiya. If you build only one model this year, make it a Citroen Traction!
---
---
Science - Fiction / Real Space
---
Kit Review
Dragon's Apollo 11 "Lunar Approach"
CSM "Columbia" + LM "Eagle"
By Mike Blohm
This review is on the Dragon 1/72 scale kit Apollo 11 "Lunar Approach" (11001) that depicts the Command Service Module (CSM) "Columbia" and the stowed Lunar Module (LM) "Eagle" connected and enroute to the Moon. This model was constructed to be part of the ASM model display that supported the 50th Anniversary of the Apollo 11 Moon Landing event at the National Museum of Nuclear Science and History here in Albuquerque. We had 16 models in that display, including the LM "Eagle" in 1/48 scale and a Lunar Roving Vehicle in 1/32 scale, but we did not have a model of the CSM "Columbia." This "Lunar Approach" kit would fill that missing element. The big challenge was to get it done in time for the all-day event at the museum on July 20th, the anniversary date. The build started on Saturday, July 13th, which was three days prior to the Apollo 11 launch, 50 years ago. My "race to the Moon" was to get the model done and on display at the museum before Apollo 11 got to the Moon. The completion target date was Thursday, July 18th. This review includes a kit overview and sections on model assembly, model painting, decaling, and the final assembly.

Kit Overview. The model comes in a large box and has 11 different sprues consisting of 165 parts, many of which go unused (picture 1) There is a similar Dragon kit "Apollo 11 - Lunar Landing" (11002) that depicts the LM sitting on the Moon while the CSM soars above, so it looks like a lot of the parts in the Lunar Approach kit box are for that other "on the Moon" kit. And that leads to a lot of confusion in trying to build this model. Overall, this is a great model and it has a lot of clever engineering on where the sprue attachment points are and how the parts fit together to eliminate the chances for gaps. However, this great kit is totally let down by very inadequate instructions. It should have been a booklet of steps showing how the parts should fit together and be painted. Instead, it is a single sheet of paper that folds into four sections--one and a half cover the CSM and one and a half cover the LM (see 2 and 3). The fourth section shows the layout of the parts on the sprues. It took a lot of dry fitting and looking at pictures of the real articles to figure out where the parts should go, what angle they should be at, etc. Of note, there are no pictures of what the real LM looked like when it was stowed and attached to the CSM on the way to the Moon (think about it).

Additionally, some of the diagrams on the instructions are incorrect or missing steps, such as attaching the folded parts of the legs and the lower parts of the legs with the landing pads. They leave out that one of these lower legs should have the ladder attached (where Neil Armstrong climbed out of the LM)--they instead depict four legs and no ladder. Remember all those extra parts? Yes, there are four legs without a ladder. So after dutifully following the instructions and being at a later step, I realize "hey, there's supposed to be ladder on one of these." So I had to go back and figure out which one needed the ladder. And the ladder is actually part of one of the other lower legs, and not something you glue onto the legs. Since I had super-glued it originally, I had a fun time disassembling one of the leg combos. And since I was racing the clock, this was not an appreciated side-track.

Model Assembly. Most of the parts are attached to the sprues so that they can be easily cut off and needed minimal sanding to smooth out. Some exceptions were the grip handles that attached onto the outside of the CSM. They also needed to fit into tiny holes at an angle on the capsule, and those took a lot of work (4). The Service Module (SM) parts did not fit together well. I wrote their part numbers on the inside of the pieces with a marker so that I could keep track of them as I glued them together. How they should attach to two inner support rings is a bit nebulous in the instructions, so you have to sort out which should be glued first and what goes next. (5) I did use some gap-filling super glue and rubber bands to keep the pressure on and hold it all together. Step 3 on the instructions includes installing six struts onto the top bulkhead of the SM where the capsule will fit, apparently to cushion it when it is installed (6). More on this later (foreshadowing...). The multitude of thruster units come with two nozzles installed and two to be glued onto the unit. I painted them but left them off until near the end of the build. It looked easier to first glue the units in place, and then glue the loose nozzles on, which turned out to be the best way to do it. The SM's rocket engine nozzle was left off until the very end as well (7)

The LM is a pretty straightforward build. The top section was built first followed by the lower section. These were kept separate until the very end. The gold-colored parts of the LM's lower section were painted while they were still attached to the sprues. More on that below. I left off all the antennas and thrusters until the end of the LM build. The LM legs are molded as simulated gold foil. This looks great when painted, but the connection points for the parts (flat areas for gluing) are not prominent and getting things attached was difficult. I used a lot of super-glue in these areas. Luckily most of the attachment points are obscured behind the legs. I already mentioned the problem with the "missing ladder." The LM has two rocket engine nozzles. The top nozzle was no problem. For the bottom engine, the connection (peg) part at the top of the nozzle did not fit into the slot provided, and I had to cut off part of it and do some workarounds with super-glue to get it into place. With the completion of the capsule and SM and the two sections of the LM, I was ready to start the painting.

Model Painting. Painting the kit was a challenge for several reasons. The non-existent instruction book should have covered the paint scheme in detail. What you do have is 16 diagrams on the bottom of the box (see picture 8 and 9). These are not bad, but they need to be about five times bigger. The paint scheme is the four sides of the CSM (in 90 degree sections), left to right as if you would spin it. The LM is eight similar diagrams of the upper and lower sections in the 90 degree sections. Lastly, there are two diagrams of the LM's top section and two diagrams of the LM's lower section, looking straight down from above and straight up from below. So your challenge includes keeping your spins all lined up as you paint the CSM and LM. I again used a lot of pictures of the real articles to cross-check the paint scheme. Be aware that the LMs on the Lunar missions were not all painted the same. And don't necessarily believe the captions on the pictures. For example, I found one titled "the Apollo11 LM" and noticed there was a Lunar Roving Vehicle parked next to it. Those were used on Apollo 15, 16, and 17. So beware; however, it was on the internet, so it must be true (10).

Here is a listing of the colors that I used and the painting sequence. Airbrush painting was used except where noted. The capsule was painted Model Master (MM) Aluminum Plate - Buffing Metalizer. Sections of the SM were painted first with MM RLM 21 White. Those were taped off with Tamiya Tape and the rest of the SM was then painted with the MM Aluminum Plate - Buffing Metalizer (11 and 12). The raised middle section of the SM's bottom was painted MM Magnesium. For the outside of the SM engine nozzle, the top half was MM Titanium Buffing Metalizer, with the lower half MM Exhaust Buffing Metalizer. The entire inside of the nozzle was painted MM Burnt Metal, as that had been fired to get them headed to the Moon.

Before assembly of the lower section of the LM, the gold-colored parts had been sprayed with Tamiya Gold from the spray can while they were still on the sprue (13). I found it easy to touch up the gold where it was "crinkled foil." The areas that remained gold were taped off and MM Flat Black was painted over the rest of it (14 and 15). References need to be checked closely for this. The gold and black are not alternating colors around the sides. I had to stick a piece of tape with "Gold" written on it for one side to make sure that I did not screw that up.

For the top half of the LM, I debated about which color to paint first, the MM Aluminum Plate - Buffing Metalizer or the MM Flat Black, as taping would be involved. I elected to do the aluminum first and tape those edges before the black was applied (16-18). It was a back and forth re-spray due to some overspray and marring of the aluminum from handling it. The slightly rubbed edges on the black areas revealed aluminum underneath, which looked good. The two engine nozzles of the LM were both painted MM Exhaust Buffing Metalizer inside and out, as they had not yet been fired. The major sub-assemblies--LM legs not yet attached--are shown in picture 19. After all the CSM and LM sections were painted, the thrusters and the antenna were attached (21).

Decaling. The 16 diagrams on the bottom of the box also double as the decal instructions. Again, much too small for easy use, and some of the decal numbers are incorrect as to what is on the decal sheet. Looking at the sheet was disheartening at first due to the sheer number of decals, but it turned out that a lot were "spares" and were not used (20-25). There are some very tiny "one word" decals for the CSM that I left off, as trying to put them on was marring the finish. I had to use a magnifying glass to determine if some were oriented correctly. The small pictures on the box were not much help there - it showed where they went, but not how they should be placed.

Final Assembly. With all the separate parts completed it was time to hook them all together (21). The first problem encountered here was attaching the capsule to the top of the SM. Remember that foreshadowing? The capsule is mounted onto a post sticking vertically out of the SM's upper bulkhead (6-7). This is not shown in the instructions. However, when this is done the outer edge of capsule did not seat flush against the top lip of the SM. Part of the problem was those six struts sticking up, preventing it from pressing down far enough. I bent those over and out of the way, but the capsule edge was still a bit too high and not flush with the SM. I ended up shaving a bit off that vertical post and then using super-glue around the lip of the SM to hold the capsule securely in place. If I build this kit again, I would leave all those struts off completely and shave off the two small support pieces that are around the base of that vertical post. Those seemed to prevent the capsule from seating at the proper height. All this screwing around with mounting the capsule marred the finish a bit, so more re-painting was required. The next step was securing the CSM to the display base. The base is made up of a flat horizontal lower section and a vertical arm that are screwed together (26-28). There is a plug that is supposed to be inserted into the side of the CSM that the vertical arm of the base is supposed to slide over. This is another problem area of the instructions, in that it does not mention opening a hole for the plug before the SM is put together. I did locate that spot and used an exacto blade to open it. How to insert the plug through the hole in the vertical arm and into the SM is also nebulous--which way it goes--and I screwed that up, and while attempting to remedy that the plug fell apart. At that point I went to basic engineering and found a wood screw that fit through the hole in the vertical arm and screwed it into the SM. That worked just fine. (Chris Kraft and Gene Kranz would have been proud.) When I connected the assembled LM onto the rod protruding from the tip of the CSM, I discovered that the model was front heavy and the base was very likely to tip over. So I used modeling clay and a lot of fish sinker weights at the back end of the base to balance it out. I printed out a small Apollo 11 mission patch and stuck that onto the horizontal part of the base. The last item added was the photo-etched antenna array (four circular dishes) that attaches to the aft end of the CSM. The problems encountered with attaching the capsule and the base resulted in a slight half-day slip of the projected completion date.

In summary, this is a great looking model when it is finally completed, but it has its challenges along the way. The big failing is the very inadequate instructions. A better detailed set would have made this a much easier build. I had wanted to get an Apollo 11 model built for the 50th anniversary of the first lunar landing, and getting it completed for the ASM model display at the National Museum of Nuclear Science and History was a very good reason to get it done. I did get it there the morning of July 19th, before the Apollo 11 crew entered lunar orbit 50 years ago, so I did win that race. And yes, I would build another of these kits. The next one will be that "on the Moon" version, which looks to be reissued by Dragon in the near future. An article on the ASM Apollo 11 Anniversary Model Display (pics 33-35) can be found on the ASM Website at: http://abqscalemodelers.com/asm_meeting_pics_2019.htm#ASM_Model_Display_Supports_Apollo_11_Lunar_Landing_Anniversary
---

Poe's X-Wing Fighter
Revell SnapTite Max Kit
Review
by John Tate
One of the neatest-looking spacecraft to make an appearance in the 2015 film Star Wars: The Force Awakens was Resistance pilot Poe Dameron's black & orange X-Wing fighter, Black One. Revell and Disney capitalized on the popularity of Poe's character by releasing a pre-decorated SnapTite model of his X-Wing, an Incom T-70, an upgraded version of the T-65 X-Wings used in the original trilogy. Like the Rebel T-65s, the Resistance T-70s were hand-me-downs from sympathetic planets and politicians so the subject offers an opportunity for modelers to try some Star Wars-style weathering, in this case on an easy-to-build model that nevertheless can be made into a decent replica.
The kit itself is molded in black plastic with orange and gray stripes and panels, which greatly simplifies finishing. The model is generally a quick build, although it has a few challenges, like seam & mold lines and canopy fit, that require modeling skill to fix. For example, a clear plastic insert is supplied for the rear cockpit windows, but it doesn't fit easily, so I cut off the window panels and cemented them inside the frames for a neater and more realistic finish. Another shortcoming is the lack of a pilot figure, especially since many kids who buy the kit would want to fly it against the First Order TIE fighter from the same series; the kit does include the BB-8 tech droid, however. Because I wanted to display the model in flight, I turn­ed a 1/48 F-16 pilot in­to an X-Wing driver, which work­ed well with little mod­ification. The mod­el can also be built with gear down, which can turn it into a nice centerpiece for a diorama. The wings are adjustable and a sturdy stand is included for in-flight display. Paint­ing is always a challenge on X-Wings but the overall black scheme makes it an easier and you can use your imagination when weathering, given the variable planetary environments in which this craft would have operated.
Even with the application of modeling skill, the kit can be completed in a weekend and certainly looks like an X-Wing fighter when it's done. Currently these kits are marked down to around $20 at local Hobby Lobby stores and at that price represent decent value for money. This is another good subject that can serve as an introduction to Star Wars modeling and is guaranteed to be the coolest model on your shelf when finished.
---

Revell Rogue One Imperial AT-ACT Cargo Walker
Kit Review
by John Tate
Last year's movie blockbuster Rogue One, the final installment in the Star Wars prequel saga (and arguably one of the best Star Wars movies yet made), introduced several new machines to the Star Wars universe, one of which is a variation of the infamous AT-AT Walker Imperial assault transport, the AT-ACT Cargo Walker. Revell released a box-scale, SnapTite model of this vehicle to tie-in with the movie release, and when my son saw one on the shelf at Hobby Proz, he had to have it. Turns out, it's a great little kit and a fun build for all ages, and a great way to get into Star Wars modeling ahead of ASM's upcoming Chile Con 4 regional contest.

Although the kit is marketed as a SnapTite model, it's well-designed and engineered for a precise build, in a way that will appeal to modelers of all ages. The parts are clean and smooth and most fit together with little trouble and I was impressed by how easy assembly was; everything went together so nicely that a kid could build it in an afternoon. However, I wanted a more finished look for the model so used CA glue on some parts, filled a few seams and sanded mold lines, then gave it a shot of gray primer before adding a wash and dry-brush weathering. The orange cargo panels on the hull sides can be added later, which greatly simplifies painting. And don't be shy about weathering an AT-ACT; these behemoths were Imperial "trash haulers" so presumably would get a lot of the same abuse as our own terrestrial construction equipment.

Modeling observations aside, this kit is designed to be fun for kids, too, so the Walker legs and feet can be articulated and the plastic is tough enough for this to occur without damage to the model. Best part, though, is the battery-powered light-and-sound module in the Walker control head, with the activation button blended in with the surrounding plastic detail so that it is almost undetectable. This module really brings the model to life and with today's technology, should be designed into all sci-fi kits. I added a small red plastic windshield to the control head for realism and to enhance the lighting effects.

Even with scale-modeler enhancements, I finished the model in a weekend and it was a lot of fun to put together. In fact, I would rate this kit as one of the top five model kits I've ever built and it was an enjoyable change from the usual diet of airplane and armor kits. Kudos to Revell, and Disney, for releasing this fun little kit. The only enhancement I would suggest, is a set of X-Wing, U-Wing and Imperial Striker attack fighters to go with it in the same scale, so that a kid could recreate the epic Battle of Scarif with the finished model. Pick up one of these kits and rediscover the fun and adventure of scale modeling. Recommended.
---
Darth Vader's TIE Fighter
Revell SnapTite Model
by John Tate
Another subject in Revell's SnapTite Star Wars collection is the Darth Vader TIE Fighter, released to coincide with interest in the movie series generated by Star Wars: The Force Awakens back in 2015. SnapTite models have come a long way over the years although some still need a modeler's attention to build right; this kit is a good example of that, although it's designed primarily for kids or casual modelers.

Like many SnapTite kits, this one has a low parts count, builds easily and is rugged enough to be used as a toy when finished. However, it also makes a decent replica, and with a little extra modeling work it's competitive with more expensive Sci-Fi models. One of the neat things about the kit is the pre-painted cockpit and Darth Vader pilot figure, with no further painting or detailing required, especially since little can be seen from outside the once the model is finished. Some CA glue on the cockpit pieces helps hold it together for further assembly. Before placing the cockpit inside the fuselage halves, it's also a good idea to paint the interior of these parts black for a more realistic appearance. The pod hatch supposedly can be made to open and close but I found this to be a problem and cemented it shut for a neater appearance.

The rest of the model goes together smoothly although the spacecraft's side panels do not fit together well without the application of thin CA glue to hold the joint. Once the glue sets, however, there is a sturdy bond.

When the model is finished, there are seam lines along the edges of the fuselage halves, which I filled with CA glue and putty. I left the model in the azure blue color it was molded in, although where this hue originated from is a bit of a mystery, since I remember TIE fighters from the first three movies being white or light gray. I gave the model a dark gray acrylic wash to bring out details but I was careful not to overdo it, since the idea was to give the craft a lived-in look without heavy weathering, as Imperial fighters presumably were well-maintained. A little paint touch-up along the filled seams and some dry-brushing, and you have a nice replica of Lord Vader's X1 TIE fighter.

If you're looking for an enjoyable change from military modeling ahead of our upcoming ChileCon contest, give these Revell Star Wars kits a try- you'll have a great-looking model with just a minimum of effort.
---
By Ken Piniak
At long last, Moebius has released their version of the original Battlestar Galactica. Fans have been waiting for this since 1978. They will not be disappointed, and they can toss out their old Monogram kits.
This kit is listed as 1/4105 scale, and is approximately the same size as the old Monogram kit, but the accuracy issues have been eliminated, and it is packed full of detail. The folks at Moebius really did their homework; I have hundreds of photos of the original studio model (can you call something that is over six feet long miniature?) and I spent a couple of hours comparing the kit to those photos, everything was in place. According to the instructions, this kit has 89 parts; I think the old Monogram kit had about a dozen. Most of the parts on the new kit provide details the Monogram kit did not have. The main engine panel is four parts, the landing bays are five parts each, and all of the arms for the landing bays have separate tops, bottoms, and sides. The ship is broken down into sub-assemblies, with each sub-assembly built up from multiple pieces. These sub-assemblies are then joined to form the ship, unlike the Monogram kit where the main body of the ship was two parts- top and bottom.
While this kit is nearly perfect, I do have two complaints about it. The first one, which has been discussed online ever since Moebius released some test shots late last year, is that the engraved hull panel lines are WAY overdone. In the scale of this kit, you could drive a truck through these panel lines. My other complaint is that much of the rest of the detail is "soft" and underdone. Most of the detail is just molded on the various panels, and just does not seem to "stand out" as much as it should. But these complaints are minor, and overall this kit looks great. This is a must-have for any Battlestar Galactica fan.
---
Sci-Fi Update
By Joe Walters
First off, the annual StarFest sci-fi convention, which includes a large and aggressive model competition, takes place in Denver this year on the weekend of April 19–21 at the Marriott Denver Tech Center. Details are on their web site (http://www.starland.com). The hotel is filling up fast, so if you're interested, move quickly!
Polar Lights (http://round2models.com/models/ polar-lights) has been busy, and has introduced a full-blown kit of the 1960s George Barris Batmobile (the deluxe kit is 1/72; a 1/25 kit is also available). Parts are included to build a big block engine or a full jet-turbine engine. Photoetch parts are also included for some details. The obvious figures are included, along with extensive decals.
Along with the Batmobile, they are also offering the Black Beauty from the 1966 television series The Green Hornet. This kit is in 1/32.
+-
On the Star Trek front, Polar Lights is issuing old and new kits, some with new box art. A special snap-kit edition of the old TV-series Enterprise will come with an in-scale Botany Bay from the episode "Space Seed". Go ahead, you know what to shout!
A Klingon battlecruiser is also offered, shown here in Romulan livery.
And are we finally going to get a kit of the new movie Enterprise? Starship Modeler has this photo from Revell Germany (http://www.starshipmodeler.com).
---
Pegasus Hobbies, Kit # 9100, $19.98 MSRP
By Mike Blohm
Webmaster's Note: This kit review was originally published in the March 2010 ASM Newsletter, but did not get published on the ASM Website due to the software problems that were being experienced at that time. It is being published now just in time for the January 2011 Sci-Fi Contest.

This 1/72 scale injection-molded kit includes 21 pieces. The saucer parts are molded in a silvery plastic and are contained in one large bag. The seven window/viewport pieces are molded in a shiny green translucent color, and are in a separate bag. Unfortunately the bag did not keep the large circular dome piece that fits into the top of the saucer from becoming a bit scratched and fuzzed in my kit. More on that later. A nice set of instructions is included. There are no decals included for this model.

This kit is an easy build due to the small amount of pieces. It is not a "snap-tite" model, but its design and construction qualities make it pretty close. The top clamshell is one piece (eight inches in diameter), and needs only the viewports and dome inserted. The bottom clamshell is again one piece, but you have a choice of building it with the gear (four legs) extended - which I chose to do - or retracted. The landing gear and door pieces easily click into the wells. Overall the fit is very nice and no putty was needed anywhere.

The viewport pieces click onto pegs on each side of the window and have a good fit. I put a coat of Future over the large top dome window, and that seemed to fix most of the fuzziness. I waited until after all painting was completed before I added the viewports and the gear pieces. It would have been nice for the kit to have included either a clear set or an additional clear set of viewports so you could make your own color windows. Not all UFOs have green windows.

Overall the detail is very good. However, the top saucer clamshell piece has six sink-holes spaced uniformly around the outside surface, corresponding to where there are joining pegs for the top half to fit into the lower half. Since they were uniformly spaced and not too deep, I made no attempt to correct them. It just so happens the real thing does have those same "dimples" for better exoatmospheric directional control (I have pictures...).

Painting was a challenge in deciding what kind of color scheme to use. You normally see these UFO's at night and it's hard to tell the colors (see second picture below). I chose to do a basic metallic look, with alternating segments of shiny and not-so-shiny metal on the top clamshell. On the lower clamshell I used the same colors, with the not-so-shiny metal on the center spiraling door (where the tractor light beam comes out and cow parts are levitated into the craft - they seem to like prime rib) and the other crew door. The landing gear legs, pads, doors and gear wells all got varying metallic shades that were darker than the clamshells and they all got a bit of weathering. Traveling through hyperspace keeps them overall pretty shiny due to collisions with tachyon particles, dark matter and the occasional StarFleet flotsam and jetsam.

The top clamshell fits onto the lower clamshell and is held in place by six pegs. The interior is basically hollow and screams out for lighting in some kind of manner. Note: In space, no one can hear you scream. I added a device that produces rotating colors of red, yellow and blue which project onto the large top dome viewport. Exactly what I added is "top secret" so use your own imagination. Be sure to add a "Danger - Radiation" sign and a note to the judges on your entry sheet, depending upon your choice of device. I hope you didn't get too close to my model at the last club meeting (see last photo) - I forgot to bring the sign.

Overall an easy build, a pleasure to put together, and a neat addition to my sci-fi model collection. Compared to the real thing, the kit is really more like 1/75 scale, but that is certainly acceptable. Congrats to Pegasus Models for producing the model kit. A great kit for a beginning modeler. Recommended to all.

Addendum to Area 51 U.F.O. Kit Review

by Mike Blohm

I forgot to mention one item in my previous review of the Pegasus Hobbies Area 51 U.F.O. kit - actually a mistake I made in building the kit - so that other builders will not follow in my footsteps.

When I was cleaning up the kit and sanding off some edges, I noticed what looked to be some raised lettering on the bottom of the saucer. At first I thought it was some copywrite information that you often find on kits. I used a magnifying glass to read it, and it said "Klaatu barada nikto" or something like that - it was kinda hard to make out.

It was out of scale, so I went ahead and sanded it off. It wasn't until later on that I spied a small footnote at the bottom of the instructions page that said "Whatever you do, do not obliterate this wording". I'm not sure what that is supposed to mean - maybe it has something to do with a future kit that's coming out.

So I'll leave it up to you whether you want to sand it off or not.

It's not like it's the end of the world or anything.

Hey, wait a minute - why did my compressor stop, and the TV go off?

What's up with that

.... ... ..




---
Here we go again! Revell has come out with several Star Wars kits from the animated "Clone Wars" series, including the Republic Attack Shuttle (shown below), AAT, AT-TE, General Grievous's Star-fighter, and Ahsoka Tano's Jedi Star-fighter.
Fans of the recent Battlestar Galactica series will be pleased to know that Moebius has released a 1/4105-scale (really!) model of the big ship. Paragrafix is offering a photoetch detail set to really trick it out.
Moebius also is offering Mark II and Mark VII Viper Fighters, and, soon to come, a frakkin' Cylon Centurion figure.
AMT / Round 2 is reissuing Star Trek's K-7 Space Station kit from long ago; tribbles not included.
The Klingon Bird of Prey and USS Reliant kits are also being re-issued.
A few other old kits have been reissued, some in "retro style" boxes as shown below.
There's no sign of the new Enterprise from the recent movie yet; it's a highly anticipated kit, and will generate lots of attention once it finally appears.
Some of the old Aurora horror kits are back, also from Moebius Models, including the Pain Palace, Gruesome Goodies, and the classic Guillotine.
Moebius is also accepting pre-orders for what appears to be a new kit of the Pan Am Space Clipper from 2001: A Space Odyssey.
A new kit of the 1966 Batmobile is available for pre-order from Polar Lights; will this one finally be TV-series accurate?
All the kits referred to here are available though the CultTVMan web site (http://culttvmanshop.com).
---
by Joe Walters

Yes, there's lots of news on the Sci-Fi front, and a bunch of space to fill, so here we go again!

First off, Sci-Fi enthusiasts should monitor the Starland web site (http://www.starland.com) for news on the upcoming Starfest 2008, which takes place this time around on April 18 – 20 at the Marriott Denver Tech Center. Starfest (as it says on their web site) is an annual convention encompassing all aspects of popular media, film and television. Started in 1977, it attracts several thousand fans of popular culture for a weekend of social interaction, games and fun. There are over a hundred activities on the multi-track programming schedule. Events include film studio presentations, onstage Q&A sessions with actors, producers & directors, autograph and photo sessions, costume and talent contests, film festivals, model and art shows, collectible merchandise, educational seminars, discussion panels, kids' events, fan club presentations, and assorted Klingons, Jedi and other strange and unusual creatures.

Webmaster's Note: See Joe's Field Trip article on Starfest 2007 at: Starfest 2007 Report

The sci-fi model show is of particular interest to us kit assemblers, and has been growing in recent years—there were nearly 100 models at last year's show.

They haven't yet begun listing scheduled guests or a detailed schedule of events, so keep an eye on the web site.

Meanwhile, in the modeling world, many new kits and accessories have become available.

From TimeSlip Creations comes a light board for Howling Wolf's 1/24-scale Cylon Raider. This circuit board has 13 LEDs to simulate the eye movement. You need to supply a 3v power source and you have to carve out the head to install the board. The board has leads for you to attach your power source. For more information, visit the TimeSlip Creations web site (http://www.timeslipcreations.com), where you'll also find some other ship kits from Battlestar Galactica.

Fantastic Plastic Models' new Phoenix Warp Ship One is now available in limited release. This is the prototype warp vessel built and piloted by Zefram Cochrane in 1996's Star Trek: First Contact. The 1/144-scale kit features warp nacelles that can be positioned in either the launch (closed) or in-flight (open) position.
Fantastic Plastic has a number of incredible sci-fi kits, many of which you've probably never seen before (http://www.fantastic-plastic.com/gift_shop.htm).
New from Starcraft Models is a 1/1400-scale New Orleans-Class resin kit (yes, this ship appeared on screen) (but you had to look close & quick!). This kit comes with a base, decals, and thorough assembly and painting instructions.
This kit is available through Federation Models (http://www.federationmodels.com), as are many others. Click on Model Kits, then select Starcraft Models, and scroll down to the bottom of the page. You'll see many other interesting kits there.

In other Trek news, VooDooFX is proud to release the much anticipated Enterprise Refit Lighting Kit for the large Polar Lights kit. VooDooFX calls it "the most accurate and high performance lighting package of its kind." This kit is designed towards the advanced to pro modeler level with electronic experience required, features navigation speed control (fine tuning), and includes all the needed circuit boards, shrink tubing, wire, LEDs, power supply with plug, online instructions and access to a customer support line.
This isn't cheap—it runs $299.00, but you just can't put a price on… well, okay, you can, but check this out anyway. The details are all on their web site (http://www.voodoofx.com/fiberfx.htm), where you'll also find a must-see video of the kit in action (plus zillions of lighting kits for other sci-fi models!).

Star Wars fans will want to check out a German web site (http://www.triliance.de/index2.htm), where there are a number of add-on products, including detail parts for the ERTL Millennium Falcon, a two-seater conversion for the Fine Molds Y-Wing Fighter, parts for making Death Star bases (including the laser tower shown here) and the dreaded Space Tick (look closely!).
Irwin Allen fans will be excited to learn that Moebius Models is coming out with a huge model of the Seaview from Voyage to the Bottom of the Sea. It's in 1/128 scale, and measures 39 inches long! It is accurate and extremely detailed (exterior and interior!), comes with crew figures, a Flying Sub, Mini-Sub and Diving Bell, and if you want (and have large amounts of disposable cash available), you can get an add-on kit to allow you to operate this model in and under the water via radio control!

A Seaview preview (sorry) written by the highly-opinionated Dave Merriman is available on CultTVMan's site (http://tinyurl.com/2ddqpe). This thing has to be seen to be believed.
---
by Joe Walters
Any sci-fi modeling enthusiast must be familiar with the CultTVMan web site (http://www.culttvman2.com/dnn), an unmatched source of knowledge and how-tos for the serious sci-fi builder.
Currently of interest, there is a report with many photos from the recent Hobby Expo show. The web site's operator, Steve Iverson, looked at some interesting upcoming sci-fi kits.
Among other things, look for two new Lost in Space kits from Moebius: The Space Pod and The Chariot. The Chariot will come with a figure of the Robot!
Above is artwork for the upcoming Moon Suit kit. Were you just thinking about Major Matt Mason?
In other news, Revell now has a license to issue the Revell Germany Star Wars kits in the US! Look for these in mid-year, coming soon to a galaxy near, near by

.
---
Sci-Fi Kit Explosion
By Joe Walters
Enthusiasts of science fiction modeling have certainly noticed that there have been many new kits made available over the last few years—notably several Star Trek kits from Polar Lights and Bandai, as well as recent reissues of old AMT kits and some new Star Wars subjects—but those who only monitor the major manufacturers are missing out on the overwhelming number of new subjects and conversions out there!
Many smaller manufacturers and "garage"-type sources are offering a staggering number of sci-fi spacecraft subjects, and not just from Trek!
A small outfit called Howling Wolf, for example, offers craft from the new Battlestar Galactica series (Cylon Raider and Cylon Base Ship) as well as the "Alkesh" craft from the popular Stargate: SG1.
Another outfit called simply "Alliance" offers the new Galactica itself, along with many other subjects, mostly Trek-related, including several shuttlecraft types, the Delta Flyer, and even Khan's DY-100 Botany Bay (in scale with the new Polar Lights Enterprise model).
Howling Wolf and Alliance sell their products through combined sales websites like Federation Models and Starship Modeler; all websites mentioned in this article are listed at the end.
Comet Miniatures offers an 18" Discovery from 2001: A Space Odyssey, and an in-scale Leonov from 2010, as well as subjects from Firefox, Mad Max, Space: 1999, and others.
Skyhook Models offers subjects from several sci-fi films and series, including the Planet Express from Futurama, the Martian War Machine from George Pal's War of the Worlds, and many more.
Starcraft Models (also sells through the sites mentioned above) offers a number of Trek kits in scale with AMT's Enterprise-D, so you can build an entire Starfleet in scale, including several ship classes not offered by the majors. They also offer a kit of the Protector from Galaxy Quest!
Warp Models, a UK outfit that also sells through commercial websites, offers numerous Babylon 5 subjects (including the White Star, Shadow destroyer, and two different Earth Alliance warships), several Space: 1999 kits, Stargate subjects (including the stargate itself and Death Gliders), and several Trek subjects including a detailed Borg Cube, conversion kits to alter standard AMT kits to variant classes, and more.
Also selling through the conglomerate websites, Gizmotron offers another B5 White Star model, as well as several Star Trek variant ship classes. Planet V also sells a Babylon 5 kit, the ubiquitous Earth Alliance Shuttle.
Of course, anyone building any sci-fi subject should always start by looking at the CultTVMan website. This site collects vast quantities of reference data for virtually any imaginable sci-fi subject, and even includes an online hobbyshop offering many of the subjects mentioned above.
More than just spaceship kits are out there—aftermarket products exist for sci-fi kits just as they do for other subjects. For instance, the recent Polar Lights Star Trek Refit Enterprise kit can already be enhanced with lighting kits, structural bracing armatures, stencils for making the hull patterns, and more. Interiors, fighter cockpits, conversion parts, figures (many of them recognizably based on known actors—one of them actually sells an Adam West replacement head for the old Aurora Batman figure!) and many other add-ons are available for many kits and subjects. Look around!
Notice that we haven't even touched on things like decals, "accurizing" replacement parts, figures, props, electronic sound and light kits, and other sci-fi items, but they are out there in vast numbers and can be found the same way as these kits.
Quality of these kits varies, of course, as does size, scale and accuracy. Buyer beware! Do some research if in doubt—someone out there has built this kit, and can offer some critique and details from experience!
And Your Favorite Local Hobby Shop can certainly order most if not all of these kits for your convenience.
Contacts
Websites mentioned in this article, and a few others, in no particular order:
Federation Models http://www.federationmodels.com
Starship Modeler http://www.starshipmodeler.com
Comet Miniatures http://www.comet-miniatures.com
Skyhook Models http://www.skyhookmodels.com
CultTVMan http://www.culttvman.com
Don's Light & Magic http://www.dlmparts.com
JBot Decals http://www.jbot.ca
Lunar Models http://www.lunarmodelsonline.com
Realspace Models http://www.realspacemodels.com
Voodoo FX (lighting) http://www.voodoofx.com
---
---
---
USS New Mexico Battleship Model Dedication
There was a dedication ceremony on Sunday, January 23rd for the USS New Mexico battleship model in the exhibit "A Noble Legacy: The USS New Mexico" at the New Mexico History Museum in Sante Fe. The museum is located next to the Palace of the Governors on the Sante Fe Plaza. ASM member Keith Liotta finished the build of this scratch-built, seven foot long 1/96th scale model that was started by Cecil Whitson in the late 1970's and took over 30 years to complete
. See Trip Report below by Victor Maestas for a description of the event.
Click HERE to read the Albuquerque Journal article on this incredible model-building project.
______________________________________________________________________________________________
Trip Report - USS New Mexico Dedication Ceremony
by Victor Maestas
The dedication for the "A Noble Legacy: The USS New Mexico" exhibition at the New Mexico History Museum in Santa Fe took place on Sunday, January 23, 2011. Several ASM members were there to see the new exhibition and th 1/96-scale model of the battleship USS New Mexico (BB40), including Keith Liotta, Jack Morris, Jim Guld, Victor Maestas, Glenn Bingham, Rick Carver, and Harry Davidson.
The model has been set up at the entrance to the museum in a large glass enclosure. All the people looking at the model were very impressed with the detail and workmanship that had to have gone into the model. A smaller model (probably about 1/350) of the Virginia class USS New Mexico (SSN 779) submarine was also on display nearby.
One of the speakers was Commander George Perez, the CO of the USS New Mexico (SSN 779). He gave a talk on the submarine and its expected mission. The submarine is a Fast Attack Nuclear submarine armed with Mk. 48 torpedoes and Tomahawk cruise missiles. He extended an invitation to anyone to visit the ship and show your NM ID and get a tour. I guess the trick will be to first find the ship…
A compelling presentation by retired Chief Warrant Officer George Smith was next. A 92-year-old veteran of BB40, he spoke of the ship being in top shape at all times because of the pride of the crew as well as the tight discipline (no baseball caps with the bill facing backwards).
A short movie on the war experience of the ship was put together by the museum based on the official records as well as some information pulled from the diary of one of the sailors. The ship was nicknamed "The Queen" and won six battle stars. She was involved in the invasion of the Gilbert and Marshall islands. Later she was involved in the capture of Mindoro and Luzon as well as the Okinawa invasion. It was hit by kamikaze planes twice, but did make it through the war. The ship was present at Tokyo Bay for the surrender of the Japanese.
The exhibition at the museum includes uniforms from the time period before WWII, some of the parts from one of the kamikaze planes that hit the ship, and the models on display. Some of the silver settings used on BB40 were on display; they will eventually be sent to be used on SSN 779.
The dedication was a very interesting event that portrayed the history and future of the ships named after our state. The exhibition will be at the museum for four months. If you are in the area, it's worth a look.
Webmaster's Notes:
USS New Mexico (BB-40) was a battleship in service with the United States Navy from 1918-1946. She was the lead ship of a class of three battleships which included the USS New Mexico, USS Idaho, and USS Mississippi. New Mexico was extensively modernized between 1931 and 1933 and saw service during World War II both in the Atlantic and Pacific theatres. After her decommissioning she was scrapped in 1947. New Mexico was the first US Navy ship named for the state of New Mexico.
For additional pictures visit the following website; there are sets of pictures for different year groups: http://www.navsource.org/archives/01/40a.htm
For the history of the battleship New Mexico visit the following site: http://www.acepilots.com/ships/new_mexico.html
---
Review: Revell 1/72 Scale Gato Class Submarine
by Tim Wood
The attack on Pearl Harbor on December 7, 1941 thrust the United States into the Second World War. As history has shown, the Japanese made one of the most daring attacks in modern warfare. However, by not destroying the aircraft carriers of the US Navy during the attack and sinking the battleships in a harbor instead of the open ocean, they committed one of the largest blunders in military history as well. Most people do not know that during the attack the Japanese also failed to destroy the submarines and their support facilities in Pearl Harbor. In fact, the fuel and ammunition dumps for the subs were unscathed during the attack. This mistake was just as costly although less visible and would have severe consequences to the Japanese war effort and home islands.
Immediately after the attack the US Navy submarine force was given orders for unrestricted warfare, which meant anything that flew an ensign of the Japanese empire was a target, a doctrine that broke the London Naval Treaty of 1930, which outlined the rules of engagement for submariners. Initial patrols proved to have mixed results with many targets escaping even though the crews were positive that the torpedoes were aimed and fired properly. The navy later determined through interviews with the submarine captains and tests conducted by naval ordinance that the torpedoes were running deeper than what they were set at and had faulty detonators. It wasn't until1943 that the torpedo problems were mostly resolved. After these technical difficulties were overcome, claims of destroyed enemy shipping soared. American submarines also performed rescue duties of pilots and sailors as well as reconnaissance and screening duties for naval task forces. The navy's submarine force accounted for approximately 2 percent of the manpower of the navy during the war but submariners claimed more than 50 percent of the final tally of Japanese military and merchant shipping sunk. Many historians agree that the ability to deprive the Japanese of food, oil and other raw materials helped to shorten the war. During the war the navy lost 52 submarines with more than 3500 casualties.
The submarines available to the US Navy at the outset of WWII were of early design and structure but each successive class built upon the strengths of prior classes and almost all boats regardless of age were pressed into service. The Gato class submarines built upon the strengths of the Tambor/Gar class boats. These boats were the first practical fleet boats able to range over the entirety of the Pacific Ocean. The Balao/Tench class were virtually identical to the Gato class boats but had thicker steel for their hulls which allowed greater diving depths and advanced electronics and other systems as they became available. Gato/Balao/Tench class boats served from 1942 until the early seventies with the United States Navy and many served with foreign navies well beyond their expected lives.
Webmaster's Note: Click here for an excellent web page on the USS Gato: http://www.navsource.org/archives/08/08212.htm
The 1/72 Revell model of the Gato class submarine was released in 2006 and was a follow up to their very successful 1/72 scale U-Boat. Before building, the modeler may want to locate a suitable place for the beast to be displayed, (I jokingly told my wife that it was going on the mantle in the living room when completed or maybe just a permanent fixture in the tub, she was unamused). You might also clean off your work bench and even have an alternate place to put it while working on it, if I had a dollar for everything I knocked down with it…. Upon receiving the box I was amazed at the size of the kit only to realize that the hull is divided into three parts! Test fitting the hull pieces together revealed an overall length of 52 inches. Panel lines are of the raised type and you will lose some to construction so be prepared to stretch some sprue to replace these. During my research of US submarines I came to understand that almost no two boats were the same. Some had a single row of limber holes like the kit but most had many rows and sizes of limber holes as well as deck guns and fittings. To make matters worse for the modeler most boats were changed in gun and sail configuration as the war progressed and it was up to individual captains to request the changes as he saw fit! The ship I modeled was the USS Cobia which is currently on display at the Wisconsin Maritime Museum as wartime pictures showed that this boat is the closest to what is offered in the kit without major 'plastic surgery' or expensive aftermarket parts.
Construction begins with the basic hull, bow and aft planes as well as the rudder and propellers. It was in step 4 where I made the decision to make a pressure hull from a disposable plastic cup to cover the bow plane pivots as these will be highly visible through the large forward vent holes. Once the hull is complete the next steps involve building the deck and sail (conning tower). Many deck parts must be pre-painted as the sail is going together or it will be difficult to paint and weather these pieces later. Further into the instructions are the tower and guns with radar assemblies which are very well detailed as are the 4 inch, 40MM and 20MM guns. Revell includes pre-bent metal ladder rungs which are a nice touch and add scale realism to the model, although I wish they had included a photo etch radar screen as the plastic one is somewhat crude. The last steps include adding all the stanchions and deck fittings to the sub. For the hand rails I used a metallic thread that I found at a sewing shop which I felt gave a good representation of the cable that is run through the stanchions. I painted the sub in a two tone gray and black scheme which was apparently known as the "light gray job". I used Testors acrylics for the paint and artist oils for the weathering and rust on the sub. There were no decals applied as I wanted to model the sub as if it were on patrol, the navy kept markings off of the submarine fleet to maintain their camouflage and stealth while in combat.
Revell's Gato submarine was a pleasure to build, even though it is unwieldy to handle, it can be built by modelers basic to advanced. If you have an interest in US Naval subjects I would highly recommend this kit! Just make sure you have a place to display it… "Honey, about that mantle idea…."
---
by Gordon Pegue

I thought it was pretty dang impressive what this gent has done.

Numerous amazing photos are on the web site: http://tinyurl.com/ASM1202 http://www.users.globalnet.co.uk/~pinniger/matchstickfleet/index.html.

From a separate report: 79-year-old Phil Warren from the UK spent 62 years to build this incredible fleet of 432 ships. All vessels are built entirely of matchsticks and boxes of wooden matches. The collection includes nearly 370 American and 60 British ships.

He began creating his first boat in 1948, when he was only 17. This uses a razor blade, tweezers and sandpaper to carve the pieces and boxes, then stick with balsa wood glue. In total more than 650,000 used matchsticks to create an amazing collection of 1⁄300-scale models. Even 1200 aircraft made even more realistic appearance to dress the decks of aircraft carriers.
---
---
Boeing B-17F Flying Fortress "Memphis Belle"

History and Restoration

by

Mike Blohm

May 17, 2018 was the 75th anniversary of the completion of the 25th combat mission by the Boeing B-17F Flying Fortress "Memphis Belle" and its crew in 1943. The B-17F belonged to the 324th Bomb Squadron (Heavy) of the 91st Bomb Group in the European Theater. To commemorate this anniversary the restored "Memphis Belle" was rolled-out on May 17th to go on display at the National Museum of the US Air Force. This was a significant event in that the odds of completing 25 missions was very low at that time. The "Belle" returned to the US to go on a war bond tour and became famous in multiple movies--the latest version made in 1990. The B-17 was put on display in Memphis in 1947 and deteriorated severely over the years from the weather and vandalism. The B‑17 was moved to the USAF Museum in October 2005 for restoration and eventual display, and was unveiled on May 17th. Of note, the B-17 "Hell's Angels" of the 303rd Bomb Group completed 25 combat missions on May 13, 1943, becoming the first B-17 to complete the feat, one week before the "Memphis Belle." The press, however, became enamored with the "Belle" and she was immortalized in history.

Pictures below include: the "Memphis Belle" at the end of it's 25th mission and subsequent war bond tour in the USA; restoration by the USAF Museum; and a model of the "Memphis Belle" (Academy's 1/72 scale kit) built by John Tate in 1997 for ASM's year-long rotating model display at Kirtland AFB in 1997-1998 to commemorate the 50th anniversary of the creation of the US Air Force on Sep 27th, 1947.

Pictures below show:

1-2. The Memphis Belle in-flight on its way back to the U.S. on June 9, 1943

3. The crew posing in front of the Memphis Belle

4. The crew back after their 25th mission

5. The Memphis Belle at Patterson Field (later Wright-Patterson AFB) during its war bond tour

6. Overhead shot of Memphis Belle probably also at Patterson Field

7. Memphis Belle under refurbishment in 2011

8 B-17 painted as the Memphis Belle for the 1990 movie

9-11. Memphis Belle on display at the National Museum of the U.S. Air Force

12-17. Pictures of John Tate's B-17F Memphis Belle model.

Links to Memphis Belle articles:

http://www.nationalmuseum.af.mil/Upcoming/Boeing-B-17F-Memphis-Belle-Exhibit-Opening-May-17-2018/
---
The Renault FT
and how it came to be up the Khyber
by
Tony Humphries
As you may already know, given the long-standing enmity between our countries, as an Englishman, the prospect of building anything French always leaves me with, at the very least, an uneasy, uncomfortable feeling - one which, given our history, you can probably also understand. Nevertheless, as an armor guy, the importance of the Renault FT (sometimes [incorrectly] known as the FT-17) needs to be recognized, given that it was really the first modern tank and established the system of placing the driver in front, the engine on the rear and the main armament in a rotating turret on top, that we generally persist with to this day. It wasn't the first tank of course, but it was arguably the first modern one. As a result I decided to build the Takom 1/16-scale kit and you may have seen my humble effort on the table at last month's meeting:
Many of you will likely be familiar with at least some of this influential vehicle's history. First produced in 1917, it was widely used in the final months of WW1 by France and the US. After WW1 it was exported to many countries including Poland, Russia, Finland, China, Japan, Spain, Brazil, and many other countries around the world (27 in fact have used the Renault FT at some point and several - including Italy, Japan, Russia and the US - have built their own copies/versions). When WWII came around it was hopelessly out of date but was still used in combat, out of necessity, by Poland in 1939, France in 1940 (and again by Vichy troops in 1941 in Indo-China and 1943 in North Africa). Around 1700 were captured by the Germans after the fall of France in June 1940 and were used for policing duties in occupied territories, in an anti-Partisan role in Yugoslavia, for airfield protection, as an aircraft tug (especially in occupied France), and probably as a source of amusement as well. American troops encountered them (generally abandoned) in Normandy after D-Day and the final documented combat use of the Renault FT was in the streets in Paris in August 1944, where remaining German forces used them in limited skirmishes with French and US troops. They weren't very effective and by the time American troops had stopped laughing at them, they'd probably all broken down again anyway. Paris of course had been declared an open city by the German authorities prior to the Allies reaching its outskirts, but it seems that some people didn't get the memo. Isn't that always the way...?

To give some background on the vehicle, the two-man FT weighed around 6 1/2 tons and was approximately 13 feet long. It was armed with a short-barreled low-velocity Puteaux SA18 37mm gun, or a Hotchkiss 8mm MG (depending on the variant) and had riveted steel armor ranging from 1/2 inch to just under 1 inch at its thickest. The turret came in two flavors (neither of them chocolate) - either a rounded metal plate version known as the Girod turret or a slab-sided octagonal version known as the Berliet turret (after their relative manufacturers). Either turret could contain either armament type, and various combinations of the two types were quite common. Despite its revolutionary design, the Renault FT had many shortcomings. The vehicle's armor was just about enough to protect the crew against machine gun bullets and shrapnel of the WW1 era but was inadequate by the early 1920s. The FT used a simple steel leaf spring system as suspension which gave a fairly rough ride and was powered by a Renault 35hp gasoline engine which was plagued with fan-belt problems and random fires, amongst others. This engine gave it a top speed of around seven mph, effectively equivalent to an elderly sloth carrying several large bags of groceries. There was no radio, so to communicate with other vehicles, commanders had to open the hatch and wave signal flags. The noise inside was also so serious that French tank commanders found the only way to effectively communicate with the driver was to kick him, generally in the head(!), on the side that he wanted the driver to move in. So concussion was presumably an occupational hazard for drivers, and was probably accepted as such.

The last FTs were scrapped at the end of WWII since they were totally obsolete by this point and they were then consigned to museums and the history books. Or so we thought… The US-led invasion of Afghanistan in 2001, however, led to the discovery of at least two of these vehicles in a scrapyard in Kabul and one in Kandahar, and a lesser known part of the FT's history was subsequently revealed.

Afghanistan's use of the Renault FT apparently originated some considerable distance away in Europe at the time of the Polish-Soviet War of 1919 - 20. The USSR captured some FTs from the Polish army, which they then copied to produce a Russian built version and which was then subsequently developed into the T-18 tank. By 1923, however, they were no longer required and the USSR presented King Amunullah of Afghanistan with eight of the captured (French-built) FTs as recognition of Afghanistan's independence by the Bolshevik government (and possibly as an elaborate joke as well - after all, the Russians love a good laugh - right up to the point where they poison you with nerve agents or radioactive tea...).

There was a rumor that at least one Renault FT was also captured by Afghan forces from the British Army during the 1919 Afghan War but this seems exceptionally unlikely given that the British Army never used them outside of Britain (for training) or France (for liaison during 1918) and all except one of the original 32, which now sits in the RAC Tank Museum at Bovington, were returned to France at the end of WW1.

So time marched on, as it inevitably does, WWII came and went (1939 - 1945 as a reminder for those in the US) and most people forgot that Afghanistan even had these tanks. Possibly including many Afghans, for all we know... The Royal Afghan Army, however, didn't forget and continued to use the now-obsolete FT into the 1950s (it had little else in the way of armor available to it) before slowly retiring them to training duties and then museum pieces. Allegedly. A Soviet officer stationed in Afghanistan during the 1980s war there claimed that for certain, at least one FT was still in drivable condition with the DRAA (communist Afghan army) at the time of the Soviet invasion/occupation in 1980 but this is almost impossible to substantiate. The thought of crewing one of these vehicles and taking on an advancing Soviet T-72 or T-80 is certainly not a pleasant one, and given the suicidal nature of this endeavor, it seems unlikely that it would be true. But who knows?

Below is an image of one Afghan FT-17, photographed after the American military liberated Kabul on 14 November 2001. The plinth behind the FT-17's turret holds an ancient Schneider cannon apparently (I can't see much of the damn thing, but your eyesight may be better than mine) from way back in the mists of Afghan history. Finding an intact FT in the early 21st Century must have been a major surprise and much was said at the time, of the gun, which appears unique when compared to any other known FT. It turns out that there was a good reason for this though. It was initially suggested that the Soviets had fitted a long-barrel Hotchkiss 37mm gun to one of the FT-17s before their transfer to Afghanistan. But later, it was discovered that a length of pipe had simply been slipped over the factory-fitted Puteaux SA18 to make the displayed tank look more menacing! Well, a bit more menacing. I doubt that a rapid change of underwear for the advancing Russian tank crews was really required (or at least, not for that reason, anyway). It may have caused serious mirth, however. Nice try though.

Above picture shows the FT-17 in question with a Northern Alliance fighter in the foreground. It is believed that this vehicle still remains in Kabul today.

Several Renault FTs have apparently been discovered around Afghanistan since the invasion of 2001, with two subsequently being sent back to the continental US for restoration. The Patton Museum at Fort Knox used to have one of their own, but apparently the French asked for it back again (there's gratitude for you…).

At least one other, a widely traveled ex-Polish, ex-Soviet, ex-Afghan FT was given back to Poland by the Afghan government in October 2012. Relatively intact, this particular tank had been found by the US Army in 2001 and temporarily moved to a barracks of the new Afghan National Army. In November 2012 it was transported by C-130 Hercules aircraft to the Polish army's Land Warfare Training Center in Poznan for restoration, then donated to the Warsaw Military Museum as seen here.

Below, left to right:

One of the two FT-17s found by US forces in a Kabul scrapyard in 2003. Both were eventually donated to the US where they are being restored for museum display.

The other of the two tanks mentioned above.

The engine from one of the two Kabul Renault FTs. It'll take some work to get this one going again... Better call AAA.

One of the two Kabul FTs being loaded for transport back to the US on board a USAF C-17 Globemaster III. The tank in front was the one tipped onto its side in the earlier picture below. It was apparently known as the "Ft. Knox tank" as this was its initial destination (although not because it was made of gold, clearly). It has now been completely restored and in 2015 was placed on display at Ft. Benning, Georgia. The FT at the rear of the picture was sent to Aberdeen Proving Grounds and was still undergoing restoration, the last time I checked.

Additional info:

1) The Kabul scrapyard was established by the Taliban in 1996 as an area where old and surplus military equipment could be stored before being sold to Pakistan for scrap. Evidently they didn't sell very much…

2) Only Renault-made FTs carried the Renault name plate. The Renault factory built about 50% of the vehicles, the remainder being subcontracted to SOMUA, Berliet, and Delaunay-Belleville. This is likely why neither of the vehicles found in Kabul displays the Renault name plate on the left sponson as they probably weren't built by Renault, despite the official name of the vehicle (i.e., Renault FT - remember that the term "FT-17" was never officially used by the French).
---
by
Mike Blohm
Modeling the Aces of VF-27

This article covers the men and models of the top three Hellcat aces of VF-27, including Lieutenant (Lt) James A. "Red" Shirley (12.5 victories), Lt Carl A. Brown (10.5 victories), and Lt Richard E. Stambook (10 victories). VF-27 deployed on the light carrier USS Princeton (CVL-23) from May to October 1944 with F6F-3 and -5 Hellcats. The squadron had perhaps the most famously marked Hellcats in the US Navy, totally in violation of official Navy policy, with a distinctive "hellcat shark mouth" that was designed by three of the VF-27 pilots (Stambook, Brown, and Robert Burnell) during their training at Kahilui Naval Air Station in Hawaii in March - April 1944. During this deployment the squadron scored 136 aerial victories, with the majority occurring on three days. These included 30 aircraft destroyed on June 19 during the "Marianas Turkey Shoot" that involved four Japanese air strikes against Task Force 58. Stambook scored 4 victories (3 Zekes and 1 Judy) during this action, Shirley scored 2 (Zekes), and Brown scored 1 (Tony). On September 21, VF-27 led a carrier aircraft sweep over Manila, where 38 aircraft were downed. In this action Stambook shot down 3 (2 Tonys and 1 Zeke), Shirley downed 4.5 (3.5 Zekes and 1 Tony), and Brown downed 2.5 (1.5 Hamps and 1 Tony).

The final big action was on October 24 during the interception of a Japanese formation of 80 aircraft attacking Task Force 38 during the Battle of Leyte Gulf. VF-27 downed 36 aircraft, with 5 victories each by Shirley (3 Tojos, Zeke, and Nick) and Brown (5 Zekes). Two other VF-27 pilots also became an "ace in a day" in this battle: Lt (jg) Eugene Townsend and Ensign Tom Conroy. Unfortunately a lone Judy was missed and it dropped a bomb on the flight deck of the USS Princeton, which was gutted by fire and explosions, and sunk by a torpedo from the light cruiser USS Reno seven hours later. Nine VF-27 pilots and Hellcats (out of 24) were still airborne when the Princeton was hit, and they landed aboard other carriers. Few pictures exist of VF-27's "shark-mouthed Hellcats," as they went down with the ship. One famous surviving photo shows a damaged F6F-5 (White 7, with 164 holes) flown by wounded Carl Brown landing on the USS Essex while the Princeton can be seen burning in the background. White 7 - named "Paper Doll" - was actually Ensign Bob Burnell's aircraft. On these new carriers, the hellcat shark mouths were painted over within a few days.

VF-27 was reformed and served aboard the USS Independence in July - September 1945. Shirley later commanded VF-82 in 1955-56, was promoted to captain in 1962, and retired in 1968. Stambook served with VBF-98 from November 1944 to September 1945, and then transferred to the Reserves, serving there until 1959, and became a TWA pilot. Brown served in multiple leadership roles until he retired in the rank of commander in August 1962.

Pictures of VF-27 Hellcats and Insignia:

1. Pilots of VF-27 in front of a "Hellcat-Mouthed" F6F-3 at Maui in May 1944 prior to deploying, Shirley is in back row,
first from right. Stambook is in back row, 4th from right. Brown is in front row, 5th from right.

2. Insignia of VF-27 showing "Hellcat" superimposed over F6F cowling

3. & 4. Lt Carl Brown landing damaged F6F-5 White 7 on the USS Essex with USS Princeton burning in the background

5. Profile of Hellcat Mouth depicted on F6F-5 Hellcat (overall FS 15042)

Pictures of USS Princeton (CVL-23):

1. USS Princeton underway on shakedown cruise in May 1943

2. USS Princeton underway with Hellcats and Dauntless aircraft on stern deck

3. USS Princeton burning after the 24 Oct 1944 air attack in Leyte Gulf

4. Bow view of burning USS Princeton with USS Birmingham alongside.

5. & 6. VF-27 Hellcats parked at bow of the burning ship

7. Damage to midship area of the carrier.

My three VF-27 Hellcat models in the Aces Gallery display at the USAF Academy are a mix of Hasegawa, Italeri, and Revell kits, all in 1/72 scale. Decals are either numbers pieced together from Microscale/Superscale Hellcat sheets or from the kit. Hellcat "White 23" is Shirley's F6F-3 aircraft. "White 17" is Stambook's F6F-3 aircraft. These F6F-3's had the tri-color paint scheme of Dark Sea Blue (FS 35042), Intermediate Blue (FS 35189), and Insignia White (FS 37875) on the undersurfaces. "White 9" is Brown's F6F-5, which was one of six F6F-5 replacement aircraft received by VF-27 prior to the Leyte Gulf campaign. These aircraft were Dark Sea Blue (FS 15042) overall. Note that on these replacement F6F-5's that the eyes did not have the blood-shot streaks included (although the kit decals have them), or the red drops of blood below the corners of the mouth, as they did not show up from a distance and were too hard to paint. All paints used were from Model Master.

Pictures of Lt Shirley and model of his F6F-3 Hellcat "White 23"

1. Lt James "Red" Shirley

2. - 4. Three views of "White 23" on 24 Oct 1944

Pictures of Lt Brown and model of his F6F-5 Hellcat "White 9"

1. Lt Carl "Brownie" Brown, Jr.

2. - 4. Three views of "White 9" on 24 Oct 1944

Pictures of Lt Stambook and model of his F6F-3 Hellcat "White 17"

1. Lt Richard Stambook

2. - 4. Three views of "White 17" on 24 Oct 1944

Sources:

Markings of the Aces - Part 2 U.S. Navy, by Richard Hill

U.S. Navy Fighter Squadrons in World War II, by Barrett Tillman

Hellcat Aces of World War II (Osprey Aircraft of the Aces #10), by Barrett Tillman

Stars and Bars - A Tribute to the American Fighter Ace 1920-1973, by Frank Olynyk
---
El Alamein - 75th Anniversary
by Tony Humphries
Setting the scene:
The two battles fought in the area of El Alamein, a small rail stop in the middle of the Egyptian desert, between July and November 1942 marked the turning of the tide of the conflict in North Africa. Indeed, combined with the more or less simultaneous defeat of the Germans at Stalingrad, it marked the beginning of the end for the Germans and their allies in Europe and the Mediterranean. The war in the desert was a conflict that had begun at the end of 1940 with the Italian invasion of British-occupied territories in Libya and Egypt, which swiftly turned into a complete disaster for Mussolini and the collapse of the Italian forces there. The plight of the Italians forced Hitler to intervene on behalf of his ally, and in April 1941 Rommel and his Afrika Korps arrived in Tripoli to begin over a year of highly mobile warfare in the desert. This was a struggle in which much ground was initially lost by the British, but then recovered, only to be lost again. Rommel added greatly to his reputation as a masterful tactician during 1941 and 1942 and several British commanders were promoted and then unceremoniously removed until Churchill finally settled on Montgomery in July of 1942.
At this point in the desert war, the Germans had advanced to a line roughly 150 miles from Cairo, and Cairo, the Nile Delta, the Suez Canal, and the port of Alexandria would all have been threatened by another German breakthrough. The Axis forces, however, had stretched their supply lines dangerously (many miles back to the ports of Tripoli, Benghazi and the recently captured but heavily damaged facilities at Tobruk) and their men and equipment were both worn out from the fighting across vast open, featureless spaces. El Alamein was a point at which the British under Auchinleck were able to stop the Germans dead, and begin to build up their forces for a major counter-offensive. The desert at this point was only forty miles wide, with the Mediterranean Sea to the North and the impassable cliffs and salt marshes of the Qattara Depression in the South. This prevented Rommel from engaging in his usual flanking attacks and gave the British an excellent opportunity to defend in depth.
So the stage was set for a ferocious battle that was at times reminiscent of the battles on the Western Front nearly thirty years earlier. El Alamein was also noted as the first battle in which large quantities of newly introduced US-supplied armor, particularly the Sherman (both the M4A1 or Sherman II and the M4A2, known in the British army as the Sherman III) along with the M7 Priest 105mm self-propelled gun featured. Both of these vehicles were warmly welcomed by the British army at the time as they proved to be a significant improvement on the aging and weakly armed British Cruiser and Infantry tanks and the initially useful but still somewhat flawed M3 Grant and Lee.
El Alamein also marked the debut of the British Churchill tank and the widespread adoption of the 6-Pounder anti-tank gun as a long overdue replacement for the chronically outdated and feeble 2-pounder. Rommel, in his turn had the new Panzer IV Ausf F2 in his armory, but only around thirty of these were available for the battle and his troops were desperately short at this stage of the conflict, of fuel, food and ammunition. He also received limited quantities of the Marder III, whose captured Soviet 76.2mm gun was a welcome addition to the Afrika Korps's firepower. These new vehicles could do little to turn the tide, however - given the supply shortages and the huge build-up of equipment on the British side, there could really only be one winner.
The Ground War
The 1st Battle of El Alamein began on July 1, 1942, after Rommel had won significant victories at Gazala and Mersa Matruh. Rommel, in buoyant mood despite being aware of the shortages that his forces faced, decided to try one more attack to try and decisively break the British line and move on towards the Nile and the oil fields of the middle east, beyond. The Germans attacked but were stopped, and after a counterattack by the British and Commonwealth forces under Auchinleck, the following day (which also failed) a stalemated battle of attrition developed and lasted until July 27, when both sides called a halt and tried to consolidate their existing positions. This was easier for the British since their supply lines were shorter and they held much of the high ground, but unfortunately for Auchinleck, although he had stopped Rommel, he had failed to defeat him and this cost him his job. Churchill replaced him with Bernard Law Montgomery (aka "Monty") who immediately began to rebuild 8th Army both in terms of morale and equipment in readiness for the offensive against Rommel that Churchill was loudly demanding.
The 2nd Battle of El Alamein began in earnest on October 23, 1942, and lasted until approximately November 11, although much of the fighting had petered out a week or so before. Montgomery had learned much from previous British defeats at the hands of Rommel and was determined to build up a substantial force before attacking. He also realized that although he outnumbered Rommel significantly in numbers of tanks, 8th Army's traditional strengths lay in its artillery and infantry arms and he was determined to play to those strengths.
Thus, 2nd Alamein began on the night of October 23 with a colossal British artillery barrage of over 800 guns, unlike anything seen since the Western Front in WWI. Rommel had taken advantage of the lull in fighting also and although he had not received anything like the reinforcements that Montgomery had, he had received some, and in addition had spent much time laying complex minefields to hinder the expected British advance. These were to play a major role in the ensuing battle.
Under cover of the initial bombardment, British sappers had been tasked with clearing paths through the German mines, which were up to five miles wide in places, but going was slow due to both their complexity and density. German artillery and anti-tank guns were also well-sited to cover any potential breaches in this defensive layer. The initial plan called for a diversionary Allied attack in the South with the main thrust in the North. "Operation Lightfoot," as it was called, was the code name for the initial infantry attack - the intention being that the infantry would attack through the mines but the soldiers would be too light to set off German anti-tank mines, hence the name. Initially it did not succeed, however, due to the volume of the minefields and the failure by the sappers to clear enough 24-foot wide paths for the tanks to follow up behind. Even at 24 feet wide, the paths were only wide enough for tanks to pass in single-file, and one stalled, broken-down or destroyed tank held up the entire advance in that sector. After the second night, Lightfoot was called off.
Instead, Montgomery then launched "Operation Supercharge." Australian infantry formed the initial part of this and fought with such ferocity that Rommel was forced to move many of his remaining Panzers to prevent them breaking through on their own. At the same time, however, Montgomery was moving his British and New Zealand infantry to the south of this developing battle and they took Rommel by surprise. Fortunately for him, a developing sandstorm caused much of the supporting British armor to get lost and they became easy targets for the German gunners. Both 9th and 23rd Armored Brigades for example (the former including my own old local regiment, The Royal Wiltshire Yeomanry, and thus sparking my interest in the battle to begin with) cleared the German minefields in front of the Rahmen Track on the Germans' left flank, just as the sandstorm was ending and just as dawn was breaking. As a result they were beautifully silhouetted against the dawn and directly in front of the German defensive gun line. With little choice, they hastily organized themselves and charged headlong at the German positions, much like the Light Brigade charged the Russian guns in the Crimean War almost a century before. The result was similar - 9th Armored had 123 tanks at the beginning of the charge. They lost 102 of them, but they broke the German line and the result thereafter was no longer in doubt. The British had many more tanks than the Germans and pushed them forwards as the Germans began a fighting retreat. By November 2, it was clear to Rommel that the battle was irreconcilably lost and on the 4th, in direct contradiction of Hitler (who had ordered them to fight to the last man, as usual...), he pulled his men back and began to retreat towards Tunisia.
Rommel was shortly to be caught in a battle on two fronts now, with the Allied invasion of Morocco and Algeria (Operation Torch) taking place simultaneously and despite skillful defense, Rommel and the Afrika Korps's fate was effectively sealed.
Several ASM members have chosen to mark the 75th anniversary of this momentous occasion by conducting an informal group build. Pictures of some of the significant vehicles and aircraft involved are posted at the end of this article. It is worth noting that this description of the battle is a very simplified one - a blow-by-blow account would take an entire book to write and indeed many have already been written on the subject. If you would like some further reading on the subject, some of the following may prove useful:
Alamein by Simon Ball (published by Oxford University Press)
Destiny in the Desert by Jonathan Dimbleby (published by Pegasus)
Pendulum of War by Niall Barr (published by The Overlook Press)
El Alamein by Bryn Hammond (by Osprey Publishing)
And many, many more...
Descriptions of photos above, left to right:
Afrika Korps 8mm Flak 37. Originally an AA gun, the "88" had already earned a fearsome reputation as a tank killer by the time of the El Alamein battles. Kit: 1/35 Tamiya; built by Tony Humphries. Photograph and effects by John Tate.
German Panzer II Aust F (front) and Panzer III Ausf L (back). Both tanks were still in regular use at this period of the war. The Panzer II was primarily used for recon due to its weak armor and gun. The Panzer III was still a match for any Allied tank on the battlefield. Kit: Tamiya 1/35 (both). Panzer II built by Aaron Kreltszheim and John Tate. Panzer III originally built by Don Alberts, updated and repainted by John Tate. Photograph and effects by John Tate.
Grant advancing head-on. Despite its limitations, the Grant could still be useful and approximately 170 were still in use by the British at El Alamein. Vehicle shown here from Royal Gloucestershire Hussars but attached to Royal Wiltshire Yeomanry for the battle. Kit: 1/32 Monogram. Built originally by Don Alberts, updated and repainted by John Tate. Photo and effects by John Tate.
British Sherman Mk III and Stuart Mk I. By the beginning of the 2nd El Alamein battle, the Sherman was the most numerous tank in the British arsenal with approximately 252 Sherman Mk IIs and IIIs in use. It was a match for any German tank at this time and was warmly welcomed by the British crews. The Stuart was still widely used in a recon role and, although outdated, was also still popular. Kits: Sherman III, 1/35 Italeri base and Legend resin conversion; Stuart, 1/35 Academy, built by Tony Humphries. Photo and effects by John Tate.
Descriptions of photos above, left to right:
Valentine Mk II of 50th RTR. The Valentine was reliable but weakly armed and armored even for 1942. Nevertheless, it played an important role at El Alamein and was the most widely produced British tank of WWII. Kit: 1/35 Tamiya, built by Larry Horyna. Photos by Larry Horyna.
Desert Encounter - a British Stuart Mk I from 8th Hussars meets an abandoned Panzer IV Ausf F1 from 21st Panzer Division. 8th Hussars were the only British unit entirely equipped with the Stuart. The Panzer IV Ausf F1 was the last version built with the short-barreled 75mm gun, which was obsolete for tank v. tank combat at this stage of the war. Rommel was fast running out of these, with only eight still in use at El Alamein.
Descriptions of photos above, left to right:
Rommel's fuel situation was critical by the time of Second Alamein, thanks to RAF success in sinking supply ships bound for North Africa. Luftwaffe Field Marshal Kesselring ordered Ju-52 transports to make a maximum effort to supply the Afrika Korps, but these aircraft could bring in only a trickle of what was needed - the fate of the Axis forces therefore was already sealed with the battle commenced. Kit: HO Scale Airpower 87, built by John Tate. Photos and effects by John Tate.
The Luftwaffe had lost its chance for air superiority by the time of Second Alamein; its primary attack plane was the Ju-87B Stuka, which faced intense opposition from Allied fighters and anti-aircraft guns and was often ineffective against well-camouflaged, widely-spaced targets in the Western Desert. Escorting these vulnerable aircraft was a primary occupation of the Luftwaffe's hard-pressed fighter force. Kit: 1/48 Hasegawa, built by John Tate. Photo and effects by John Tate.
Hawker Hurricanes were still very much frontline aircraft during Second Alamein, although with Spitfires finally available for fighter vs. fighter combat, Hurricanes were used increasingly for ground attack duties and guarding rear areas from Luftwaffe bomber raids. Kit: 1/48 Hasegawa, built by John Tate. Photo and Effects by John Tate.
The last thing any panzer commander wanted to see: a Hurricane IId hurtling towards him with both 40mm cannon blazing. With escorting Spitfires for top cover, RAF Hurricane IIds were devastatingly effective against - German panzers and softskins, hounding the Afrika Korps from Alamein to Tunisia.
Although the US supplied significant quantities of equipment to the British in North Africa, there was very limited combat involvement by US forces at El Alamein and it was really confined to the air war. The P-40F shown here constitutes part of that effort.
Photo and Effects by Mike Blohm.
Mike Blohm adds:
The pictures below depict the Curtiss P-40F-1 Warhawk flown by 1Lt Roy "Deke" Whittaker during the Battle of El Alamein. Whittaker was a member of the 65th Fighter Squadron (FS) "Fighting Cocks" of the 57th Fighter Group (FG) "First in the Blue." The 57 FG, which also included the 64th FS "Black Scorpions" and 66th FS "Exterminators," flew close support missions for Allied ground troops and escort missions for RAF bombers during the battle. Whittaker downed an Italian MC.202 fighter for his first aerial victory on October 26, 1942, on one of these missions. He scored seven total victories to become the top ace of the 57 FG. The 57 FG flew off the carrier USS Ranger into North Africa on July 19, 1942 - Whittaker was the second pilot to launch off - and arrived in the Egyptian desert west of Cairo on July 30. The 57 FG saw its first combat operations on September 19 under the RAF's 239 Wing. The 57 FG's motto "First in the Blue" has several meanings, including being the first USAAF fighter group to go into action in North Africa. Additionally, "The Blue" was the RAF's Desert Air Force's (DAF) slang for the vast areas of the North African desert stretching west from Cairo. At the time of the Battle of El Alamein the 57 FG and its three P-40 squadrons were detached to No. 211 Group of the RAF's Western DAF along with the USAAF's 12th Bombardment Group and three of its four B-25C Mitchell squadrons (82, 83, and 434 Bombardment Squadrons). The 81 BS was not detached to the WDAF. Some trivia of note: Capt Phillip Cochran, the commander of the 65 FS, was the prototype for Milton Caniff's comic strip characters Flip Corkin in "Terry and the Pirates" and the title character in "Steve Canyon." Caniff also designed the 65 FS's "Fighting Cock" emblem, which is depicted on the nose of Whittaker's aircraft, based upon the squadron's feisty Rhode Island Red Rooster mascot "Uncle Bud."
This model is the 1/72-scale Special Hobby P-40F "Short Tails Over Africa" kit, which includes decals for a 64 FS aircraft. The aircraft is finished in the "desert pink" camouflage scheme on the upper surfaces. Whittaker's aircraft and personal markings were accomplished by use of multiple after-market decal sheets and hand-painting. A separate kit review article will cover the build of the model and the problem areas encountered. Model and pictures by Mike Blohm.
---
US Marine Corps Aces at Guadalcanal Island
by
Mike Blohm
This article commemorates the 75th anniversary of the invasion of Guadalcanal Island in August 1942. This article is about two of the US Marine Corps (USMC) aces that flew in the battles over Guadalcanal and models of their F4F-4 Wildcat aircraft: Major John L. Smith, who was with the original "Cactus Air Force" in August - October 1942; and 1st Lieutenant James E. Swett, who served there beginning in March 1943. But first, here is a bit of history on the invasion and the situation they flew in. Pictures are included below.
Operation Watchtower
T
he Guadalcanal Campaign, also known as the Battle of Guadalcanal and codenamed Operation Watchtower, was a military campaign fought between 7 August 1942 and 9 February 1943 on and around the island of Guadalcanal. On 7 August 1942, the First Marine Division landed on Tulagi and Guadalcanal at Lunga Point, capturing the partially completed Japanese airfield and marking the first counter-offensive taken by the Allies during in the Pacific Theater. More construction work began on the airfield immediately, mainly using captured Japanese equipment. On 12 August, the airfield was renamed Henderson Field, for Major Lofton R. Henderson, who was the first USMC pilot killed during the Battle of Midway. Henderson Field was ready for operations on 18 August.
On 20 August, Marine pilots from Marine Aircraft Group (MAG) 23 with eighteen F4F Wildcat fighter planes of VMF-223 led by Major John L. Smith, and a dozen SBD Dauntless dive bombers of VMSB-232 led by Lt. Colonel Richard Mangrum, flying from the escort aircraft carrier USS Long Island, landed at Henderson Field, and these warplanes were conducting combat missions on the next day. They were joined on 22 August, by the US Army's 67th Pursuit Squadron with five P-400s (export version of the P-39), and on 24 August by eleven SBD dive bombers that came from the USS Enterprise because they were unable to land on their own carrier, with battle damage sustained during the Battle of the Eastern Solomons.
At the end of August, these warplanes were joined by nineteen more Wildcats from VMF-224 under Major Robert E. Galer, and twelve more SBD dive bombers from VMSB-231, also part of the MAG-23. This group of Marine, Navy and Army pilots and warplanes was the beginning of what became referred to as the "Cactus Air Force." Cactus was the allied code name for Guadalcanal Island.
From 3 September to 4 November 1942, the Cactus Air Force claimed 268 Japanese planes downed in aerial combat. Six USMC aviators won the Congressional Medal of Honor for their actions in the Battle of Guadalcanal, including Smith and Swett. The great majority of the Japanese aircraft were from Imperial Japanese Navy air units. The fifteen Marine combat squadrons that fought on Guadalcanal during this time had 94 pilots killed or missing-in-action, with another 177 evacuated with wounds or with sickness, especially severe malaria.

USMC pilots depicted in the far right photo above include: Maj John L. Smith, Maj Robert E. Galer, and Capt Marian E. Carl (left to right). Carl's Wildcat, White 2, is depicted in the fifth photo from the left.
Major John L. Smith
Major John L. Smith was the commander of VMF-223 "Bulldogs" from May - December 1942 and led the squadron to Guadalcanal on 20 August 1942. Smith was originally a 2nd Lieutenant in the US Army but resigned that commission to accept the same rank in the USMC and completed training as a Naval Aviator in 1939. Smith was the second-ranking ace at Guadalcanal (behind only Joe Foss) and scored nineteen victories - half of them Zeros - between 21 August and 10 October 1942. He scored four kills on 30 August 1942 (all Zeros) over Guadalcanal, and also had four "doubles." His victories included instances of six kills in two days (29 - 30 August), and six kills in four days (10 - 13 September). He was shot down once on 2 October, bailing out and returning immediately. VMF-223 was relieved on 12 October and returned to the United States. The model of his Wildcat - White 16 - depicts the aircraft he flew on at least two of his victory-scoring missions. This is the 1/72 scale Hasegawa kit. Smith was awarded the Medal of Honor by President Roosevelt on 24 February 1943. The wording of his citation included:
"Repeatedly risking his life in aggressive and daring attacks, Major Smith led his squadron against a determined force, greatly superior in numbers, personally shooting down sixteen Japanese planes between August 21 and September 15, 1942. In spite of the limited combat experience of many of the pilots of this squadron, they achieved the notable record of a total of eighty-three enemy aircraft destroyed in this period, mainly attributable to the thorough training under Major Smith and to his intrepid and inspiring leadership.
"
S
mith was later the only USMC ace to command a Marine Air Group (MAG-32) and to receive a Legion of Merit in WWII. During the Korean War he commanded the 1st Marine Air Wing from July 1953 - February 1954. He retired in September 1960 as a Colonel, and worked for both Grumman Aerospace and Rocketdyne (North American Rockwell), and died in 1972. Smith is the 21st-ranking American ace (tie), and 6th-ranking USMC ace.
1Lt James E. Swett
Lt James E. Swett became a Naval Aviator in April 1942 and was a member of the VMF 221 "Fighting Falcons" when it deployed to Guadalcanal Island on 16 March 1943. On 7 April 1943, Swett scored seven kills and one damaged (all Vals) in fifteen minutes during his first air combat, before being himself shot down by either the rear-gunner of the eighth Val he attacked (and believes he did shoot down) or by friendly anti-aircraft fire, and having to ditch. This seven-victory feat earned Swett the Medal of Honor. The model of his Wildcat - White 77 - depicts the aircraft he flew on this mission. This is the 1/72 scale Hasegawa kit. Swett flew three combat tours with VMF-221 at Guadalcanal in March - November 1943, during which he scored 14.5 victories - seven in the F4F and 7.5 in the F4U-1 Corsair. He had 2.5 kills (two Betty bombers and 0.5 Zeke) on 30 June, and a "double" on 11 July (Betty and Zeke). Swett was presented the Medal of Honor on 9 October 1943 by Maj Gen Ralph Mitchell, the Commanding General of Marine Corps Aviation in the South Pacific. His citation included the wording:
"In a daring flight to intercept a wave of 150 Japanese planes, First Lieutenant Swett unhesitatingly hurled his four-plane division into action against a formation of fifteen enemy bombers and during his dive personally exploded three hostile planes in mid-air with accurate and deadly fire. Although separated from his division while clearing the heavy concentration of anti-aircraft fire, he boldly attacked six enemy bombers, engaged the first four in turn and, unaided, shot them down in flames. Exhausting his ammunition as he closed the fifth Japanese bomber, he relentlessly drove his attack against terrific opposition which partially disabled his engine, shattered the windscreen and slashed his face. In spite of this, he brought his battered plane down with skillful precision in the water off Tulagi without further injury.

"
Swett returned to combat in 1945, again with VMF-221, flying from the USS Bunker Hill. He scored one more victory, a Jill, on 11 May. VMF-221 saw action in the strikes on Tokyo in February 1945 and the Iwo Jima and Okinawa landings, before the Bunker Hill was put out of action by kamikazes on 11 May. Swett was airborne when that attack occurred and had to land on another carrier. Swett left active duty in 1945, and rose to the rank of Colonel in the USMC Reserves. He retired in 1970 and died in 2009. Swett is the 34th-ranking American ace (tie) and the 8th-ranking USMC ace.
F4F-4 Model Build
The Hasegawa 1/72 scale kit of the F4F-3 or F4F-4 Wildcat is a fairly easy build, and accurately depicts the aircraft. There is not much cockpit detail: an instrument panel with decal, a combination floor and side consoles (no decals), a seat, and a stick. I used an F4F-4 instrument panel and seat belt decal from a ProModeler decal sheet in each kit. The one fiddly area is the landing gear, trying to get the support arms to all line up. Both models were finished with Testors Model Master Navy Blue Gray (no FS or ANA number) on the upper surfaces and Flat Gull Gray FS36440 on the lower. The aircraft serial numbers were put together from Aeromaster numbers and letters decal sheets. The name on the rudder of Swett's Wildcat - "Melvin Massacre" - was done with individual letters from a model railroading dry transfer decal sheet, and was quite a challenge on a 1/72 scale model. There were no decal sheets available in 1/72 scale on these heroes when I built these models. Print-Scale has since come out with a F4F Wildcat and Martlet Aces sheet (PS720266) that includes Swett's White 77 scheme.
The other USMC aces that received the Medals of Honor for actions during the Battle of Guadalcanal include Maj Robert E. Galer, Capt Joseph J. "Joe" Foss, Lt Col Harold W. Bauer, and 1Lt Jefferson J DeBlanc. An article on these pilots and their aircraft will be forthcoming. I will be trying some builds with the new Airfix F4F-4 kit to replace models in the USAF Academy Aces Gallery collection built with the old Revell kit from the 1960s.
Sources:
https://en.wikipedia.org/wiki/Guadalcanal_Campaign
https://en.wikipedia.org/wiki/Cactus_Air_Force
https://en.wikipedia.org/wiki/John_Smith_(flying_ace)
https://en.wikipedia.org/wiki/James_E._Swett
---

Remembering Midway
by
John Tate
This month is the 75th anniversary of the Battle of Midway, one of the two most critical battles in US history, the other being the Battle of Gettysburg. Had either of those battles gone the other way, this is not a country we would recognize today. Unfortunately, the American public has largely forgotten Midway, a tiny atoll in the middle of the Pacific Ocean, and as air/sea battles leave no trace of combat, there is no National Military Park that can be visited easily, as is the case with Gettysburg. So we, as modelers, can have a small part in commemorating the guts, skill, luck, and sacrifice of Navy, Marine Corps, and Army personnel who stopped cold the onslaught of Imperial Japan back in 1942.
Midway was a clash of aircraft carriers, and the American planes that decided the battle were SBD-3 Dauntless dive bombers, whose courageous Naval aviators were able to plant 1000-pound ship-killing bombs squarely on the flight decks of the Emperor's best flat-tops - Akagi, Kaga, Soryu and Hiryu. There are some good kits of the Dauntless out there, from Trumpeter in 1/32 scale and Accurate Miniatures in 1/48 scale, but my favorite is the Hasegawa 1/48 Dauntless, which is accurate in outline and the easiest of the three to build.
It's been a number of years since I built the Hasegawa kit but I recall it being a breeze to construct, the only attention spot being the dive flaps, which are molded integrally with the wings and lack perforations. However, rather than removing the kit dive flaps and replacing them with photoetch, I drilled out each perforation with a sharp No. 11 X-ACTO knife, before assembling the wings. It took some extra time but wasn't too difficult and any imperfections were corrected with a little putty and sanding. This method allows the integrity of the wings to be maintained and also provides a more accurate representation of the real aircraft; I've never been a fan of open dive flaps, since this configuration was seen only during maintenance, or when the aircraft dived.
Decal markings for aircraft that participated in the battle are not exactly plentiful but fortunately a new sheet by Starfighter Decals, No 4808, was just released and includes markings for two of the most important Dauntlesses from the battle, both from Enterprise (CV-6): Dick Best's Bu. No. 4687 from VB-6, which killed Akagi, and Bu. No. 4618, flown by Wade McClusky, CAG Air Group Six, who made the fateful decision to follow the wake of a Japanese destroyer that led his dive bombers to the Japanese carriers. I can't imagine a better choice of markings for Dauntless builds.
If you have some models in your stash that would fit a Midway theme, give some thought to building one this month, and take the time to do some research and learn about the battle; this hobby is at its most worthwhile when it gives us pause to remember our fallen, and what they accomplished for us on June 4, 1942, should never be forgotten.
---
---
Book / Movie / Program Reviews
---
Fine Scale Modeler 25 Year Collection DVD
By Ken Piniak
If you are like me, you have a big stash of back issues of Fine Scale Modeler magazines, full or articles and how to tips to help you out with that special model you want to build. Well, now you can throw those away, because FSM has put 25 years worth of back issues, from the first issue in 1982 all the way through 2007, on a 2-disk DVD-ROM set.

You need a computer to run this (PC or Mac) with a DVD drive. There is a lot of material here, as they have literally reproduced every page of every issue, ads and all. Navigating the search system can be a little tricky; they include an insert with installation instructions and helpful tips to make things go a little easier. Once you get the hang of it, searching goes pretty well, and you can find all kinds of stuff. After spending hours looking for a specific article with no luck in my pile, I tried it in the CD and it took about 5 minutes to find it and open it up. That sold me.

The CD set sell for $99.95, and can be purchased directly at finescale.com. At first I thought that the price was a little high, until I realized that today this is just the price of a nice aircraft model. I think it is well worth the price.
---
x
by Don Smith
1942: The Year that Tried Men's Souls
by Winston Groom
Atlantic Monthly Press - New York 2005, 440 pages
This book is a general history of World War II during the year 1942. As you can deduce from the title, 1942 started as a dark year for the Allies. A quarter of the book, at least, deals with Pearl Harbor and 1941. More than half of the book deals with events in the Pacific and Asia. The author admits that events on the Eastern front would require another volume so he does not attempt to cover them. Groom covers the typical 1942 events such as the Doolittle raid, Coral Sea, Midway, Guadalcanal and Operation Torch. Most events are from the United States point of view. There is a little about the Brits and their campaigns.
The interesting parts of the book are the numerous small stories inside these events. The atrocities, code breaking, espionage, and politics are some of the interesting details that make the book very interesting. The book is great for anyone wanting a quick general history of 1942. Most World War II historians might find the book to be too broad. The book could've used a good proofreader, but other than that I will give it 4 out of 5 stars. ****
Now get busy building models for the 1942 anniversary contest!
---
by Don Smith
Armored Thunderbolt: The U.S. Army Sherman in World War II
by Steven Zaloga, Stackpole Books, 2008
Great book for you treadheads! Don't let the title fool you, every U.S. WW II tank is discussed in this book although Shermans are the main focus. Steven Zaloga knows what modelers want and he delivers. The development of the Sherman tank is followed thoroughly. Each Sherman model and variant is discussed in easy reading, heck, even I got through this book in a couple of months.
An interesting theme throughout the book is Zaloga explores and explains the rationale of the Sherman. There was some messed up thinking going on in the Ordinance department. The development (or lack of) is covered from the beginning through the Cold War and the Mid-East. Something I learned was the Sherman was the preferred tank in Korea once the Pershings eliminated the T-34 threat.
Some of this stuff is very tedious but still interesting. What percentage of Shermans was lost to infantry AT weapons versus direct tank on tank combat in 1944? What was the main cause of Sherman losses in 1944? In 1945? You get the picture.
Overall this book is a reference must for every Allied armor modeler. It explains the different models, the British variants, the different weapons and above all-plenty of photos, detailed photos for modelers. Zaloga has included plenty of Tables, some drawings and an excellent bibliography. In fact he titles his bibliography as the "Bibliographic Essay." This is the best armor book I'"e read since "Death Traps."
I give this book five out of five stars. * * * * *
---
by Don Smith
The Jolly Rogers: The Story of Tom Blackburn and Navy Fighting Squadron VF-17
by Tom Blackburn with Eric Hammel
Zenith Press, 1998 (1st edition) • 270 pages
I'm reviewing a book that keeps in theme with next month's sponsored F4U Corsair contest.
Get those gull-wing birds ready; remember, anything goes as long as it's an F4U.
I didn't think I would like this book so I sent it to my Dad, he's an old sailor. He liked it enough he sent back for me to review. It is a good book worth a look if you're interested in the Pacific Theatre and dogfighting. Tom Blackburn's cocky pilots were castoffs from other units. Together they worked out to become the top Navy fighting squadron during VF-17's short time in the Solomon Islands and Bougainville area of the South Pacific. The fighting was brutal and the attrition rates high. VF-17 would've been wiped out by attrition if they didn't develop new tactics.
This book is a quick read. I tired a little of Blackburn's bragging, but hey, he earned the right. From a modeler's perspective it was interesting that they started out flying F4U-1's and by the time they reached combat they had F4U-1A's. If you have a Tamiya F4U-1/2 model, you will notice that there are markings for a VF-17 F4U-1 with four kills; what gives? You can also read about putting a bomb rack on the Corsair and why you have to be careful about showing an early Corsair with a bomb rack. I think somebody noted that Tamiya made the mistake of putting a bomb rack on the wrong plane. Now go build those F4U's for next month.
I would recommend this book for any Corsair or Naval Aviation fan or student of the Pacific Theatre. There are some interesting photos and a few maps, but the appendix does not show the final number of planes shot down by VF-17's pilots (by the way, the Tamiya kit with the markings for four kills is for a pilot who had shot down four Japanese planes at Guadalcanal while flying F4F's; the actual F4U-1 with the four kill markings did not see any combat and the pilot left VF-17 as soon as he finished the first tour).
I can't find many faults with the book. I liked it. I picked up my copy at Borders for $17.95 before I applied my coupon discount. I'll have to give it four out of five stars. ****
Webmaster's Addition:
If you would like to build a VF-17 "Jolly Rogers" Corsair - note pirate flag emblem on the nose - here are some decal sheets for you to check out:

EagleCals EC#20 "VF-17 Jolly Rogers" (in both 1/72: 72020 and 1/48: 48020) has five different schemes, including Tommy Blackburn (model depicted below),
Roger Hedrick, James Streig, Butch Davenport, and Doris "Chico" Freeman.
Eagle Strike Productions' # 72013 "Pacific Corsairs" has two VF-17 schemes: Ira Kepford (top VF-17 ace) and an early F4U-1 (BirdCage) aboard USS Bunker Hill.
Eagle Strike Productions' # 48093 "Corsair Collection Part 3" has two VF-17 schemes: Doris "Chico" Freeman and Merl Davenport.
SuperScale # 72-701 has one VF-17 scheme for Tommy Blackburn.
SuperScale # 72-856 has two VF-17 schemes: Doris "Chico" Freeman and Merl Davenport.
SuperScale # 72-857 has one VF-17 scheme for Thomas Killefer.
Techmod # 72018 has two different VF-17 schemes for Ira Kepford (Corsair profile depicted below).
Recommend "Corsair Aces of World War II" by Mark Styling (Osprey Aircraft of the Aces) for additional information.
Here's Tommy Blackburn's F4U-1A Corsair # 1 "Big Hog" - Model by Mike Blohm (Hasgawa 1/72 scale kit):
Ira"Ike" Kepford's F4U-1A # 29
---
by Don Smith
Wildcat: The F4F in WWII
By Barrett Tilman • Naval Institute Press, 1990 (2nd edition)
I've been on vacation as the unofficial ASM Book Reviewer. A long summer with 2- and 4-year-old girls will keep you pretty busy.
All right, this isn't a new book, as it has been around for 17 years. It is a very good book, worth a look, and still is selling on the Borders bookshelf. I've always been fascinated by the F4F and how it held the Japanese Zeros at bay during the first year of World War II. I'm amazed by the stories of pilots Joe Foss, "Butch" O'Hare, "Indian Joe" Harold J. Bauer, and Marion Carl.
This book is well thought out in layout and is enjoyable to read. You are not going to read endless verse on how the Wildcat evolved from the Grumman biplanes and the attributes of each model biplane, etc. etc. The book gives a quick rundown on the different models of Wildcats and some of the strengths and weaknesses. For instance, you'll learn why the -3 was considered to be better than the -4 in combat.
What I liked about this book was how it went through each major battle in chronological order and discussed the Wildcat's role in each battle. Don't expect a whole chapter to tell you the difference between the models -3 and -3a—this book reads fast.
I would recommend this book for any Wildcat fan or student of the Pacific Theatre. There are many interesting photos, stories and helpful appendices. It is a well-written quick read, and I can't find any faults with the book. I have read a couple of other books on the Wildcat and I would say by far this is the best. As I said, I picked up my copy at Borders for $19.95 (before I applied my coupon discount). Now if I can only lay my hands on a copy of Tillman's Corsair book… I'll have to give this five out of five stars. * * * * *
---
by Don Smith
The Bedford Boys
By Alex Kershaw • DaCapo Press, 2003
I don't know what's wrong but I seem stuck in the western European theatre of war. I read on the back of this month's book that this book is based on the true story that inspired the movie Saving Private Ryan. —D. Smith
This is a pretty sad story of bunch of guys who get cut down in the first wave on Omaha beach on D-Day. All the men in the company were originally from the same small town or surrounding area of Bedford, Virginia. These men had joined their local national guard during the great depression. This book is about the men who made up Company A, of the 1st Battalion, 116th Infantry Regiment of the 29th Infantry Division. The 116th was from Virginia and was known as the "Stonewallers," a name earned during the Civil War.
The men of the 29th are sent to England and become known as "England's Own." They are eager to face battle and get more than enough when they land on Omaha Beach's Dog Green section. They quickly get cut down and much of the book tells the stories of these men's families and how they cope. The book is interesting in showing how America lived prior to and during the war. The last book I read and reported on was about the 761st Tank Battalion, an all-black unit who fought in the racially segregated U.S. Army. The interesting and sad thing about this book is that these were the men who lived in the segregated south. You can draw your own conclusions, but it seemed to me that neither "side" was much different from their neighbors.
The book has interesting stories but not much to recommend for the modeler unless you are inspired to do a D-Day model. Don't count on photos of much military hardware. I picked up my copy on sale a year ago at a Border's "3 for 2" sale. Normally the retail price is $14.95 for the softbound edition. I'll give it a rating of three out of five stars. ***
---
by Don Smith
Brothers in Arms
By Kareem Abdul-Jabbar and Anthony Walton • Broadway Books. 2004
Keeping with the European theatre of war "theme," this month's book starts with the Lorraine campaign as my companion to last month's Lorraine 1944: Patton vs Manteuffel book. - D. Smith (See Archived Articles page for this book review - WM)
This is a pretty interesting book about the men who fought in tanks and their stories. What makes this different is that the 761st Tank Battalion is an all-black unit formed when the army was racially segregated. This book is co-authored by basketball legend Kareem Abdul-Jabbar, who has a personal connection to the unit.
The men of the 761st faced many obstacles at home and on the front. There are lots of individual stories about the fierce fighting this unit faced. The 761st was never intended to fight in the war and was more of a publicity stunt in the racially segregated U.S. Army. With the high casualty rate facing the U.S. armored units, the 761st was needed in Europe. Despite being a racist by today's standards, Patton and the 761st seemed fond of each other. When an infantry commander ordered the 761st tanks into a virtual suicide mission, Patton wanted to know who got "his" tanks killed, and the commander was never heard of again. The 761st was an independent tank battalion with 76mm M4A3 Shermans. The unit was attached to various infantry units to provide armor support. As you may suspect, this led to friction, because infantry commanders did not know how to use tanks and also each infantry unit had initial prejudices against an all-black unit. Like all the other armor units, regardless of race, the 761st saw some brutal and bloody action.
The book has interesting stories, both on and off the battlefield, including one about Jackie Robinson. I recommend this book based on the great stories and to get an idea of what individual combat was like in this theatre. The book does not get any points for historical accuracy (what is a Mk. IV Panther?). There also aren't many photos for modelers although there are some shots of Shermans. I picked up my copy on sale a few years ago when Hastings was closing one of the Santa Fe stores. Normally the retail price is $24.95.
I'll give it a rating of three out of five stars ***
---
This is an unusual review in that it is about a TV show. Dogfights is an hour-long series on The History Channel, airing on Friday nights. There are usually reruns during the week on Wednesday nights.

Dogfights

is absolutely terrific. Modelers will especially appreciate the show because you get a dose of history – some of which you may not have heard before; an introduction to basic fighter maneuvers and air combat tactics; and the aircraft and ships are depicted (unbelievably) in accurate colors and markings. Yes, I did say "ships". Ship-to-ship combat is included in the series as well as air-to-air combat.

Each episode covers a specific theme and includes several different notable dogfight engagements that fit the theme. A short history of the aircraft involved is given, including a comparison of strengths and weaknesses. The show "Zero Killers" was F6F Hellcats versus A6M Zeros and featured engagements by Robert Duncan, Hamilton McWhorter and Alexander Vraciu. The show "Air Ambush" covered Operation Bolo in Viet Nam where F-4 Phantoms masqueraded as F-105 Thunderchiefs to lure the MiG-21s into combat. Robin Olds planned and led Operation Bolo, and the show featured his engagements from both World War II in the P-38 and in Bolo itself.

What makes Dogfights really unique is that computer animations are used to show how the aerial engagements were fought, interspersed with narration from the actual participants – a lot of "there I was…" When the actual participants are no longer with us, a historian fills in with the story. The action will often stop while the narrator diagrams the fight with who is where, and what the options might be - should he climb, dive, continue ahead, break left or break right? This is followed by what really occurred, for better or worse.

Season one had eight shows, including four from World War II, one from Korea, and three from Viet Nam. Season two is now underway and those shows have been great too.

Highly recommended viewing, which I think you'll enjoy. And as a true nit-picker model builder, I did notice a few markings that weren't quite entirely correct…

For further details go to the History Channel website at: http://www.history.com/minisites/dogfights
---
by Don Smith
Lorraine 1944 Patton vs Manteuffel
By Steven J. Zaloga • Osprey Publishing Ltd., 2000
Last month's book was Operation Cobra, so the Lorraine campaign is a good followup book. - D.Smith
Once again, an Osprey Campaign series book is our subject. And again, lots of maps, artwork and interesting photos about the campaign are packed into 96 pages.
Last month we looked at Operation Cobra, which got the U.S. Army out of the Normandy hedgerows and into Paris. T he Lorraine campaign was based on Hitler's belief that a violent panzer attack against Patton's Third Army would prevent the 12th Army Group and the 6th Army Group from linking up, and also prevent Patton from entering Germany's Saar region. Hitler used General Hasso von Manteuffel from the Eastern Front to lead the counteroffense. The Allies were facing critical logistical problems and feuds between American and British commanders. The Allies then committed to Montgomery's Operation Market Garden, thus severely limiting Patton in the Lorraine area. The ensuing tank battles in the Lorraine have been described as the largest and most violent series of battles for U.S. armored forces in Europe for the entire war (I would have guessed that honor would've gone to the Battle of the Bulge).
Basically, every time the Germans attacked they were ripped apart by the Americans and the French 2nd Armored Division. Hitler had put too much faith in his newly-formed panzer brigades.
Manteuffel fights his battles like he is on the Eastern Front with disastrous results for the Germans. The battle ends in a stalemate with Patton holding onto some valuable real estate, and he makes a big splash later in the Ardennes. The Germans stabilize a defensive line in front of the West Wall and Hitler makes plans for Operation Wacht-am-Rhein.
I liked the book for its inspiration for armor models or dioramas; I found the book otherwise a little sterile. I'm also reading another book about an armored unit involved in the fighting and you don't get the idea of how desperate and violent the battles were from reading the Osprey book. Don't expect detailed personal accounts of the campaign. This book's coverage is very broad and therefore a must for anyone interested in the Lorraine campaign. There is also a reading list near the back of the book. An interesting fact is that the author is also a modeler; you can view some of his work on the web.
This book is softbound and I picked up a copy at Borders for about $19.00. I'll give it a rating of three out of five stars. ***
---
Book Review
by Don Smith
Operation Cobra 1944
Breakout from Normandy
By Steven J. Zaloga • Osprey Publishing Ltd., 2001
I wasn't going to review Osprey books. I found glaring inaccuracies in the first Osprey book I read—Pearl Harbor 1941. Since then I found the Osprey books are a quick and dirty way to learn about a particular battle that interests me. - D. Smith
What can I say? This is a typical Osprey Campaign series book; lots of maps, artwork and interesting photos about Operation Cobra packed into 96 pages. Despite the fact this is an English book company there are no disparaging remarks about Patton's bad teeth and DeGaul's pigheadedness. Nor does it talk about the great job Montgomery did holding down the German Panzer Divisions around Caen. What you get is a concise history of Operation Cobra. Just the ticket if you're pressed for time.
In short, Operation Cobra was the battle to get the allies out of the Normandy hedgerows and into a more open area where they could use their numerical advantage in armor to race to Germany. The campaign started in July 1944 in Normandy and ended in August when Paris was liberated. During this time the Germans were never successful in getting off a counterattack against the American spearhead. George S. Patton was brought off the bench and given the U.S. Third Army to command. He takes off and the rest is history. One of the things I learned was he might have sealed off the Falaise pocket but was redirected away by General Omar Bradley. I also learned that Culin hedgerow cutters were not as widely used as legend suggests.
I liked the book and found full of helpful photos for the modeler. I've been working on a diorama of the 2nd Armor Division with troops in camouflaged uniforms and an M-5 with the Culin hedgerow cutter. I had doubts this would be accurate but the photos prove I'm on the right track. Don't expect detailed personal accounts of the campaign, this book is very broad. There is also an informative reading list at the back of the book. The book is softbound and I picked up a copy at Borders for about $19.00.
I'll give it a rating of four out of five stars. ****
---
Book Review
by Don Smith
Cutthroats
The Adventures of a Sherman Tank Driver in the Pacific
By Robert C. Dick; Presidio Press, 2006
I'm going to the Pacific Theatre for this month's book review. I had to read this after hearing there will be a sponsored Best Sherman contest this year. Thanks -Don Smith
This is a very interesting book about the Leyte and Okinawa campaigns from a tank driver's point of view. Robert Dick is a National Guardsman from California who gives up his Sergeant's stripes in the infantry to become a private in armor. He is assigned to the 763rd Tank Battalion, attached to the 96th Infantry Division. The book is divided into eight parts and 56 chapters, but is only 247 pages long—go figure. Dick's book is fast, entertaining and easy to read.
Like all personal account books, the first one-fourth to one-third of the book tells about pre-war, boot camp and training. Dick talks about the nuances of operating, fighting with, and living in a Sherman tank. There are interesting stories about running over decomposed Japanese soldiers and then having to sleep under the tank that night, and how to relieve one's self while on patrol. A couple of interesting tidbits of information I learned was how highly regarded the Japanese 47mm antitank gun was, and that the US hospital in Guam was the largest in the world at that time. There very few photos in the book and these are very small.
I liked the book just because I've become interested in Shermans lately and would recommend this book to Shermanolics. Don't expect detailed descriptions of the campaigns, all Dick talks about are his personal stories. The book is paperback and I picked up a copy at Borders for about $7.00.
I'll give it a rating of four out of five stars. ****
---
Book Review

by Don Smith

Master Modeler
Creating the Tamiya Style
By Shunsaku Tamiya, Kodansha International Ltd., 1997
This month's book review has nothing to do with military history but is very relevant to our hobby. Thanks -DS

Everything you ever wanted to know about Tamiya, or at least what Shunsaku Tamiya wants you to know about his model company, is in this book. I know this isn't a recently released book - I had it on my Amazon wish list for over a year, and then it laid around for a few more months after I bought it. I wish I'd picked it up sooner. This is a very interesting book about Tamiya Models and how they got to be the best model company in the world. Tamiya's father started the business after doing poorly in the lumber business after World War II. The company then started to offer wood model ships you carved yourself. Then American plastic model companies started to make wood models obsolete. Tamiya convinced his father to get into the plastic model business. Their first effort was a model Musashi battleship that failed miserably. Tamiya decided not to fail again and the rest is history for the plastic model hobby.

The book is very interesting to the hobbyist because it discusses Tamiya's history and philosophy. The stories are interesting and my dream now is to attend a TamiyaCon one day. Ever wonder why Tamiya made its tanks in 1/35 scale? The book will tell you the reason.

While reading the book I had to dig out a couple of model Sherman tanks, one by Tamiya and one by Italeri. The Italeri box is the same size except it is about two inches shorter and fits on my garage shelf easier. I wondered why Tamiya spent more money on a longer box. An examination of the model parts tells the story of Tamiya's quality philosophy. T he box is bigger so the tracks can be laid flat at the bottom of the box. The Italeri tracks are draped over the model sprues. It's no big deal, but you can appreciate the care and commitment of Tamiya.

This book is in hardcover. I picked up a copy from Amazon.com; the retail price is $35.00, but costs a little less on the web. I recommend this book if you really want to read about a model company and especially Tamiya. I'll give it a rating of five out of five stars. *****
---
Book Review
by Don Smith
This month's book review has nothing to do with military history and some would argue that it has little to do with the type of a modeling we do. I think we're modelers because we like making miniature "things" and I know some of you "do" trains. Thanks -DS
Playing with Trains
A Passion Beyond Scale
by Sam Posey
Random House Trade Paperback Edition, 2005
Boy meets toy trains, boy falls in love with toy trains, boy grows up, later in life boy rediscovers toy trains are actually model trains and falls back in love.
This book is about Sam Posey's journey into model railroading. When his son is born he believes he will once again get to play with toy trains. In his effort to build a dream layout he learns about trains, history, model railroaders and himself. Sam Posey is a former race car driver and TV sports announcer, and he has the money to get into the hobby in a major way. His book looks at his journey and examines what makes train guys tick. He doesn't have a conclusive answer but discovers different "camps" of railroaders (sound like anyone we know?). I enjoyed the gritty stories about modelers, their layouts and the business. I didn't care about the "mushy philosophy" but told myself, "This guy was diagnosed with Parkinson's, cut him some slack." The book ends in a slow death—Posey takes a train ride to Florida and also visits the Strasburg Railroad in Pennsylvania where he actually gets to drive the train. Not actually exciting stuff compared to what we do. Ah, give me an M-3 halftrack at Regionals any day.
The biggest groan, but also a wise choice by Posey, is hiring a professional railroad model builder to help him. Give him credit—he also does much of the work himself.
This book is in softcover. I picked up a copy from Borders. The retail price is $13.95 but I got a 3 for 2 deal last month. I would recommend this book if you really want to read about model railroading, but it probably wouldn't do much to make you a better modeler. The saving grace is it covers the hobby's current state rather than reminiscing on the good ol' days, back when you made your own plaster out of flour and glue. I'll give it a rating of two out of five stars.
---
Book Review
By Don Smith
Death Traps
The Survival of an American Armored Division in World War II
By Belton Y. Cooper
Due to the number of books out there covering military history, I would like to encourage everyone to write a short book review of noteworthy books (or to root out the stinkers). I will submit a review as I finish books I am reading. I'm not a history expert so my reviews are based on what I like, not what I think is accurate. Please be patient, I'm a slow reader. Thanks - Don Smith
I'm sure you've seen copies of this book floating around the club; I sure have. This is a book about the U.S. Third Armored Division in World War II. The author of the book, Belton Cooper, is a young engineer who is initially ambivalent about his role in the war because he wanted to be a naval architect. Instead he is an ordinance officer in the army.
Cooper tells about the 3rd AD's role in the war from Normandy to crossing the Rhine. His story is pretty interesting because he is a liaison for the Division's Maintenance Battalion and gets to see more aspects of the war than most junior officers. Among the shocking facts I learned was that the Division suffered over 500% casualties. Cooper also describes the inadequacies of the Sherman tanks and replacement crew training. Other interesting stories include the dangers of tank recovery in combat, Patton's role in ensuring the Sherman received priority over the Pershing, the 3rd AD's Pershings in combat action, and the reason the 75mm gun was chosen for the Sherman and the 75mm vs. the 76mm gun for the Sherman (neither was adequate).
There are lots of interesting stories that could inspire a modeler to build dioramas depicting American armor in Europe. There are an interesting series of photos of a Pershing tank in action, although you won't see much detail due to the small format. This book is in paperback and I picked up a copy at a used bookstore for three or four dollars. I've noticed it on the shelves of many new bookstores. I would give this book my highest rating of five out of five stars. * * * * *
---
Book Review
by Mike Blohm, ASM M-15, IPMS 10602
Flyboys by James Bradley
(Little, Brown and Company, 2003)
What initially caught my interest in this book was the wording on the inside cover flap, which talked about nine American flyers that had been downed near the island of Chichi Jima in the latter months of WW II, that one had been rescued by submarine; and that the other eight had disappeared. It further stated that the fate of the eight flyers had then been covered up after the war by both the US and Japanese governments. I recalled the well-known tale of the rescue of George Bush, and thought that he might have been the rescued flyer, and it stirred my interest to want to know what had happened to the rest of these "flyboys."
James Bradley takes a very winding but interesting and informative path to get to the answer to that question. You get a history lesson in both US and Japanese politics and colonial and military practices, and how they affected the island of Chichi Jima as it existed in WW II. (Chichi Jima is near Iwo Jima.) The US decision to rely on air power versus ground power (Billy Mitchell's prophesy come true) in both the European and Pacific theaters is also given extensive coverage, and plays a central role in the book. Coverage is then given to the incidents that led up to Japanese aggression in China and the attack on Pearl Harbor. The early lives, military training and careers of the nine "flyboys" are covered in different segments throughout the book. Note that Bradley uses the term "Flyboys" for all the aircrews that answered the call to arms in the air services of both the US Army and US Navy/Marines, and does so with great respect for what they faced and accomplished.
One of the more interesting and thought-provoking sections covers the inhumanity of war. Each side's viewpoint is covered, and why each side thought they were justified in what they did. The book centers on the harsh and often fatal Japanese treatment of prisoners of war. Bradley delves into why that mindset existed, resulting from an inflexible cultural hierarchy of obeying the emperor's orders (relayed by the officer corps), a brutal military training system, miss-directed or perverted Samurai traditions; and the experience of having the Japanese homeland attacked by B-29 fire bombings with massive amounts of casualties. The American perspective is also well covered – that the fire bombings minimized US casualties and would cause Japan to eventually surrender, again saving Allied lives, regardless of how many civilian casualties occurred as unintended but necessary collateral damage.
All of this foreshadowing eventually leads up to what happened to the American prisoners on Chichi Jima, and how revelation of their fate got entwined in post-war politics. Bradley did extensive research, including interviews with surviving Japanese participants, in order to provide detailed coverage of what had happened to each of the captured Americans.
Flyboys is a very interesting if somewhat disturbing read. If you'd like to learn more about the Japanese military mindset during WW II, and would like to get contrasting perspectives from both warring sides on the US bombing strategy and the treatment of prisoners of war, then I would recommend this book to you.
Check 6 - Mike
---
Alternate Links to ASM Website Pages:
HOME ARTICLES MODEL PICTURES CONTEST RESULTS BY-LAWS CLUB ROSTER ASM MEETING PICTURES
MODELER-OF-THE-YEAR POINT STANDINGS CONTEST GUIDELINES CONTEST SCHEDULE ARCHIVED ARTICLES FIELD TRIPS
MODEL OF YEAR CONTENDERS MODEL DISPLAYS MEETING LOCATION NEWSLETTER ENTRY FORMS HINTS AND TIPS MODELING LINKS